Look at this tempting selection of recipes and consider making chili for dinner tonight. After reading some of these easy chili recipes perhaps you won't be able to resist! Nothing beats yummy chili, after all.
Chili con carne is so simple to make and it is really flavorful. Here we have not only 30 recipes for chili but also plenty of hints and tips to ensure yours comes out really well, and also some videos and other suggestions to ensure your best chili recipes are always a huge success, and something you will eagerly anticipate making again and again.
Chili con carne has a rich history with much speculation regarding where the dish originated. However, it is believed to have originated in Mexico in the 17th century, and has continued to grow in popularity. The straightforward dish of ground beef, beans and spices is popular all over the world, and can be as hot as you can tolerate. There are easy chili recipes for every palate, from mild to spicy and everything in between.
Typical Chili Flavors
The distinct flavoring of cumin, cayenne and chili powder ensure that this dish provides a warming meal for everyone.
Traditionally this dish is made with ground beef, although more people are beginning to experiment with adding other meats to the dish. Venison, goat and ground pork are all popular and can bring a distinctive flavor to the chili con carne, making easy chili recipes versatile because you can always change the meat.
There are numerous different recipes for you to enjoy, and some people prefer the dish without beans while others enjoy extra beans. You will find that the recipe you choose will have regional aspects and personal preferences. This dish should be slow cooked to ensure that the chili flavor develops and produces a delicious meal.
What Else to Add to Easy Chili Recipes
Some people like to add other ingredients to their easy chili recipes including onions, bell peppers and canned tomatoes, and others prefer to leave it plain and traditional.
Garnishes for the chili con carne include tortilla chips, cheese, sour cream and rice. You may prefer to buy canned chili con carne, which is ideal for adding to other dishes such as chili dogs, fries and nachos.
You will soon discover that this straightforward dish is incredibly versatile and provides you with many different meal options for the whole family.
Regardless of how you cook and serve your chili con carne, it remains one of the most enjoyable meals served throughout homes around the world.
Texas Braggin' Rights: Winning Recipes of the Best Texas Cook-Offs

Book for Chili Fans: Texas Braggin' Rights
If you are in the mood for chili, you might like to look through this book which is full of easy chili recipes for every palate.
Featuring some of the best chili con carne recipes ever, the ones which have won Texas chili cook-offs, this cookbook will walk you through how to recreate these wonderful chilies.
Learn from the best chili cooks and find out how to make winning chili con carne every single time.
Texas Braggin' Rights Book, on Amazon
How to Make Easy Chili Recipes
Reading a recipe and looking at a photo is one thing, but watching a cook prepare chili con carne is quite another thing, and this can show you all the best techniques to use. Here are 5 yummy chili con carne videos to inspire you.
Easy Chili Recipes for a Crowd
They'll All Love this One!
This chili recipe is really hearty and it feeds a group of people. Leftover chili is delicious served over a baked potato and you will find chili 'ages' well, so if you leave it in the refrigerator overnight it will be even yummier the next day.
Serve this amazing chili in china or pottery bowls or make 'bread bowls' if you prefer, by hollowing out some bread. This is a very simple recipe and you are sure to love it.
Serve it with grated cheese and a dollop of sour cream like in the photo if you wish, or present home warm, home-baked cornbread on the side to impress your dinner guests. Something else you can try – swap the sugar for a square of dark chocolate. Sounds strange but it adds an amazing flavor to the chili. Really! Chili recipes with chocolate have an extra special something and they are a great example of easy chili recipes which might surprise your taste buds in a good way.
Print
Easy Chili for a Crowd
This easy recipe shows you how to rustle up a big pot of chili for a crowd, so if you're expecting company and want to serve something delicious, this is the recipe you should choose.
Author:
Prep Time:

15 mins

Cook Time:

2 hours

Total Time:

2 hours 15 mins

Yield:

1

6

1

x
Category:

Entree

Method:

Stove

Cuisine:

Tex-Mex
4

lbs (2 kg) lean ground beef

1 tablespoon

white sugar

8

chopped yellow onions

1 teaspoon

salt

3

x 19 oz (

600g

) cans red kidney beans

4

x 28 oz (

800g

) cans tomatoes in juice

15 oz

(400ml) tomato sauce

3 tablespoons

chili powder
Instructions
Saute the beef and onions in your biggest pot or Dutch oven over a medium heat, stirring every few minutes, until beef is all brown and onions are tender.
Drain off the fat.
Drain the kidney beans but keep the liquid.
Stir this liquid into the beef mixture, along with the tomatoes (and their juice), tomato sauce, sugar, salt and chili powder.
Use a wooden spoon to break up the tomatoes.
Bring the chili con carne to a boil, then reduce the heat and simmer uncovered for about 1 1/4 hours.
Stir in the beans and simmer uncovered for another 15 minutes, stirring occasionally.
It will become nice and thick.
Photo from www.flickr.com/photos/zingiwin/2868908789
Types of Chili con Carne – How Many Do You Know?
Chili con carne is incredibly versatile, and there are several different varieties of easy chili recipes which are enjoyed all over the world. Whether you are a meat eater or a vegetarian, there are recipes for you to cook and adapt. The core ingredients of the chili con carne are ideal for adding other items to, so you can produce a wonderful meal for everyone.
Traditional Chili Con Carne Recipes
Traditional chili con carne includes ground beef, tomatoes, seasonings and spices and beans. It is very similar to a stew, and can be as spicy as you want. The traditional recipe should be slow cooked for many hours, ensuring that the flavors infuse, and develop into an exciting, warming dish. You may want to adapt the chili recipe or even try other meats.
A Look at Chili Verde
Chili Verde is one of the alternative easy chili recipes and involves using chopped pork, which is cooked in chicken broth. Added to the pork are tomatillos, roasted green chilies, and garlic for flavor, and in this dish traditional tomatoes are rarely used. The spiciness of the dish is produced by the strength of the peppers, and chilies which are included.
Try a Meat-Free Chili
Vegetarian chili has become really popular and more people than ever before are enjoying this alternative dish. The meat-free recipe lacks none of the flavor, and you can add a huge variety of different beans to the dish. Consider this as one of the easy chili recipes you might make for dinner if you're not a meat-eater.
You may find that you need a starchy element; therefore, adding potatoes is advised. You can add a lot or a little to the dish, depending on your taste, but kidney beans, haricot beans, chick peas, and corn are all popular additions.
To Bean or Not to Bean
Beanless chili is preferred by many and there is a long-standing debate whether this chili is, in fact, better than the variety with beans. The association of chili and beans dates back to the 20th century, where many people believe that you cannot have a traditional chili without beans.
Texas style chili con carne has no beans at all and relied on the flavors, and ground beef to produce an incredible dish. In fact, they think adding beans is 'cheating' since the addition of beans usually means less meat! That's why the demand for bean-free chili con carne is so high. There are plenty of easy chili recipes which are bean-free though.
Ultimate Slow Cooker Chili Recipes
One of the Best Crock Pot Chili Recipes
This is a fantastic recipe for chili if you want to make it in a slow cooker. Crockpot cooking and chili con carne actually go hand in hand and it's unusual not to find the crockpot mentioned in a lot of easy chili recipes.
Not only does the crockpot make things easy because you can go out all day and then come home to a fantastic feast, but leaving the chili in there means the flavors will blend and mingle like never before.
Best Slow Cooker Chili Recipes
If you have never made a chili con carne recipe in the crockpot, the flavor is going to blow you away. It will smell incredible while it cooks too. Yum, crock pot chili recipes are so good!
Print
Ultimate Crockpot Chili Recipe
This fabulous chili is not only delicious and easy to make but it is also crockpot-friendly so you can simply put all the ingredients in there and leave the slow cooker to work its special magic.
Author:
Prep Time:

10 mins

Cook Time:

6 hours

Total Time:

6 hours 10 mins

Yield:

6

1

x
Category:

Entree

Cuisine:

Tex-Mex
1.5

pounds (650g) ground beef

15 oz

(

400g

) can tomato sauce

1/2 teaspoon

cayenne pepper

1 tablespoon

minced onion

2

x 15 oz (

400g

) cans kidney beans

2.5 teaspoons

ground coriander

1 teaspoon

dried oregano

28 oz

(

800g

) can diced tomatoes

1.5 teaspoons

garlic powder

2.5 teaspoons

cumin

4 tablespoons

chili powder
Instructions
Mix together the dry seasonings and store in an airtight container in a dry cool place.
You can do this ahead if you want.
Sauté the beef in a skillet until browned, then drain off any fat.
Add 3 teaspoons of the seasoning mix plus the onion.
Add the tomatoes, one can of beans, the tomato sauce and another 2 teaspoons of seasoning mix to the crockpot.
Whiz the other can of beans in the blender, then add to the crockpot along with the meat.
Stir and cook for 6 to 8 hours on low.
Photo from www.flickr.com/photos/37490118@N04/3462673855
What is White Chili Con Carne?
So we all know about winning chili recipes featuring beef, tomatoes and maybe even beans, but what about other variations like a chile verde recipe or white chili con carne?
White chili con carne is not as popular as the traditional method of cooking this dish, but it can provide a delicious alternative. White chili is produced by using white beans with chicken or turkey breast.
There is no tomato base, resulting in the dish being white after it is cooked. The flavors are all still there, and this dish is considered to be a pretty healthy option.
Which Beans to Add to Easy Chili Recipes
There are several different white beans that you can use in the white chili con carne to ensure that you create the perfect dish.
Haricot beans are popular and are added to many different recipes.
Cannellini beans are another popular bean to add to the chili, and are related to the traditional kidney bean which is found in traditional chili con carne.
Finishing It Off Perfectly
You can add the same spices and chili to the white variety, to ensure that it tastes as good as the traditional variety.
Slow cooking the white chili is advised, to ensure that the dish develops complex, well blended flavors and also gets a creamy appearance. Once the chili has been cooked, you can serve it with grated cheese, sour cream and a slice of lime.
The ingredients for the white chili recipe are cheap and easy to find, making this dish an ideal mid-week alternative for the family.
If you prefer to eat more white meat but you still enjoy spicy meals, this white chili is ideal for you. Replacing the chicken with just beans is an ideal way to make a mouthwatering vegetarian option.
5 White Easy Chili Recipes – Something Different
Fancy a change from regular beef chili? No problem. We have 5 different white chili recipes which are still lovely and spicy yet offer a different result than the conventional beef chili con carne. Have a look and see which you fancy making.
Chicken and white beans are the stars of the show in this easy white chicken chili recipe, and using cumin, garlic, oregano and more really showcases the flavor. If you prefer using chicken to beef but you still want a piping hot bowl of chili for dinner, this is the recipe for you. It is suitable for novice cooks because it is straightforward.
Many home cooks swear by slow cooking, and I happen to agree. The crockpot really fuses all the flavors in your chili together and creates a more mellow and delicious meal. Also, slow cooking is incredibly easy. Once your meat is browned you simply throw it in the crockpot and forget about it for hours. Simple!
If you love chili con carne but you are not a fan of tomatoes then just leave them out! This recipe is recommended because the results are amazingly creamy. This recipe uses chicken as well as chicken broth, sour cream and whipping cream. It might not be the healthiest recipe for chili but it is one of the most satisfying. If you want comfort food you got it when you make this. Lose yourself in its luxuriousness.
You don't eat beef and you don't want chicken either? That doesn't have to be an issue. This recipe shows you how to make an incredibly rich and satisfying vegetarian chili with no meat or poultry in it. The flavor comes from the beans, seasonings and of course from the chilies. This dish packs a real flavor punch and is tasty with fluffy rice. One of my favorite easy chili recipes.
Leftover turkey, anyone? Yes that is a common enough dilemma, especially around the festive period! When turkey sandwiches are becoming a bit boring, make this delicious creamy white turkey chili instead. It is packed with spices, beans, chilies and everything else you would expect in a fine pot of chili con carne. This recipe is easy and delicious.
How to Make Cornbread
The best side dish for a bowl of chili, say some… cornbread is not hard to make and these videos show you how to make it so it is flavorful, fluffy and fantastic. Serve your homemade chili with cornbread and a dollop of sour cream and it will be seriously amazing. If you are short of time you can buy cornbread instead.
Fantastic Fusion Chili Recipes – Not a Traditional Chili Recipe But Exciting Nonetheless
Just because the classic chili con carne recipe calls for meat and chilies and not a lot else, that does not mean you have to stick completely to the recipe.
In fact, some keen home cooks love to experiment with chili, either tweaking the classic recipes or making up their own. There is also a wealth of fusion chili recipes on the world wide web, and I have found 5 of the best for you.
Love the authentic simplicity of chili con carne but craving other ingredients to round it out a little? The answer is to try this fusion chili recipe. The Italian sausage ups the meatiness, and the honey, red wine and vegetables make this explode with flavor. Scroll down the page and see all the 5 out of 5 ratings. People love this Tex-Mex chili recipe.
Just how daring are you feeling, daring enough to try this Thai chili con carne recipe? As you peruse the ingredients list you will see all kinds of weird and wonderful ingredients, such as vanilla, cinnamon and peanut butter. Don't worry, there are all your favorite chili ingredients in this too such as beef, garlic, tomatoes, and fresh chili peppers for a vibrant end result.
Asian Chili Fusion Dish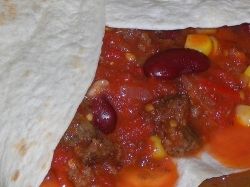 Lamb, sausage, steak… are you sure this is a chili? Yes, definitely, although some of the ingredients seem a little odd to include.
This one is enriched with water chestnuts, pineapple and even sweet and sour sauce.
I'm not sure how much this is going to resemble chili con carne (I haven't tried this one yet) but it sure sounds like a lovely Eastern feast.
Photo from Flickr.com/photos/seelensturm/4131337618
Southwestern Italian Fusion Chili
This one features pesto for an Italian touch, as well as a whole range of different peppers, corn, kidney beans, and lovely chunks of steak. If you love your chili to be multi-faceted, boasting not just the flavor of meat and tomatoes but also a variety of pepper flavors and a more complex taste, try this recipe. It is a real winter warmer, especially served with cornbread.
Chicken and pineapple set the tone for this exciting chili con carne recipe, along with fresh chilies, cider vinegar, and other mouthwatering things. If you want to make something a little different, why not be brave and try this Oaxaca inspired chili recipe instead of your usual classic chili con carne?
History of Chili Con Carne – How did This Popular Dish Come About?
The history of chili con carne is fascinating and provides an insight into this delicious dish that is enjoyed in every corner of the globe. So what's the history of easy chili recipes anyway?
The first documented recipe for chili con carne was dated 1519, and meat, chilies and tomatoes were boiled to create it. This distinctive dish was created as a victory dish, and the meat that was included would have been the flesh of the defeated. That is a rather grim fact, but do keep reading because it gets more pleasant!
Chili Originated in Spain
Many people believe that chili originated in Mexico; however, it has roots in Spanish cuisine, and has been developed over the years. Despite the Spanish origins, chili con carne is not an international dish and is popular all over the world.
The American frontier settlers discovered that it was an ideal dish to leave to boil whilst they were away all day, and they could expect to return to a mouthwatering supper which became better and better the longer it was left to stew.
What are Chili Queens?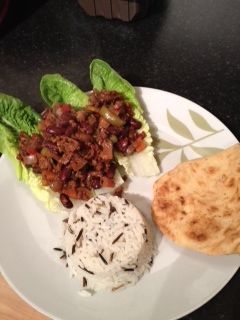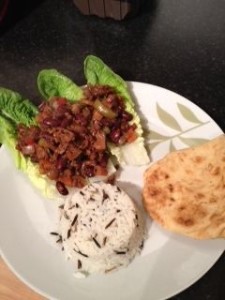 Chili queens were seen throughout the 1880's dressed in bright Mexican clothing distributing freshly cooked chili con carne to passersby.
The aroma from the huge pots was addictive, and many people would stop to purchase a bowl before they headed home. Can't you just smell those easy chili recipes through your screen right now? Yum!
In the Hispanic markets, some chili queens had permanent stalls which proved to be very popular.
Unfortunately, new laws and regulations in 1937 saw the chili queens removed from the streets, but in 1970 the market had a renovation, and some of the Chili Queens returned.
In honor of this day, there is now an annual Chili Queen event, which is held in April. This event is huge and attracts people from all over the world to showcase their award-winning chili recipes and taste this beloved dish.
What are Chili Parlors?
Chili parlors began to appear just before World War II and were the ideal family-run business, offering cheap, wholesome meals. Many of the parlors claimed to have a special secret recipe, which encouraged people to return. Throughout the 1920′s and 1930′s, the chili parlors spread across the US, and there were soon chains of these parlors. Today there is one remaining chili parlor located in St Louis and as you would expect it is always busy.
Can Vegetarians Enjoy Easy Chili Recipes?
It's too good to miss out on just because you don't eat meat! Vegetarian chili con carne is a dish that both non-meat eaters and carnivores find delicious, and can provide the ideal meal on a cold winter's night. Many people believe that ground beef is a vital part of the recipe, but you can easily omit this and replace it with alternatives. You will soon discover that your vegetarian chili is healthier and provides you with a huge array of vitamins and minerals.
Flavorful Ingredients in Easy Chili Recipes
The flavor for the chili is provided through the chili powder and spices that are used. Therefore, omitting the meat is not a huge issue. You can easily replace the ground beef with a meat substitute, or simply with a starch element such as potatoes.
Beans, Beautiful Beans
Including beans is a 'must' for a vegetarian chili, and there are many to choose from. Kidney beans, navy beans, fava beans, butter beans and chick peas are all popular ingredients to include in your recipe.
Black beans are considered to be an essential item to include, as they provide a rich flavor and the perfect texture for the chili con carne. You can use either canned or fresh beans, depending on the time you have available.
Canned beans can provide the ideal starch element for your dish so adding the beans without rinsing them is advised. You will not need to cook the vegetarian chili con carne recipe for as long as the traditional recipe although slow cooking is still advised.
Once you have cooked the chili, it provides you and your family with a healthy alternative to the conventional ground beef recipe. And don't worry, you won't miss the meat in these easy chili recipes.
5 Vegetarian Chili Recipes – So Good You Won't Miss the Meat
You are not going to miss the meat if you enjoy a wonderful vegetarian chili con carne. Although technically known as "chili sin carne" since sin means without, never mind the name and just enjoy the delicious aromas and flavors of this marvelous dish. Try any of the following recipes for the perfect vegetarian indulgence.
Easy Vegetarian Chili for Beginners
This one is really simple. Just throw everything in and simmer for half an hour. The recipe relies on kidney beans as well as bell pepper and onion, and all the spices and herbs you would expect, for a superior flavor and for a great chili sin carne recipe which is sure to appeal to vegetarians.
This vegetarian chili recipe features potatoes to give it body and make it more filling. The cinnamon adds a special earthy flavor and you get to choose your own beans for this recipe, so just pick out the ones you prefer. This is a freezable chili con carne so if you are only feeding 2 people you can just freeze it.
Can a chile pepper really melt your fat? According to this recipe it can, so you might wish to try it out. Decide for yourself whether it is burning fat or not, but the flavor is amazing so that is one great reason to include it here. By the way, unless you like your chili super spicy, it is a good idea to halve the amount of chili pepper in this one.
Can you use tofu to make easy chili recipes? Sure, why not. This recipe shows you how to get your daily dose of protein from both the beans and the tofu. Tofu is great at absorbing flavors from whatever sauce you put it in, so it will take on all the lovely tomato, garlic, onion and chili flavors of your chili, and the texture adds another enjoyable element.
You certainly won't miss the meat if you simply substitute some mushrooms for it. Although mushrooms are not related to beef in any way, the reason why they feature in many vegetarian recipes is their earthiness. This earthiness is satisfying and tasty, and this is another recipe that won't make you cry out 'where's the beef?' because it's just not needed.
50 Quick and Easy Vegetarian Meals – 5 Ingredients or Less Easy Vegetarian Recipes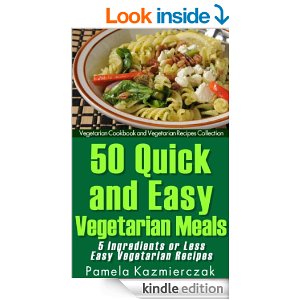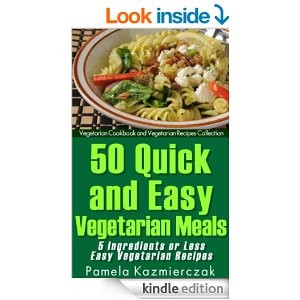 Being a vegetarian these days is much easier than it used to be and there are plenty of cookbooks out there.
If you prefer no-fuss meals which taste good to spending hours in the kitchen, then this is the best vegetarian cookbook for you.
It covers all palates and the meals are all great.
My favorite recipe in here is probably the spinach mushroom frittata, although the almond broccoli salad is one I made often too. Buy this book, you will love it for sure!
This author always writes great books. This one is ideal no matter why you are a vegetarian, and the recipes are designed with busy people in mind who want flavorful meals they can make without fuss.
The recipes only require 5 ingredients and a lot of the ingredients used are everyday ones so you won't need to run to the store or try to find exotic ingredients to make these classic dishes. The recipes include mac and cheese, casseroles, muffins, egg dishes, tacos, and a lot more besides. This book is a real bargain.
Cheese on Easy Chili Recipes
Do you like cheese on your chili? I do. I love to grate Cheddar and sprinkle it on top of the chili before serving. It adds a lovely creaminess and I love the way it softens and begins to melt. Mmm!
How Spicy Should Chili Con Carne Be
Chili con carne is a spicy stew that is enjoyed by all ages; therefore how spicy it can be is often down to personal taste. As with all spicy food, you want to be able to taste the flavors, and not have the meal ruined by over-seasoning. If you add too much chili powder or fresh chili to the stew, you might find that it becomes overpowering and inedible.
Chilies and Health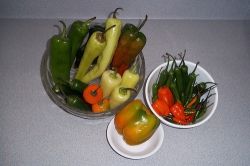 There are some health benefits to spicy foods, which is why more people are being encouraged to enjoy hot chili con carne.
The capsaicin, which is the core ingredient in chili peppers, offers various health benefits. The heat of the dish will encourage you to sweat, which opens the sinuses and bronchial tubes.
As with all cooking, you need to ensure that you follow the recipe, and decide for yourself how much chili to add to the dish. The first time you make the chili con carne, you might decide that it was too mild. So add more chili in future batches, until you find the ideal temperature for your taste.
Photo from Flickr.com/photos/time_anchor/5477009543
The Spectrum of Spiciness in Easy Chili Recipes
Some people love extremely hot chili con carne, and other people prefer mild versions of the dish. Regardless of the way that you prefer the chili to taste, you need to ensure that you remember less is often more, and the flavor of chili will advance as it slow cooks.
Adding a little in the beginning is the best ways to ensure that you do not spoil the dish with an over-enthusiastic shake of the chili powder shaker.
You might want to use a combination of both ground chili powder and fresh chilies to enhance the flavor, and produce a distinctive taste. Remember that fresh chilies are far hotter than the powdered form so will produce a spicier chili.
What to Serve with Chili Con Carne – A Few Nice Ideas
Chili con carne is a straightforward dish with very few ingredients, although it can be served with a huge variety of different items.
Whether you are searching for the ideal accompaniments or garnishes, you will soon discover there are plenty of choices so there is something for everyone. Alongside the different accompaniments, you can also serve the chili con carne with other main dishes.
Great Garnishes for Easy Chili Recipes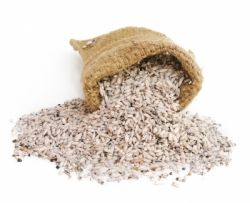 Garnishes for chili con carne can help to enhance the flavor and add a different element to the dish making it extra delicious.
These can include shredded cheese, tortilla chips, diced onion and sour cream to help cool the dish. Traditionally the chili con carne is served over rice, which is popular in the UK and Hawaii. Some people prefer tortillas, cornbread or even pasta as their starch.
Photo from Freedigitalphotos.net
More Uses for Your Chili
You might want to add the chili con carne to other dishes, and it is ideal for topping fries, hotdogs, nachos or burgers. Many people enjoy baked potatoes with chili, and this can be topped with sour cream or grated cheese (or in my case both!) You can be as creative as you want when searching for the ideal way to serve your chili con carne.
More Ideas
Adding green onions, bell peppers or avocado can add another element to the dish, and guacamole instead of sour cream is delicious. A sprinkling of jalapenos, black olives or diced red onion can finish the dish off perfectly. Cornbread is a nice item to serve with the chili and ensures that you can scoop up the last drops of chili from your bowl.
Salad with Your Easy Chili Recipes, Anyone?
A green salad might be strange with chili con carne, but an alternative salad of corn and black beans is perfect, unless you have corn or a lot of beans in the chili already. Bell pepper, hot or fruity sauces, herbs and olive oil can be added to the salad to produce a delicious side dish for your chili.
You want the side salad to be as full of flavor as the chili, and ensure that every element is exciting. Then you can have sour cream or perhaps some plain tortillas to bridge the gap and offer something plain as well as the two highly flavored elements.
Pressure Cooker Chili Con Carne – The Easy Speedy Way to Make a Lovely Chili
If you have invested in a pressure cooker you will want to use it. Something that does great in a pressure cooker, surprisingly enough, is chili con carne. The reason I say surprisingly enough is because I usually rave about how great crockpot chili recipes are, and slow cooking is the opposite end of the time spectrum from a pressure cooker!
However, you will find this dish turns out nicely when pressure-cooked and the cooking method is also very easy. This recipe features flavorful ingredients such as garlic, various types of peppers, beef cubes (like in authentic chili con carne recipes), cumin and more, for an exquisite end result.
In the picture you can see what 5 lbs of chopped beef looks like. That's more than you will need for this recipe, but try to get your cubes about an inch in size.
Print
Pressure Cooker Chili
A pressure cooker shortens your cooking times by a substantial amount while locking in all the amazing flavors. You can make an Instant Pot chili the same way if you prefer to use that. If you want to make chili in a hurry, try this delicious recipe.
Author:
Prep Time:

15 mins

Cook Time:

25 mins

Total Time:

40 mins

Yield:

8

1

x
Category:

Entree

Cuisine:

Tex-Mex
2

pounds (900g) cubed beef

1

bottle of beer or ale

2

x 14 oz (

400g

) cans diced tomatoes
Olive oil

1

chopped long hot pepper

1

chopped yellow onion

2 tablespoons

chili powder

1 cup

(250ml) beef broth

4

chopped garlic cloves

1 tablespoon

ground cumin

2

x 14 oz (

400g

) cans black beans

1

chopped cubanelle pepper

1 teaspoon

hot red pepper flakes (optional)
Shredded cheese and sour cream, to serve
Instructions
Heat your pressure cooker over a medium-high heat, then add some oil. Working in batches, brown the beef cubes on all sides in the oil then transfer the browned cubes to a plate. Add some more oil if necessary and cook the onions over a medium heat until they are tender and browned. Add the garlic and peppers to the onions and cook, stirring constantly, for 3 minutes.
Add the chili powder, cumin and hot red pepper flakes if using.
Cook, stirring constantly, for 2 minutes or until fragrant.
Pour in the beer to deglaze the pan.
Those stuck-on bits you scrape up will add to the flavor.
Put the beef back in the pressure cooker and add all remaining ingredients except sour cream and cheese.
Drain and rinse the beans before adding those.
Bring up to pressure and cook the chili for 20 minutes.
Let it stand for about 10 minutes to release the pressure and finish cooking.
If the chili is too thin, just simmer uncovered for another 15 minutes to thicken it up.
Easy 5 Ingredient Chili Con Carne
You Don't Need Lots of Ingredients for Great Chili
Use any beans you like in this recipe – kidney beans, cannellini beans, black beans – any will work. Add the chili powder when the beef has finished browning, else it tends to stick together and burn, at least when I make it! Swap the beef for ground turkey if you like, or even tofu to make it vegetarian.
If you use tofu in easy chili recipes you will need to add oil, else it will stick to the pan because it does not have fat like the beef. When adding the water, do it slowly. If you like a thick chili you will not need much, if any.
Print
5 Ingredient Chili Recipe
Did you know you can rustle up a delicious chili recipe using just 5 ingredients? This dish could not be any easier and, served over rice or with cornbread, it makes a fantastic dinner.
Author:
Prep Time:

15 mins

Cook Time:

25 mins

Total Time:

40 mins

Yield:

6

1

x
Category:

Entree

Cuisine:

Tex-Mex
1

pound (450g) ground beef

2

x 14 oz (

400g

) cans diced tomatoes

2

x 15 oz (

425g

) cans rinsed and drained beans

1

diced white onion

2 tablespoons

chili powder
Instructions
Saute the beef and onion in a big pot or Dutch oven or large pot until the beef for 7 minutes or until the beef is browned.
Stir every few minutes with a wooden spoon to help crumble up the meat.
Drain the fat off the meat mixture and return the meat to the pan.
Add the chili powder and stir.
Add the beans, 1/4 cup of water and the diced tomatoes to the pot and bring to a slow boil.
Cover and reduce the heat to low, then simmer it for 20 minutes.
Take the lid off and simmer for 5 minutes, stirring occasionally.
Ladle the chili into bowls and serve hot.
You can top it with sour cream, cheddar cheese or chopped cilantro.
This chili will keep refrigerated for up to 5 days or you can freeze it for up to 3 months.
Photo from FreeDigitalPhotos.net
Types of Chili Peppers – Which One to Make Chili Con Carne?
Chili pepper is a vital ingredient to understand when learning how to make the best chili con carne, and all spicy food that requires some form of chili to be included.
However, many people do not understand the different varieties and the strength that they provide. The ones that you choose will often depend on the dish that you are making as well as what strength of spice you require.
There are five main domesticated species of chili pepper available, that all range in intensity and flavor. Some chili experts and growers have cultivated chilies to produce other varieties which are incredibly strong. However, the most common varieties can be found in local stores and are used in everyday cooking and making easy chili recipes.
Well-Known Chilies
Cayenne, jalapenos, bell peppers and chiltepin are the most common chili peppers that you will find, recognize and cook with on a regular basis. If you prefer spicier stronger chili peppers, you may want to try Thai peppers, African birds-eye chili, Tabasco or malagueta. All of these are far stronger, and should be used in small quantities.
Which Pack the Most Punch?
The hottest peppers are Habanero, Scotch bonnet and Naga peppers, which all need to be used with caution. You need to wear gloves when preparing these chili peppers, and ensure that you use the smallest amount. Even if you like spicy food, you will be shocked how hot these chili peppers are even in tiny amounts.
There are many different studies surrounding the heat of chili peppers, and people are constantly attempting to eat hotter food. You can use the chili pepper dried, fresh or in powder form whichever you prefer. Chili is still considered to be one of the most popular spices used throughout arrange of different cuisines, and you will find that it will enhance the flavor of your dishes.
So when making chili, choose whichever chili pepper the recipe specifies or pick out whichever one you think is most suited to your palate. Remember it is easier to add extra chili if you want more spice than to take the spice away if you have added too much. You have been warned!
Texan Chili Recipes – No Beans Please, Just More Cow!
What is a traditional Texas chili recipe? These are actually some of the tastiest easy chili recipes of all. According to some it means the beef is cubed chuck steak rather than ground beef, and according to others it means no beans. The following recipes are all very different and they show you how to make chili con carne the good old-fashioned way. If you prefer to use another recipe that is fine.
Just swap the ground beef in any chili recipe for cubed chuck steak (or similar) and increase the cooking time to allow the meat to tenderize. You can also leave the beans out of pretty much any chili recipe and replace them with mushrooms or more beef. Or simply use less tomato juice in the recipe so it is not too liquid.
No beans? No tomatoes? That's right, and you'll find this recipe doesn't need them either. If you want to make your chili in the authentic Texan way this is the recipe you will be looking for. You get plenty of cow and plenty of spicy chilies in the mix and, after all, that is what 'chili con carne' means, right, 'chilies and beef'. This recipe is worth trying if you usually make tomato-ey, beany chilies. Just for the comparison.
You don't need many ingredients for this one, but you don't need them. Focus on the wonderful meatiness of the beef, the lovely rich tomato flavor and of course the spices and seasonings. You can't go wrong with this recipe. Serve it over boiled white rice, Monterey style sweet corn or with tasty homemade skillet cornbread. If you don't want beans, this is a great bean-free chili.
Not only is this chili authentic and delicious but it has won awards! Anything award-winning is bound to be good, and although some people use that term too loosely, this really is an award-winning recipe, having won the Esquire Chili Cook Off prize. This one is hot and spicy, so cut down on the spices if you want. And read the tips on the page before you begin, they're really handy.
White Chili Con Carne without Beans
OK so white chili isn't a beefy recipe but it's included here in case you're browsing Texas chili recipes for a bean-free style. This one doesn't have beans in it. Instead it offers a wonderful flavor with chicken broth, chicken breasts, barley, cumin and more. Add some garbanzo beans if you like, or leave them out if you'd rather. It will still be good.
Chili Con Carne with Cubes of Beef
According to some, what separates authentic Texas chili from others is that Texas chili has cubes of beef rather than ground beef. If you fancy trying that, then this is a nice recipe to use. There are some great easy chili recipes with cubed beef. The beef is seared all over, then cooked briefly with onions and then all the other ingredients go into the pot and the chili simmers away until the flavor is robust and the meat is tender.
Chocolate and Chili
Chocolate is often added to chili con carne. I always add it myself, either a square or 2 of semisweet chocolate or a pinch of cocoa powder. Before the sugar is added, chocolate is savory remember! It gives an incredible richness to savory dishes, especially chili, bringing out the richness of the meat, the spiciness of the chilies and the sweetness of the tomatoes. If you have never added chocolate to chili, try it. Most people are amazed at the difference it makes!
Best Serving Bowls for Homemade Chili – Serve Your Chili in Style
Chili con carne is ideal as either a main dish or a side dish to complement another meal. Therefore choosing the correct serving bowl can be daunting since you will want to ensure that the bowl is the correct size and shape, providing the diner with the ultimate experience. With the correct bowl, you can serve your meals creatively and attractively.
Why Wood and Plastic Won't Work with Easy Chili Recipes
Wooden bowls can be fun to use for salads and similar dishes. However, the ingredients in the chili con carne tend to stain and will blemish this style of serving bowl rapidly. The same applies to plastic dishes, even though they are popular because they don't smash or chip.
Bowls that can be cleaned easily are ideal, and these will often be made of ceramic. You want to ensure that the bowl you choose is large enough for the chili, rice, and any other accompanying dishes you are serving.
Many people serve chili con carne with several side dishes, or at least some bread, sour cream or a tortilla or two, so ensure there is room in your bowl for a little of everything. If the bowl is too small, you may find that the dish looks untidy and unappetizing. You want people to visually enjoy your meal as well as when they taste the delicious recipe.
Go for Big and Chunky
Serving bowls tend to be larger than the bowls that you are using to eat the chili con carne, and these can be set on the dining table. There is nothing more inviting than a large bowl of chili sat waiting to be enjoyed. You can place the side dishes around the main bowl and ensure that everyone can reach the choices available.
Have matching serving bowls and eating bowls if you want it to look extra good. Choose big chunky ceramic bowls. These are durable and the chili will not get cold too fast in there.
Smaller bowls can be used for the rice, easy chili recipes and accompaniments that may have been prepared. But you need to make sure that you do not pile the food high. Returning for more is seen as a compliment, and is preferable to struggling with an overflowing bowl of chili con carne (which is seen as greedy!)
Regardless of what you eat the chili out of, you will soon discover after tasting the marvelous chili that you want your bowl refilled.
Individual Pre-Seasoned 1-Pint Country Kettle Review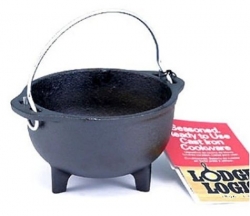 This country kettle holds up to a pint of liquid and if you want to serve your chili in style this is the vessel to pick out.
The cast iron means whatever you put in there will stay warm so use the kettle to hold warm basting sauces while you are grilling, or serve a small side dish in there. This is a versatile and handy serving cup for your chili and it's lodge quality finish will ensure it always looks great on your table.
Nostalgic for the Wild West? Use this wonderful country kettle to serve your homemade chili con carne. Also ideal for stews and soups, this kettle is made of cast iron, which holds in heat much longer than aluminum, ceramic, aluminum or stainless steel, so your chili will stay piping hot for longer. This holds one serving of chili, so you might like to get a couple of them.
And don't worry about breakage or damage. This country kettle comes with a lifetime warranty, because the manufacturer is positive you will still be enjoying your chili out of there in years to come! Try making easy chili recipes in here!
Fiesta 2-Quart Serving Bowl Review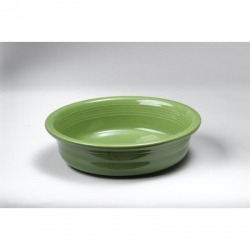 This 2 quart serving bowl will hold all your chili and it looks great on the table. This bowl comes in various colors, so pick out whichever matches your other tableware the best.
Not only is this ovenproof but it is also dishwasher safe, freezer-proof and guaranteed lead-free. The glaze is really durable and your chili con carne will be great served from this bowl.
This has a Fiesta pattern and Fiesta has stood the test of time. Very often these bowls will be passed down from one generation to the next one, which is always a lovely tradition. The pattern does not change so if you want to expand your Fiesta bowl collection you will find all your favorite patterns and bowls. There are often new styles and colors added. Did you know Fiesta is the most collected dinnerware in America? Now you can own your own Fiesta bowl, and for a very reasonable price.
And One for Your Guacamole!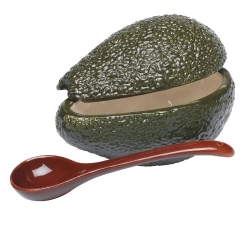 OK so this is not a chili con carne serving dish but I fell in love with it because it is so cute, so I thought I would share! Imagine how great this is going to look on your dinner table next to the big steaming pot of chili.
There are things we have in our kitchen because we need them, such as the oven, the toaster, the plates and glasses. And then there are things we just like because they are funny or cute or pretty or they appealed to us in some way.
This guacamole dish is not something that everyone has but it is adorable! Why serve guacamole out of a boring pot when you could serve it out of this fun guacamole dish? Nope, I can't think of a reason not to either! And guacamole is so nice with easy chili recipes.
Diet Chili Con Carne Recipes – Fewer Than 300 Calories Per Serving
Anything with chocolate in immediately attracts my attention, and when I find out it is a healthy, low calorie recipe too, I can barely restrain myself! You will find the unsweetened chocolate and unsweetened cocoa powder lend an incredible richness to the chili. If you want it sweeter just throw in some Splenda or Equal. This is a rich-flavored chili which doesn't taste like a diet version at all.
First things first – what is hominy? It's actually made from dried corn kernels without hulls or germs. That is one of the main ingredients in this low calorie chili recipe along with red beans, tomatoes, and even Cheddar cheese. If you are watching your waistline but craving winter warmers like chili con carne, make this recipe and enjoy it knowing you haven't fallen off the diet wagon.
Now this is getting crazy. These are all diet chili recipes, but the first one has chocolate, the second has Cheddar and this one even contains beer? Whoever know diet chili con carne could be so tasty! Boasting lime, garlic and more, this one is zingy and flavorful, and perfect for enjoying in front of the game. Serve some fat free sour cream on top for the perfect finish. This is unusual but one of the easy chili recipes you really ought to try!
Cincinnati Style Chili Con Carne
This recipe features garam masala, cinnamon and nutmeg to add complexity and depth to the classic recipe. If you want to make a chili which has a bit of a twist and will impress the whole family, try this recipe. It is healthy, low in calories and the best bit is it tastes absolutely wonderful.
Vegetarians do not have to miss out, not while this wonderful vegetarian diet chili recipe is still in circulation. This one is packed with fiber to make it satisfying, sure to appeal to carnivores and veggies alike, and it will even freeze so you can enjoy it later on. There is nothing not to like. You won't even miss the cow in this delicious recipe.
A Fork or a Spoon?
Chili can be eaten with a fork or spoon, but since it has liquid in, a spoon might be best. Another idea is serving cornbread on the side so you can soak up all those lovely juices, or serve the chili in a baked potato or over white rice. Don't miss out on the juices!
Nachos Recipe Using Canned Chili – Just 5 Minutes to Make This Great Snack
Although this is not a chili recipe per se, you can make the chili if you want to, using one of the other 29 recipes, rather than popping open a can. And the video recipe counts as recipe #30 so I am not shorting you.
But if you do want to make a wonderful recipe in the quickest and simplest way, follow this recipe and discover how to make nachos with chili for a wonderful supper or snack. The whole family will like this, guaranteed.
The following recipe is very basic, calling for 4 ingredients only, but feel free to add anything else you want to this recipe to make it unique. Chopped tomatoes or green onions would work, or some sour cream or guacamole. This is for sure one of the most easy chili recipes which is actually a twist on chili con carne.
Change the guacamole for avocado slices if you want, or add some hot pepper sauce to the canned chili mix to spice it up a bit. This is especially good if you want to enjoy this in peace without the kids stealing half!
Print
Nachos Recipe with Canned Chili
Using canned chili for these nachos means you can make them really quickly. This recipe is ideal when the game is on, when you fancy a comfort food style appetizer, or when faced with a hungry crowd.
Author:
Prep Time:

5 mins

Cook Time:

5 mins

Total Time:

10 mins

Yield:

4

1

x
Category:

Appetizer

Cuisine:

Tex-Mex
1

lb (450g) softened cream cheese

1

lb (450g) shredded Cheddar cheese

13.5 oz

(

380g

) tortilla chips (nacho flavor are good here)

15 oz

(

425g

) no-bean canned chili con carne
Instructions
Spread the cream cheese over the bottom of a microwave-safe dish.
Next spread a layer of chili over it.
Finish with a layer of shredded Cheddar and microwave for 5 minutes or until the cheese has melted.
Serve with tortilla chips.
 Photo from Flickr.com/photos/nebulux/6695616337
A Bowl of Chili, a Beer and the Game… Ah Bliss!
Super Bowl is a great time to make chili con carne. Make a huge pot of it, invite your friends over and watch the game. Chili con carne and beer go together beautifully. Forget the posh plates though and serve the chili in thick mugs.
If one of your pals has a larger TV then invite yourself over there. Take a crockpot of your taste best homemade chili recipe and you'll certainly be welcome!
Print
Chili's Mango Margarita Recipe
This beverage needs to introduction. If you're looking for the perfect cocktail to serve with your homemade chili, this margarita is well worth your consideration.
Author:
Prep Time:

5 mins

Total Time:

5 mins

Yield:

1

1

x
Category:

Drink

Cuisine:

Tex-Mex
1

chopped, peeled, pitted mango weighing 3 oz (

85g

)

2 oz

(60ml) orange liqueur

3 oz

(90ml) silver tequila

3 oz

(90ml) grapefruit soda

1 tablespoon

chile powder

1 1/2 oz

(45ml) fresh lime juice

1 1/2 oz

(45ml) agave nectar

1 cup

(large handful) ice

1

lime wedge
Instructions
Spread the chili powder over a dish.
Use the lime wedge to wet the rim of a margarita glass them dip it in the chili powder.
Puree the mango in a blender then add all the other ingredients and blend until smooth.
Pour into a glass and serve.