A cassoulet is a slow-cooked casserole with meat (usually pork sausage, duck, mutton or goose) as well as white haricot beans and pork skin. This dish originated in the South of France, and is named after the casserole dish it is made in.
Discover how to make a cassoulet the French way and you will be able to rustle up this wonderful meaty treat any time comfort food is the order of the day.
There are lots of regional variations on cassoulet, although all of them feature white beans. Crackling (crispy fried pork rind) and fried bread cubes are often scattered on top before serving.
Is your mouth watering yet? If not, keep reading and it will happen, especially when you see the pictures and discover what mouthwatering ingredients are in this classic French dish.
Basic Cassoulet and Gourmet Cassoulet
Get some tips about how to make a cassoulet and you will be able to make one like a French chef can. Buy canned cassoulet in France and also in various grocery stores in other countries, although they vary a lot in quality and price.
A cheap one will only contain tomato sauce, bacon, sausage and beans. Expensive ones might feature Toulouse sausage, goose, lamb, or duck. To make a haute cuisine cassoulet recipe, you will need to simmer beans with aromatic vegetables and then combine them with pre-cooked roasted meats.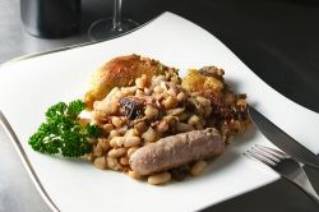 This is not the traditional way to make this dish though and it did start out as a peasant meal. It is traditional to deglaze the pot from the previous cassoulet to make the base for the next one, so theoretically a single cassoulet could extend for years or even decades, which is a strange idea.
Photo credit: Isabelle Palatin, on Flickr
Cassoulets in the United States
Learning how to make a cassoulet the French way isn't necessarily the same as the American way. If you see a cassoulet on an American menu, this will probably not refer to the traditional French dish. Instead you should expect a hearty bean-based casserole. The meat could be anything from beef to chicken or even salmon or seafood.
Cassoulets are really easy to make and using beans in the mix as well as meat means you can make an economical dish which is packed with goodness and protein. If you like making a chicken casserole recipe you can take it to the next level with a chicken cassoulet which is similar but deliciously different too.
Chicken Cassoulet Always Works
Chicken cassoulet is a very popular choice and this dish, bursting with white beans, chicken thighs, white wine, onion, and more is simple to prepare. An easy chicken cassoulet is a great recipe to cook for any occasion. Not too dissimilar to duck confit, this poultry-based French recipe is a surefire way to impress even the most discerning dinner guest.
Ingredients in a typical chicken cassoulet would include cannellini beans, chicken stock, bay leaves, olive oil, and salt. There are also optional items to throw into the pot or Dutch oven too as you like. Classic French cassoulet is simple to rustle up for any occasion and this French chicken casserole always smells so good as it cooks.
Finish it off over a low heat and serve this magnificent feast to your hungry family or dinner guests. Feel free to sub chicken for the pork, sausage, duck confit or any other protein in a traditional cassoulet recipe. Chicken is of course a neutral-tasting protein and will work in pretty much any great cassoulet.
OK so this isn't a dish you can make in 2 minutes, 5 minutes or even 15 minutes, but it's well worth making all the same! Grab your dry white wine, drained beans or great Northern beans, breadcrumbs, chicken breasts or chicken legs, tomato paste, and/or whatever else you want to include in your chicken, pork or sausage cassoulet.
Sniffing Out the Best Recipe for Cassoulet
The best cassoulet is believed to be found in the kitchen of a farmer's wife. If you ever find yourself traveling in Languedoc, France, the best souvenir to bring back is the medium-size haricot beans you can find there, such as the lingot de Lavelanet or the haricot beans of Mazères, Cazères or Pamiers. These will ensure a wonderfully authentic result and you will be pleased you learnt how to make a cassoulet.
Depending what kind of cassoulet you want to make, you might also need a large skillet or cast iron pan which you can have over a medium heat or medium-high heat to brown some of the ingredients. A 1 tbsp of this and 1 cup of that until you have the perfect mix. You could also make a wonderful meal using your slow cooker or Instant Pot, if a longer, slower cooking time suits you better.
Beans or No Beans – What is Your Preference?
A cassoulet is not a cassoulet without the beans. Leave out the beans and it becomes a basic stew. You can make a chili con carne without beans. But the same doesn't apply to cassoulet.
So what do you think about beans in your casserole – do you like a hearty helping of beans in there or does the idea not appeal?
Print
Traditional Cassoulet Recipe
Ideal for a special occasion, this recipe introduces you to what a traditional cassoulet should taste like. This would wow anyone, and offers warm, rich flavors in every bite.
Author:
Prep Time:

1 hour

Cook Time:

7 hours

Total Time:

8 hours

Yield:

1

0

1

x
Category:

Entree

Cuisine:

French
6 oz

(

170g

) fresh pork skin with 1/4 inch (1/2 cm) fat attached

1

lb (450g) boneless pork shoulder cut into 1 1/2 inch (3.75cm) cubes

2

lbs (900g) rinsed dried Tarbais or cannellini beans

1

unpeeled head of garlic plus 4 small peeled garlic cloves

5 oz

(

140g

) piece of pancetta

1

chopped fresh plum tomato

3

thinly sliced small carrots

2 oz

(

55g

) skinless salt pork

2

fresh ham hocks

5 oz

(

140g

) piece of prosciutto

1/3 cup

(80ml) duck fat

6

duck confit legs

1 tablespoon

vegetable oil

2 quarts

plus 2 cups (

2.5

liters) chicken broth

1/4 cup

(

30g

) fresh breadcrumbs
Bouquet garni (4 parsley sprigs, 3 small celery ribs, 2 thyme sprigs and 1 bay leaf tied with string)

2

diced onions

1

lb (450g) French-style fresh pork sausages such as saucisses de Toulouse
Salt and freshly ground black pepper
Instructions
Put the pork shoulder and skin, as well as the ham hocks in a big dish and season with salt and pepper. Cover and refrigerate overnight.
Put the beans in a bowl. Cover them with 3 inches (7.5cm) of water and soak those overnight too. The following day, put the salt pork and seasoned skin in a pan and cover with water. Bring to a boil then simmer over a medium heat for ½ hour or until the skin is supple. Drain and cool.
Put the salt pork in the refrigerator. Cut the skin into 5 long pieces. Roll each one into a bundle and tie using string. Dry the pork shoulder cubes and ham hocks using paper towels. Heat the duck fat in a big, enameled, cast-iron casserole. Add ½ the pork cubes and cook over medium-high until light brown. Transfer to a place. Repeat with the rest of the pork cubes.
Add the ham hocks to the casserole to brown them. Add the onion and carrot and cook over medium for 7 minutes, stirring often, or until the onions are golden. Stir in the pancetta and brown it. Add the garlic head, tomato and prosciutto and cook for a minute, stirring constantly.
Add the pork skin bundles, bouquet garni, 2 quarts (2 liters) of the broth, browned pork and its juices. Bring to a boil.
Cover the casserole dish and simmer for 1½ hours, stirring every now and then.
Drain the beans. Put them in a pot and cover with water. Bring them to a boil then simmer for 3 minutes and drain. Add them to the casserole and simmer for 2 hours or until the beans are tender.
Let the mixture cool, then refrigerate it overnight. Remove as much fat as you can from the casserole surface, reserving ¼ cup (60ml) of it.
Bring the cassoulet back to room temperature.
Pick out the pancetta, prosciutto and ham hocks.
Cut the meat into bite-size pieces, discarding any gristle, skin or bone. Discard the bouquet garni.
Pick out the head of garlic and pork skin bundles and reserve.
Preheat the oven to 400°F (200°C). Bring the cassoulet to a simmer.
Cut the salt pork into small pieces.
Squeeze the cooked garlic cloves out of their skins into a food processor, then add the raw garlic cloves and salt pork. Process to make a smooth paste.
Stir this paste into the cassoulet and simmer gently for 15 minutes. Stir occasionally.
Stir in all the cured and cooked meats.
If you are making this 1, 2 or 3 days ahead, this is where you stop.
Arrange the duck legs in a baking dish and roast for 15 minutes or until heated through. Cut the meat off the bones and cut the skin up. Discard the bones.
Turn the oven down to 325°F (160°C). Unroll the pork skin bundles. Line a 5 quart earthenware casserole with the pork fat, putting the skin side facing down.
Transfer half the cassoulet to the earthenware dish using a slotted spoon.
Top with the duck confit then add the remaining cassoulet.
Add the remaining 2 cups (1/2 litre) of broth to the liquid in the cast-iron casserole dish and add some salt and black pepper.
Pour this liquid over the cassoulet and drizzle 2 tablespoons of the reserved skimmed-off fat on top.
Bake for 1½ hours.
Heat the vegetable oil in a skillet. Prick the sausages with a fork then add them to the hot oil. Cook until browned all over. Let them cool then cut into 3 inch pieces.
Turn the oven down to 275°F (135°C) and stir in the skin which has formed on top of the cassoulet. Nestle in the sausage pieces and drizzle 2 tablespoons more of reserved fat on top.
Sprinkle breadcrumbs on top and bake for another hour or until dark brown on top. Let it sit for 20 minutes before serving.
Notes
There are many cassoulet variations but most are based on pork and white beans. This cassoulet recipe includes French garlic sausages as well as duck confit.
There are quite a few ingredients in the ingredients list and a fair amount of steps to make it too, but this recipe is outstanding and sure to impress any dinner party gathering.
You can make this dish up to 3 days ahead if you like and refrigerate it until needed. To do this, follow the recipe up until the point where the duck confit legs are roasted. Bring the beans and ragout to room temperature before carrying on with the dish. Serve this amazing gourmet cassoulet with a tannic, hearty, French red wine.

Photo Credit: Ewan M, on Flickr
Keywords: cassoulet recipe, how to make cassoulet, what is cassoulet, cassoulet chicken, cassoulet pork, traditional cassoulet, authentic cassoulet
This next recipe is also very nice. The delicious cassoulet is full of flavor and simple to make too. Refrigerate any leftovers in for up to 2 days, then reheat for 20 minutes at 375°F.
To make this ahead and freeze, prepare it without the breadcrumb topping. Cover and freeze the cassoulet for up to 4 months.
When you are ready to cook it, uncover it and sprinkle with the breadcrumb mixture, then bake (still frozen) at 400°F for 50 minutes or until piping hot.
Print
Quick and Easy Cassoulet
If you want to rustle up traditional French cuisine without spending hours over the stove, consider this recipe. It is full of authentic French flavor and simple to put together.
Author:
Prep Time:

15 mins

Cook Time:

1 hour 30 mins

Total Time:

1 hour 45 mins

Yield:

6

1

x
Category:

Entree

Cuisine:

French
3

diced parsnips

3

diced carrots

5

sprigs fresh thyme

1/2 teaspoon

salt

1 1/2 cups

(375ml) chicken broth

1/4 cup

(

15g

) chopped fresh parsley

3

minced garlic cloves

1

chopped tomato

1 cup

(

120g

) breadcrumbs

1/8 teaspoon

black pepper

2 tablespoons

melted salted butter

3

x 15 oz (

400g

) cans drained rinsed cannellini beans

1 tablespoon

olive oil

1

lb (450g) Italian sausage with casings removed

1

thinly sliced onion
Instructions
Heat the oil over a medium heat in an ovenproof pot or Dutch oven.
Cook the sausage until brown, using a wooden spoon to break it up. Remove and drain on paper towels.
Pour the excess oil out of the pot.
Add the vegetables, thyme, beans, chicken broth, 1/3 of the garlic, the sausage, salt and pepper and return to the heat.
Mix well and scrape up any stuck-on brown bits. Bring the mixture to a boil then turn the heat down.
Cover and simmer for an hour, stirring every 15 minutes, until the veggies are tender and the cassoulet is thick. Preheat the oven to 400°F (200°C).
Combine the breadcrumbs, parsley, butter and remaining garlic, then sprinkle this evenly over the cassoulet and put it in the oven.
Bake uncovered for 12 minutes or until the crust is golden brown.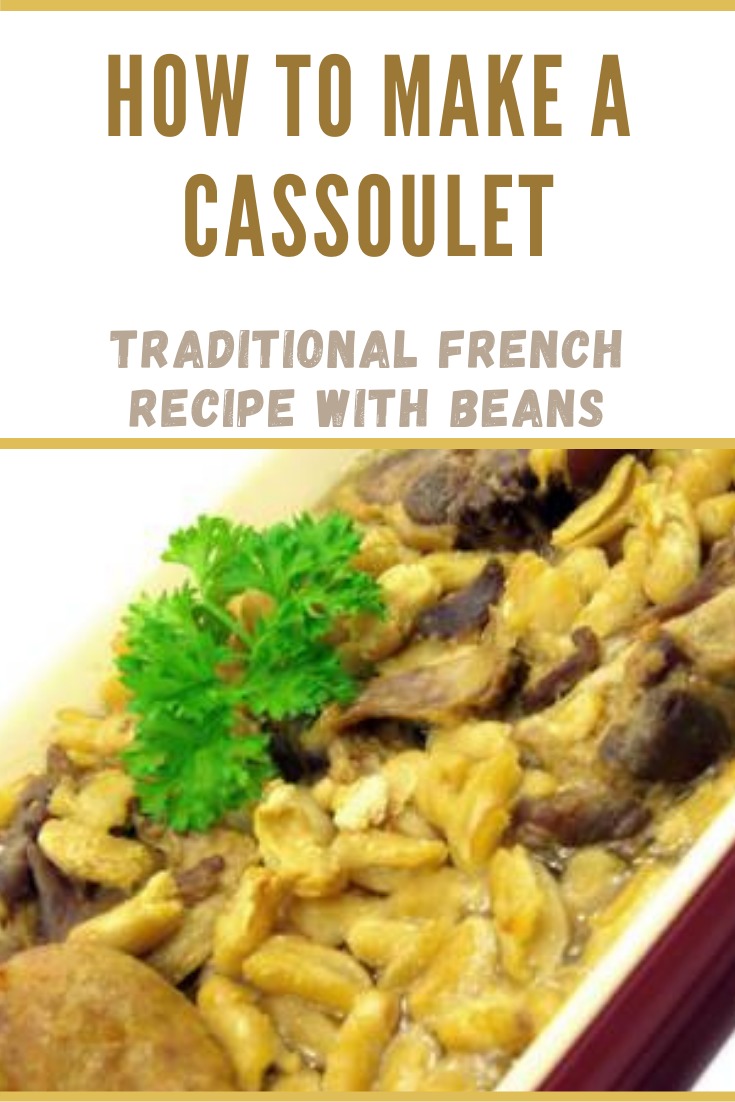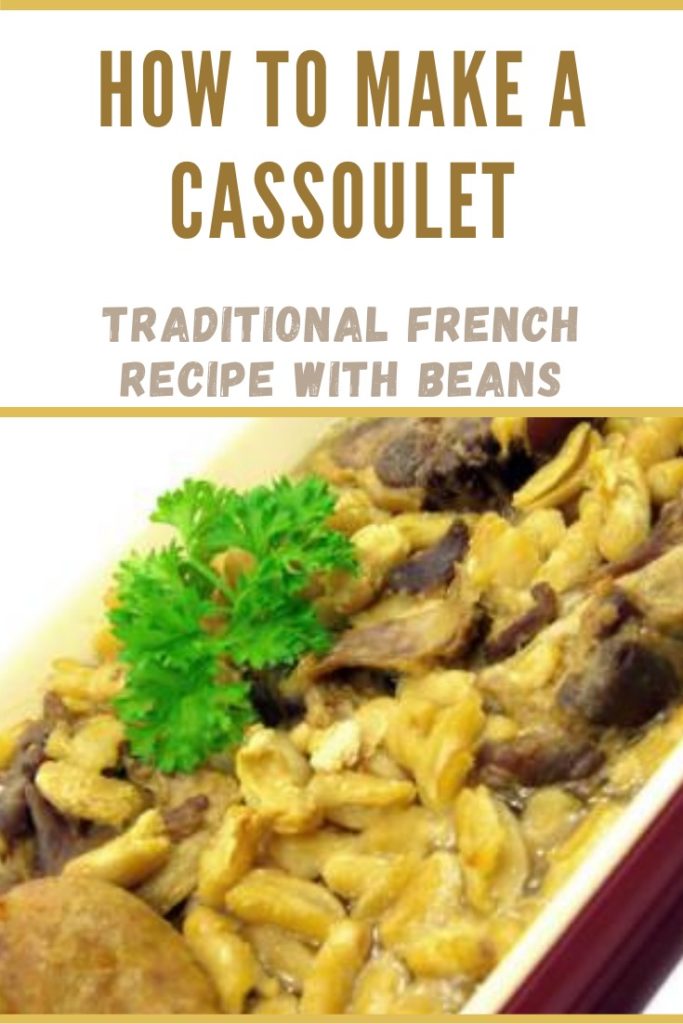 How to Make a Cassoulet – A Handy Video
Following a black and white recipe for cassoulet and watching it being made are not the same thing, so here is a video to tantalize your taste buds.
Watch this and you will want to make cassoulet for dinner tonight, for sure. And you can see how simple it is to prepare.