Easy starter recipe ideas are always worth knowing so you can make something to enjoy before the main course comes out of the kitchen. Starter recipes as they are called in the UK, or appetizer recipes as they are known in the US, are little snacks which are served before the main dish. There are easy starter recipe ideas to suit every occasion.
There are hot and cold starter recipes that everyone can prepare, no matter whether you happen to be a newbie in the kitchen or an experienced and seasoned chef. Choose from finger food, canapes, sit-down
So what are you planning to make as your New Year's Eve starter recipes? A parma ham and melon starter, prawn cocktail, cheeseballs, canapés or something else? Keep reading if you are still looking for New Year's Eve appetizer inspiration.
Easy Starter Recipe Ideas and Ingredients
You can use meat, poultry, fish, seafood or even vegetarian or vegan ingredients to make easy starter recipes and you do not have to spend a lot of time on them either.
Easily made starters are always welcomed at all kinds of occasions and you can choose from meaty starter recipes, seafood ones, vegetarian dishes or just a mixture of everything.
Easy Starter Recipe Ideas: Know Your Portion Sizes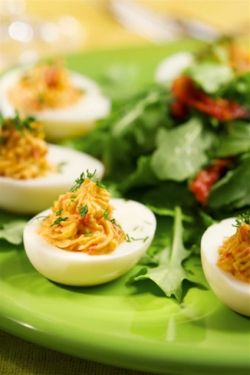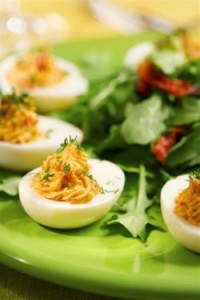 Hot and cold starters recipes should not be too large or too filling because there is at least one more course to come afterwards.
You can make your starter recipes simple or elaborate, plain or colorful, hot or cold, and you can choose from a wide range of cuisines, ingredients and types of starters to make something which will whet everyone's appetite for the main course without filling them up.
If you have avoided making appetizers or starter recipes for fear of wasting too much time on them then rest assured there is plenty you could make with just a few ingredients which can be done in 10 minutes.
You can also keep your starters chilled until serving, freeing up your time to focus on making the main course. This is actually a very handy tip to know when considering easy starter recipe ideas.
So there is no need to panic even if you have an ambitious menu. Just plan well in advance what you wish to make.
Cold Starters and Tasty Cold Starter Recipes
Even a total newbie in the kitchen can manage simple cold starter recipes like shrimp cocktail, ham with melon, or deviled eggs. But there are lots of other things you can make too, both hot and chilled, so investigate the world of easy starter recipes and make something mouthwatering for your next party, get-together or family evening. There are plenty of easy starter recipe ideas so you won't run out of inspiration.
The Essential Appetizers Cookbook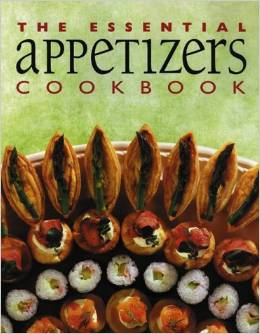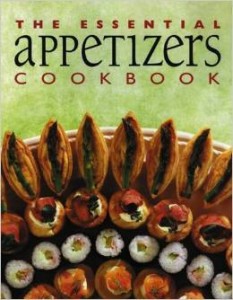 This book is a must-have for any home cook. The step-by-step instructions and beautiful photos make it ideal for anyone, whether you are a newbie in the kitchen or a seasoned chef.
Buy this for yourself of give it as a Christmas or birthday gift to anyone who enjoys preparing food.
This book is more than 300 pages and it contains pretty much every appetizer and starter recipe you will ever need!
It is a real lifesaver for any dinner party and you can look for specific dishes such as sushi, Tex-Mex or Chinese, or simply flick through the book and see which easy starter recipe ideas take your fancy.
I have looked at a number of reviews for this book and found nothing lower than a 4 out of 5 (although most reviews are 5 out of 5). There are lots of cookbooks out there but if you want a great one, this is certainly the winner.
Appetizers Cookbook, on Amazon
Basic Starters and Trio of Starters Ideas
If you are looking for simple starters and easy starter recipe ideas, you might want to consider making cold starter recipes.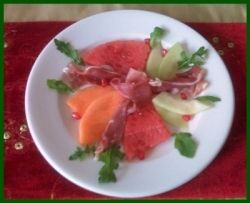 This is because it is easier to make something in advance and keep it in the fridge than try to juggle a hot starter recipe and a hot main course at the same time. Focus on one thing at once rather than trying to do everything simultaneously.
Which simple cold starters recipe to choose depends on the occasion. If you are making starters for a sit-down dinner, you will want to make something quite impressive-looking. That doesn't mean it has to be difficult!
What about a gourmet chilled soup recipe or traditional English starters like prawn cocktail? Those are always good easy starter recipe ideas. Starters for dinner parties are usually small because you don't want to fill your dinner guests up too much before they get the main course!
A melon and parma ham starter recipe would be a good idea. For this, you just need a ripe melon in slices and some parma ham. Drape the parma ham over the melon slice and that is all there is to it! Of course you can jazz this recipe up by combining different types of melon or using a fruity sauce or adding some goat's cheese. Use your imagination for the finishing touches and you can make something really special.
Trio of Starter Recipes
So what is a trio of starter recipes or a trio of starters? Actually this can be anything you want but keep the theme the same, so for example if your theme is tuna you might like to serve some tuna salad (canned tuna stirred with mayo and a little salt and black pepper) as well as a couple of pieces of tuna sashimi (raw sushi-grade tuna cut thinly and icy cold) and finally some ahi tuna (a small tuna steak grilled or pan-fried until just the outside is charred and the middle is cold and red).
Trio of Cheese
Is cheese your theme for a trio of starters? Then what about some grated cheese mixed with mayo and finely chopped anchovies, a cube of Blue cheese (Gorgonzola or Stilton perhaps) and a slice of Gruyere quiche or a mini cheese souffle? Come up with your own main ingredient and themes if you choose.
Avocado and Asparagus Appetizer Wraps
Are you an asparagus fan? If so this cold starter recipe should be ideal for you. One of the tastiest easy starter recipe ideas ever! Not only is it very tasty but it is also healthy, so you get the best of both worlds! Whole wheat tortillas are stuffed with asparagus, avocado, red onion, cilantro (that's coriander leaves if you're in the UK or Ireland) and more, and the resulting wraps are cut in half and served like that so the contents are visible.
These are quite filling so limit each guests to 2 halves each unless the main course is a long way off! Another idea is to serve these for lunch. Yes they are a cold starter recipe but there's no reason you can't serve these for lunch instead of easy cold starters.
Print
Nutritious Avocado Asparagus Wraps
Avocado and asparagus star in this wonderful wrap recipes. Wraps make a nice lunch or, when sliced into pinwheels, a wonderful appetizer. This recipe is easy to make and so yummy!
Author:
Prep Time:

15 mins

Cook Time:

5 mins

Total Time:

20 mins

Yield:

1

2

1

x
Category:

Appetizer

Cuisine:

American
1

peeled pitted avocado

3 tablespoons

plain nonfat yogurt

3

(10-inches in diameter) whole wheat tortillas

1 tablespoon

fresh-squeezed lime juice

24

spears asparagus

1

minced garlic clove

1/3 cup

fresh cilantro leaves

1 1/2 cups

cold cooked long-grain white rice

2 tablespoons

chopped red onion
Instructions
Bring 2 inches of water to a boil in a pan then put the asparagus in a steamer basket and add it to the pan, not letting it touch the water.
Cover and steam for 5 minutes or until tender.
Remove it and rinse in cold water to stop it cooking.
Drain well.
Mash the avocado in a bowl with the garlic and lime juice and set aside.
Stir the yogurt with the rice in another bowl and set aside.
Heat a dry skillet (not a nonstick one) over a moderate heat and warm the tortillas in there one at a time until soft.
This takes about 20 seconds per side.
Lay them on a work surface.
Divide the avocado mixture between the tortillas, then top each with some rice mixture.
Add the asparagus, onion and cilantro, then fold the tortillas in at the top, bottom and both sides.
Cover with plastic wrap and chill for up to an hour or serve right away.
These are nice served at room temperature but chilled is also fine. Cut each one in half to serve.
Print
Beef Carpaccio Recipe
Beef carpaccio is a classic appetizer made with high quality raw beef along with pine nuts, parmesan and other garnishes. This is a timeless dish which leads perfectly into a poultry, pork or game entree.
Author:
Prep Time:

10 mins

Total Time:

10 mins

Yield:

6

1

x
Category:

Appetizer

Cuisine:

American
1/2

lb (250g) good quality beef fillets
A handful of arugula (rocket leaves)
Shaved Parmesan cheese or Gran Padano

1/2 teaspoon

English mustard

1/2 cup

(100ml) olive oil

2

egg yolks
Juice of a lemon
Instructions
Freeze the beef for half an hour. This will make it easier to slice.
Add the egg yolks to your blender and add the olive oil in a slow stream.
You can use a hand whisk if you don't have a blender.
Add the mustard and lemon juice, as well as some salt and pepper, and mix well.
Use a very sharp knife to cut the beef into VERY thin slices.
You do need a sharp knife because a blunt one is going to give you ragged beef, which will spoil the look of your beef starter recipe.
Put your thin beef slices on a plate and cover them with plastic wrap.
This stops them from going brown.
Don't worry about this step if you are serving the carpaccio immediately.
When you're ready to serve your beef carpaccio, heap some arugula ()rocket in the middle of the plate and drizzle the dressing around the outside.
Use a potato peeler to shave some Parmesan or Gran Padano over the beef and serve immediately.
Print
Fish and Cucumber Bites
This is a lovely fresh tasting appetizer which won't spoil your appetite for the main dish. The cucumber and crab complement one another and the soy sauce and cilantro offer a taste of the East. These little nibbles will always be quick to vanish at parties. Your guests will love them.
Author:
Prep Time:

10 mins

Total Time:

10 mins

Yield:

1

2

1

x
Category:

Appetizer

Cuisine:

American
3/4 teaspoon

white sugar

5 1/4 oz

(

150g

) peeled cucumber, cut into 12 slices

2 tablespoons

rice vinegar

1 tablespoon

finely chopped fresh coriander (cilantro)

2 tablespoons

soy sauce
Paprika, for garnish

3/8 teaspoon

black pepper

5 1/4 oz

(

150g

) canned crab, drained
Instructions
Hollow out each slice of cucumber, leaving the bases intact.
Combine the soy sauce with the vinegar, coriander, pepper and sugar.
Add the crab and mix well.
Divide the crab mixture between the cucumber slices and dust with paprika.
Print
South of the Border Bean Salad
Beans are showcased in this delicious bean salad, with other south of the border ingredients like cumin, chili pepper and cilantro. This makes a great appetizer, or try it as a side dish for fish or chicken.
Author:
Prep Time:

10 mins

Cook Time:

6 mins

Total Time:

16 mins

Yield:

6

1

x
Category:

Appetizer

Cuisine:

Tex-Mex
2

peeled, stoned avocados

4

eggs

1

bottle of salad dressing (anything you like)

1

sliced, de-seeded red chili pepper

2

x 14oz (

400g

) cans of beans (perhaps kidney beans and white beans)

1/2 teaspoon

cumin

1

finely sliced red onion
Chopped bunch fresh cilantro (fresh coriander) leaves

1/2

lb (250g) halved cherry tomatoes
Instructions
Boil the eggs for about 6 minutes.
Slice the avocados and stir them with the onion, beans, tomatoes and coriander leaves.
Stir 3 tablespoons of the salad dressing with the cumin and chili.
Peel the eggs and cut them into quarters. Toss the dressing with the salad and add the egg quarters.
Serve this delicious Mexican bean salad recipe with toasted tortillas, if you like.
To make the salad go further (or make a complete meal with it), spoon it into flour tortillas or pita bread and add a spoonful of plain yogurt or sour cream, as well as some grated cheese.
Photo from www.freedigitalphotos.net
Easy Low Carb Starter Recipe
Spectacular Sushi Roll
Famous British Easy Starter Recipe Ideas – You Can't Go Wrong with These
One of the most famous English starter recipes has to be prawn cocktail. This delicious recipe combines juicy prawns with lettuce, cucumber and a marie rose sauce.
Prawn cocktail is often served as a Christmas day starter recipe. Soup is also popular, if you want to know about famous British starter recipes and there are hundreds of soup recipes including tomato soup, broccoli and cheese soup, mixed fish soup, chicken soup and more.
Fried dishes like breaded garlic mushrooms make nice starters or you could serve baked Brie with cranberry sauce, both of which are easy starter recipe ideas. A starter recipe should be tasty enough to satisfy yet light enough not to fill you up. Most famous British starters meet this criteria and are therefore ideal.
Why People Make Starter Recipes… and Why You Should Too!
Starter recipes can set the mood for the whole meal, and prepare your guests for what delicacies are being served later in the meal.
The starter can be either straightforward, or complicated, depending on the abilities of the chef and the occasion. You can experiment with the starter recipe beforehand and ensure that what you serve is excellent.
Not Just for Parties
Many people feel that easy starter recipe ideas are only served for special occasions; however they can be served at average meal times, and help kick-start the taste buds and complement the meal.
There is a vast array of different easy starter recipe ideas and options, ensuring that you will never tire of cooking something different. Whether you want to attempt soup, or canapés you should enjoy preparing and serving the starters to friends and family.
You will need to consider the people that are dining with you and decide on the starters that will suit their tastes. Young children may not be keen to attempt unknown foods and older people may have very traditional tastes. You should introduce new ideas slowly and see what people enjoy, but there is no harm in making an adventurous starter as it may be a huge success.
Fresh and Zesty
Easy starter recipe ideas should provide a refreshing base for the meal ahead, and there are several different ingredients which are ideal. Adding orange or lemon zest to the starter will provide a zingy, fresh taste, which will appeal to your guests. Fruit is a popular choice when searching for the ideal starter and is light enough not to ruin the main course.
Flavors, Textures and Temperatures
You may need to experiment with different flavors and textures before you find recipes that you love to make for your guests. However, there are many different recipes available, and you can spend hours searching the Internet for different combinations. You can serve both hot and cold starters, depending on the time of the year, and what the other courses are being served.
Remember cooking should be fun, and never a chore that you feel that you have to do in the kitchen. Creating exciting easy starter recipe ideas is a fantastic way to unwind at the end of a busy day, and can help to broaden your culinary experience.
Once you have created a starter that people enjoy, you will want to keep experimenting, and providing your guests with the ultimate food every time they visit.
Starter Recipe Tip
Serve a small glass of sorbet between your starter and your main course. This cleanses and refreshes the palate, so the flavor of the starter goes and your guest has a neutral flavor in his mouth and is therefore ready for the main course (and perhaps a different wine). This is a nice tip to know in addition to knowing some easy starter recipe ideas.
If you serve a prawn appetizer and a beef main course, you do not want your guests to have the flavor of prawn in their mouths still. Try a simple lemon sorbet perhaps.
Starter Recipe with Goat's Cheese for New Year's
Starter recipes with goat's cheese can be an unusual alternative to traditional starters that are served at dinner parties. They are perfect for vegetarians, and will suit hot summer nights, where you may need something lighter.
There is a huge variety of goat's cheese starters to choose, each with their own unique twist. Goat's cheese parcels look incredible and will impress all of your guests, despite the fact they take very little effort and are an affordable option.
Print
Starter Recipe with Goat's Cheese
Goat cheese blends with walnuts, garlic, filo pastry and more, to make this mouthwatering starter recipe. If you want to show off your goat's cheese, make this and everyone will go crazy for it.
Author:
Prep Time:

15 mins

Cook Time:

40 mins

Total Time:

55 mins

Yield:

1

6

1

x
Category:

Appetizer

Cuisine:

American
250g

(

1/2

lb) finely chopped onion

1

crushed garlic clove
Pinch of white sugar

2 Tbsp

olive oil

8

sheets of filo pastry

25g

(

1 oz

) melted butter

50g

(

2 oz

) chopped walnut pieces

140g

(

6 oz

) goat's cheese, cut horizontality
Ground black pepper
Thyme sprigs, to tie filo parcels
Instructions
In a heavy based pan heat half of the oil
Add garlic, onions, pinch of sugar
Stir, cover and simmer gently for 30 minutes
Leave mixture to cool
Preheat oven to 200C (400F)
Mix butter and oil in a pan
Take half a sheet of filo pastry and brush with oil mixture
Place more sheets on top at angles to one another, creating a star shape
Place some onion mix in the center, sprinkle some walnuts and one half of the goats cheese
Season with pepper
Gather the edges of the filo pastry, pinch together and enclose mixture like a parcel, tie with a thyme sprig to secure
Place the parcels on a non stick baking sheet, brush with the oil and bake for 10-15 minutes
Serve immediately
Photo by FreeDigitalPhotos.com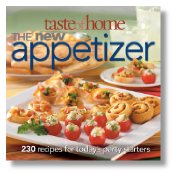 Appetizer Cookbook – 230 Pages of Fantastic Recipes
If you would rather flick through a hardback appetizer cookbook for easy starter recipe ideas than browse a website you are not alone.
This is one of the best starter recipe cookbooks on the market at the moment and it offers a whole host of delicious appetizers that even a beginner cook can make with ease.
It has 12 reviews giving it 5/5 and no lesser ones, so this is a fantastic buy.
Taste of Home Appetizer Cookbook, on Amazon
Which Starter to Serve with Your Main Course
Choosing which starter to serve alongside your main course may seem like a straightforward task, but there are several different elements that you need to consider.
When you are planning your menu and thinking about easy starter recipe ideas, you may be surprised to know that you need to choose your main course first. Once this has been selected, you can begin to build the rest of the dinner around this core dish.
The main course that you choose is often considered to be the focal point of the whole meal; therefore, the starter will simply be there to compliment the dish.
There are basic guidelines and rules that are used to ensure that you do not make any mistakes whilst selecting the dishes. The core element of your main dish is considered to be the protein of the meal. Once this is chosen, you can move on to the starch and vegetables.
Things to Consider
The starter should be subtle with no overpowering flavors or aromas as this can ruin the taste of the main course.
You need to ensure that regardless of the starter that you choose that none of the core ingredients from the main course are used. Straightforward, easy to prepare starters are often favorite choices and these can be either cold or gently warmed.
Designed to Increase Your Appetite
The size of the starter is a huge factor to consider, as far too many people serve a starter that is too large. You want your guests to be excited about the food, and want to experience more delightful flavors.
The concept behind the starter is to provide your guests with a small easy to eat dish, that increases their appetite. Keep your easy starter recipe ideas creative but don't forget portion control.
Considering the Ingredients
Once your main course is chosen, you can begin to sit down and decide what starter will compliment the dish to a high standard.
You should never repeat the ingredients, and ensure that the style of dishes is very different. Therefore, if your main dish is fish, you should not serve fish as the starter as this will be overpowering.
Preparing and Serving
The moment when your guests first arrive can be hectic, and you will have many different tasks to complete, ensuring that your guests are happy.
Therefore, the amount of time that you spend in the kitchen may be limited, and you need to consider this when planning your easy starter recipe ideas. You need to consider your time limitations, and how much you want to spend with your guests.
Keep it Simple
Complicated starters will also take far longer to eat so you need to ensure that you have planned the cooking of your main course.
If your guests take too long to eat your complicated starter, this could ruin the outcome of your main course. Presentation and decoration can be straightforward with the starter, ensuring that your guests can move on easily.
Don't be afraid to experiment in the kitchen. After all, making easy starter recipes should be FUN!
3 Ingredient Cold Starter Recipes So Easy Anyone Can Make Them
The following ideas combine three different ingredients for interesting easy starter recipe ideas. There are no preparation techniques nor advice about presentation.
You can choose any trio of ingredients, chop or slice them if you like and arrange them on chilled plates. Getting new ideas for starters couldn't be easier and even though these are simple they are delicious!
Lettuce, strawberries and goat's cheese
Tomato, blue cheese and basil
Edamame (soy beans), bean sprouts and soy sauce
Melba toast, cream cheese and raspberries
Beetroot (beets), cottage cheese and cucumber
Avocado, crackers and tomato salsa
Shrimp, cream cheese and sliced olives
Roast beef, mustard and crackers
Pea and Ham Soup Recipe
This Video Shows You How to Make It
This is a thick, rich appetizer for a winter day and one of the best easy starter recipe ideas if you want something hot and comforting. Perfect now the weather is getting cooler! You can serve this in larger portions for lunch or supper, or in smaller bowls to act as an appetizer or starter recipe.
Follow with something meaty or fishy for the perfect meal, perhaps finishing with a warm dessert like brownies or a hot pudding. Guaranteed to "warm your cockles" as they say in England!