This pork and beef crackslaw recipe is made using a combination of pork and beef. Although you can make crackslaw with any kind of ground meat (including poultry if you wish) I find that combining pork with beef gives a pleasing result. The pork is juicy and the beef has its own distinctive flavor.
They just combine well, especially when making something like pork and beef crackslaw. Here in Holland you can't buy ground pork by itself (at least not in my local store) which is why I use the half and half mixture quite a lot. Yes I could grind my own pork but I haven't yet done that. I do have a meat grinder attachment on my food processor and I guess I will get around to trying it out one day (along with the juicer attachment!)
In this recipe I also used ready-shredded vegetables like these (cabbage on the left, carrot with onion on the right). If you prefer to shred your own then of course that is fine too, and often works out cheaper. I got my shredded veggies on sale.
The bag on the right is labeled "hutspot" which is a Dutch dish made by mashing potatoes with carrot and onion. But it is also very nice in pork and beef crackslaw I have discovered! And you can get it in pretty much any grocery store here because it's very popular.
Shredded Vegetables for Pork Crack Slaw
You might be interested in investing in a shredder if you do prefer to shred your own veggies and there are various kinds to choose from depending how much you want to spend and how often you plan to shred things.
Unless it is cheap to pick up ready-shredded items where you are, a shredder might prove to be a worthwhile investment.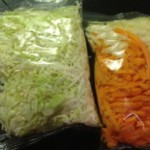 If you grow your own vegetables though, or have a keen gardener in the family or in your circle of friends, you might find yourself with bags of veggies and that is when a shredder comes in very handy. You will be able to shred everything conveniently and enjoy the fresh flavor of something which hasn't been sitting in a plastic bag for a few days. Anyway the choice is yours of course.
Draining the fat off the meat when making pork and beef crackslaw is totally optional and, if you are low-carbing, you will know it is not necessary, but sometimes you get a lot of fat coming out of ground meat so you might like to drain some or all of it away before continuing with the recipe.
I prefer to do this in a sieve because if I use a colander I get bits of meat stuck in the grooves.
This pork and beef crackslaw recipe is very close to the original crackslaw recipe and it is something you can tinker with if you wish to add your own touches to it.
I served this 2 nights ago and found it quite filling while my husband queried the lack of side dishes.
If you want to add a low carb side dish to this, try shirataki noodles perhaps or even some salad. If you make this very spicy then a salad with some creamy dressing on top might be a very good idea actually!
Pork and Beef Crackslaw Tip: Cook the Meat Until it is Just Done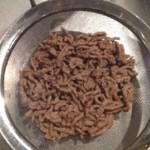 I like to cook the meat until it is just done but some people prefer it slightly crunchier so keep going until you are happy with it. Actually I made it more crunchy in this pork and beef crackslaw because sometimes I like it that way.
After the meat is browned you can let it drain while you sauté the other ingredients, then it goes back in towards the end, when you warm everything up and combine all the ingredients together to finish off the dish.
I have made crack slaw a lot of times and am still finding new ways to keep it fresh and exciting. Although I am quite happy with the original recipe for crack slaw I still like to try new ways and this is one I will certainly be making again.
If you have your own way of making crack slaw or your own favorite ingredients you enjoy using, drop me a line below. I am always fascinated to discover how other people like to make this! Back to the recipe though, keep reading to find out how to make this dish.
Print
Beef and Pork Crackslaw with Shredded Veggies
Beef and pork are combined with shredded carrot, cabbage and onion, as well as Asian spices, to produce this irresistible low carb offering. Make it as spicy as you dare.
Author:
Prep Time:

10 mins

Cook Time:

15 mins

Total Time:

25 mins

Yield:

4

1

x
Category:

Low Carb

Cuisine:

Chinese
1/2

lb (225g) ground beef

1/2

lb (225g) ground pork

1 teaspoon

white wine vinegar

1

sliced green onions

1/2

chopped yellow or white onion

7 oz

(

200g

) shredded cabbage

7 oz

(

200g

) matchstick-cut carrot

1 teaspoon

garlic powder

1/2 teaspoon

Splenda or similar

1/2 teaspoon

ground ginger

2 tablespoons

sesame oil

2 tablespoons

soy sauce
Hot sauce, to taste
Salt and black pepper, to taste
Instructions
Brown the ground beef and ground pork in a skillet.
Season with salt and pepper to taste.
Remove the meat from the pan when cooked through, and sieve off the fat if you wish.
Heat the sesame oil and cook the onions, cabbage and carrot until tender (or crunchy if you prefer it that way).
Stir in the garlic powder, hot sauce, soy sauce, sweetener, vinegar and ginger.
Cook for 2 minutes.
Add the ground beef and pork back in and stir well to combine.
Taste once more and season again if it needs it then serve this pork and beef crackslaw hot.
Notes
This is what it will look like before you add the meat back in
Nutrition
Calories:

350

Fat:

24g

Carbohydrates:

4.5g

Protein:

25g