Travel Articles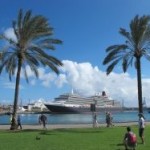 So you're interested in working in sunny Gran Canaria? I have plenty of handy information to share with you about moving to Gran Canaria, living there and working there, so read on! Whether you want a job in Gran Canaria or you're just curious, I can share my experiences with you.
Gran Canaria is one of the Canary Islands and is situated off the coast of North Africa. With great weather all year round, Gran Canaria is a great tourist desination and somewhere you can work all year round if you are a member of the EC or have a visa to work in Europe.
What Type of Work is There?
If you are willing to accept a bar job in Gran Canaria or PR job, it isn't too hard but you do have to be on the island! The best thing to do is to get return flights, perhaps including accommodation for a week or two so you don't have to find an apartment immediately. Continue reading →
Other Posts You Might Like