Jamie Oliver Superfood Salad Copycat
My husband and I had lunch at the Jamie Oliver restaurant in Cardiff last year and it was really good! I had the avocado superfood salad with smoked salmon and it really made an impression. I loved all those flavors and it looked gorgeous too. I wanted to recreate it so I came up with this Jamie Oliver superfood salad copycat recipe. It's not identical but pretty close!
What's in It?
The Jamie Oliver superfood salad copycat salad is made with avocado, beets, grains, kale, toasted seeds, and a tasty harissa and lemon dressing. On top of that you have avocado, pomegranate and poppy seeds. The following recipe is a copycat attempt, in case you wish to recreate some of this wonderful meal, but I can't say it is totally accurate since I'm just going by what I remember.
In the restaurant you can order free-range chicken or smoked salmon on the side, or some feta cheese if you want. I am all for tweaking recipes so take the following Jamie Oliver superfood salad copycat recipe and tweak it to your heart's content. Consider adding walnuts, olives, capers, cucumber, grated carrot, baby spinach, or anything else. Consider this recipe as a starting point and lovingly make this recipe your own.
Why is this Jamie Oliver Superfood Salad Copycat Recipe So Good?
I don't know why I love this Jamie Oliver superfood salad copycat salad so much, but I think it's largely to do with the fact we eat with our eyes first, and those colors are just amazing, then you take a bite and enjoy not only the combination of sweet and savory flavors, of crunch and creaminess, but the textures in there too. Of course, knowing this is healthy also helps, because this salad will give you plenty of energy. Our recipe makes 6 servings but make less if that's too much or perhaps halve it.
You can use puy lentils and cook them following the instructions on the package or else use precooked lentils (just drain them well). Then the dressing I make with extra-virgin olive oil, lemon juice and harissa, which is a North African hot chili pepper paste, made with roasted peppers, garlic, caraway, oil, coriander seed and more. You can use a little paste in the recipe if you want, but I usually use the powder since it keeps for ages. Anyway, try this Jamie Oliver superfood salad copycat recipe out for yourself.

Jamie Oliver Superfood Salad Copycat
You will fall in love with this incredible salad. My copycat version uses puy lentils, avocado, smoked salmon, cottage cheese, toasted seeds, pomegranate seeds and more, for a tasty, healthy result.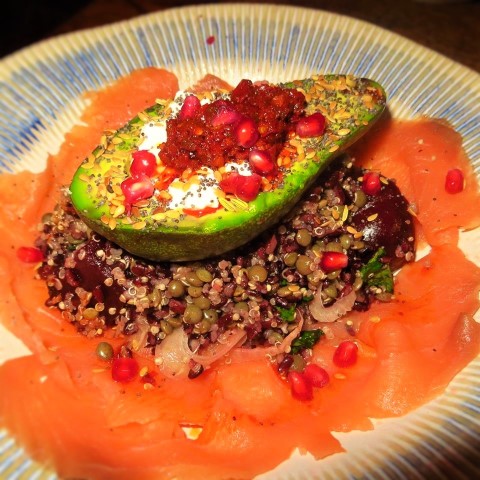 Author:
Victoria Haneveer
Ingredients
7 oz (200g) puy lentils (or use 2 x 8 ½ oz (250g) packs precooked lentils)
½ cup extra-virgin olive oil
2 tablespoons fresh lemon juice, plus more for the avocado
2 teaspoons harissa powder
5½ oz (155g) chopped cooked plain (not pickled) beets
3 tablespoons chopped baby kale
1 tablespoon finely chopped fresh tarragon
12 oz (340g) smoked salmon
3 halved, de-stoned ripe avocados
6 tablespoons cottage cheese
1 teaspoon poppy seeds
3 tablespoons pomegranate seeds
Toasted seeds (optional)
Salt and black pepper, to taste
Instructions
If you are using fresh lentils, cook them following the instructions on the package, then drain and cool.
Mix the oil, lemon juice and harissa together to make the dressing.
Season with salt.
Tip the lentils into a bowl and the stir in the dressing.
Stir through the kale and beets.
Divide the salmon between 6 serving dishes.
Top with the lentil mixture.
Top each one with an avocado half.
Squeeze lemon juice over the avocado (this stops it going brown).
Now divide the cottage cheese between each plate.
Add the poppy seeds and pomegranate seeds.
Add some toasted seeds too if using (sunflower or pumpkin seeds, or pine nuts)
Grind over salt and black pepper and serve immediately.
Some More Hot Content For You
Other Posts You Might Like