Creamy Rich Butternut Squash Soup
A nice rich butternut squash soup is a lovely option for the chillier months. There are plenty of things you can do with this naturally sweet vegetable though, not just soup.
Try stuffing it with risotto or pilaf, cubing it and adding it to your next stew or curry, pureeing it to make a change from mashed potatoes, or using it to make a wonderful winter warmer of a soup.
You can tinker with the rich butternut squash soup, adding more ingredients if you want. Some people like to swap half the butternut squash for pumpkin or potatoes, or even carrots. Doing this will change the flavor slightly and the color of the finished soup. Adding broccoli or anything green will give it a brownish hue.
Easy Soup for Winter
This rich butternut squash soup recipe is very simple, and that is the case with a lot of soups. Once you have combined the ingredients you just need to leave the soup alone until it is done, then you can puree it. Sometimes I like to add some minced garlic to the onion or even add a pinch of curry powder to the soup for a different flavor.
Swap the cream for yogurt if you want to reduce the fat or leave it out altogether if you want a simpler, more wholesome soup. If you are using salted butter you will need to add less salt to the finished soup.
Rich Butternut Squash Soup: Smooth or Chunky
I usually prefer to puree my soup until it is served, then sieve out any chunks but some people prefer to puree half, or even use a potato masher instead of a blender for a chunkier, more rustic result. That of course is up to you.
Thick Butternut Squash Soup
Thick, creamy and warming, this soup makes the perfect lunch or dinner on a gray, chilly day. It will warm you from the inside out and put a big smile on your face for sure.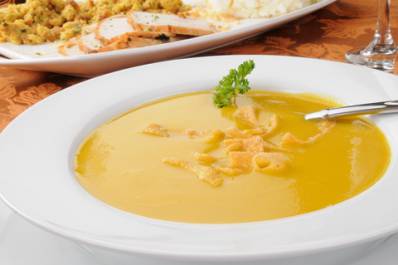 Author:
Victoria Haneveer
Cuisine:
USA (Traditional)
Prep time:
Cook time:
Total time:
Ingredients
2½ pounds (1¼ kilos) peeled, seeded butternut squash
2 pints chicken stock
2 tablespoons butter
1 chopped onion
1 cup (1/2 pint) heavy cream
Nutmeg, salt and black pepper, to taste
Instructions
Chop the squash into 1 inch cubes.
Melt the butter in a pot, then add the onion and cook for 8 minutes or until translucent.
Add the stock and squash.
Bring the mixture to a simmer and cook for 18 minutes or until the squash is tender.
Remove the squash chunks with a slotted spoon and put it in a blender to puree. Return the blended squash to the pot and stir in the cream.
Season to taste with nutmeg, salt and pepper.
Notes
For a lower fat soup, swap the cream for an extra pint of stock.
Garnish with croutons or fresh parsley, if liked.
Some More Hot Content For You
Other Posts You Might Like