beef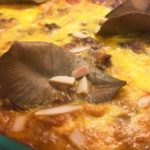 This easy bobotie recipe can be made with your choice of ground beef or lamb. A combination would also work. The dish is popular in South Africa. It is comparable to meatloaf or lasagna, but it is spiced and the topping is a savory egg-based custard.
I've made it several times and always love how the gently spiced meat layer contrasts with the rich and creamy topping. Served with yellow rice and/or a fresh green salad, this dish is something that never gets old. I like to make extra because it heats up well the following day for lunch.
If you've made meatloaf, lasagna or a similar ground meat dish, you will recognize several steps in this easy bobotie recipe. Even if you're relatively new to it, there is still nothing difficult about making this delicious South African dish. It isn't spicy so you can even make it for the kids. You might prefer to use a mild curry powder rather than a spicy one though, in that case. Continue reading →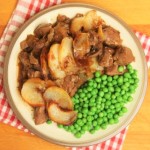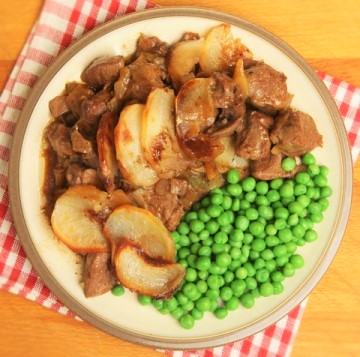 This Lancashire hotpot with beef is a wonderfully warming dinner, and it is so easy to make. Beef (or lamb) and potatoes come together with a red wine based sauce to make this hearty dish. Served with peas or another green vegetable, this makes the perfect cold weather dinner for the whole family to enjoy. Lancashire hotpot with beef leftovers warm up nicely for lunch the next day.
As well as the beef and potatoes, we are using carrots (if you like) along with onion, beef stock, red wine, and some thyme to add a nice earthy, herby flavor. This is a good recipe for the cooler months when you crave something that is really going to 'stick to your ribs' and warm you up nicely.
History of Lancashire Hotpot with Beef Recipe
The original recipe would have used dripping or lard instead of the vegetable oil, so use that if you prefer. The recipe dates back to the days of heavy industrialization in Lancashire, England. Although lamb or mutton would have been the meat of choice back then, beef also works fine if you prefer to use it.
Turnip and leeks often feature as well as the meat, potatoes and carrots. Sometimes bacon is even used as the meat (or you can add some ham or bacon in addition) and some people like to make a pastry topping before baking the Lancashire hotpot with beef. Any of these variations are fine.
Some More Hot Content For You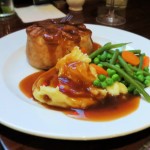 This British beef and ale pie is a gorgeous recipe and it makes a filling lunch or evening meal, served with plenty of mashed potatoes, carrots and peas or carrots on the side. We are using shortcrust pastry here which is sturdy rather than flaky, along with braising or stewing steak. The flavors inside come from Worcestershire sauce, tomato, ale or stout and beef stock.
Start with Great Pastry
Although you can make your own shortcrust pastry for this British beef and ale pie if you want to, it is much quicker and easier to use readymade shortcrust pastry, and it tastes about the same too. You will be lining the pie dishes with pastry, adding the prepared filling and then putting pastry lids on to enclose the tasty filling.
You will need six 4-inch (10 cm) wide by 1 1/4 inch (3 cm) deep individual pie dishes to make these pies. Another idea is to make the whole thing in one large tin then you can serve the British beef and ale pie in slices rather than making individual ones. Continue reading →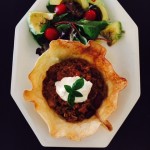 I love chili con carne and find myself making it often, either as a tasty treat for myself or as a shared meal for my husband and I. I usually make a big batch of it so I can enjoy it for lunch the next day, and the next! My husband is diabetic, so I needed to find a tasty low carb diabetic chili recipe which would taste good and look appetizing, and that is when I came up with this one.
The ingredients are nutritious and the flavor in this diabetic chili recipe is wonderful. You can tweak this diabetic chili recipe to your heart's content, swapping the ground beef for chicken or pork, adding more spice (or less!) or swapping the tortilla bowls for homemade tortilla chips. You can use your favorite type of low carb tortillas to make any of these. You could even use a pizza cutter to slice tortillas into strips and scatter those over the finished dish. Now is this diabetic chili recipe sounding tempting?
I have a couple of crockpots – a huge one and a medium (OK small) one, and it's the smaller one I use for making this diabetic chili recipe. I saute the meat with onions and garlic, then stir in the other ingredients and transfer the whole lot into the crockpot. I find 4 hours is enough to cook the chili and get all the flavors rich and perfect if I cook the diabetic chili recipe on HIGH or perhaps 8 to 9 hours on LOW. Which I choose just depends what time of the day I get the mixture in the crockpot.
Continue reading →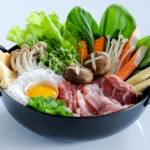 One of my favorite Japanese dishes has to be sukiyaki. This is similar to shabu-shabu, and is a hot pot style dish with thinly sliced beef and vegetables in a sweet, tangy sauce. You can also get vegetarian sukiyaki recipes. This versatile and easy sukiyaki recipe is perfect for cool winter evenings, and you can present or even cook it in a pot in the middle of the dinner table. The ingredients are usually dipped into raw, beaten eggs before being eaten, although this is not so prevalent outside Japan. An easy sukiyaki recipe is usually a winter dish in Japan, often served at year-end parties.
Thinly sliced beef is usually the meat that goes in there, although pork is more popular in some regions of Japan. Tofu, green onions, mushrooms, shirataki or jelly noodles, and Chinese cabbage are popular additions to a traditional sukiyaki recipe.
Different Kinds of Easy Sukiyaki Recipe
There are 2 main styles of sukiyaki – the Eastern Japanese style known as Kanto and the Western Japanese style known as Kansai. In the Kanto style, sake, soy sauce, mirin, sugar and dashi are heated in a pot then the meat goes in, then the other veggies. In the Kansai style, the meat goes in first, then the sauce, and then everything else. Continue reading →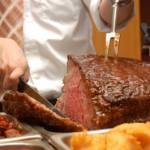 Prime rib is often called the king of beef cuts, and if you like your beef juicy, tender and delicious, you might like to learn more about how to cook prime rib yourself at home. Also known as a standing rib roast, prime rib is marbled with fat to keep it succulent, and it is very easy to cook too.
You just need to start it in the oven on a high temperature to brown it nicely, then turn the oven down so it can finish cooking without the meat drying out. The center of your prime rib roast should be pink or red while the thinner tail-ends will be brown and more done. This is good because people get to choose if they want their meat medium-rare, medium or well-done because you end up with all three.
How Many Does Prime Rib Feed?
A full rack of prime beef gives you 7 ribs and this is enough for about 15 people. A lot of people like to cut a roast in half to cook separately or in 2 ovens, and that's because a full rack is huge and might not fit in the oven unless you happen to have a big oven. The following recipe says 5 ribs but go ahead and choose the size that is best for your needs. Learning how to cook prime rib also involves planning how much you're going to need.
Although some people plan one rib feeding 2 people, that is a lot of meat, and 1 rib per 3 might be closer unless you are feeding a very hungry crowd of people with big appetites. Don't confuse the term 'prime rib' with the USDA term of 'Prime' because most 'prime ribs' are Choice quality not Prime quality. You can get prime rib in Prime quality (it's more marbled and costs about half as much again) but your butcher might have to order it specially for you. This is all part of knowing how to cook prime rib.
Continue reading →
Other Posts You Might Like