Stuffed flank steak in the oven is a tasty, impressive dish which is perfect for special occasions. It's a nice idea if you're looking for a steak dinner party menu or even steak dinner for two ideas.
The key to making a great stuffed flank steak is to choose a high-quality piece of meat and then go ahead and fill it with flavorful ingredients as the flank steak stuffing.
There are many recipes for stuffed flank steak and different ways to stuff flank steak, but some popular options include spinach, feta cheese and roasted red peppers or what about flank steak stuffed with juicy mushrooms, onions and blue cheese?
If you're not looking for a marinated Instant Pot flank steak or pressure cooker flank steak recipes, consider this old-fashioned alternative, which combines searing the stuffed flank steak on the stovetop in a skillet until browned before finishing it off perfectly in the oven. Teamed with your favorite sides, this makes a truly winning meal.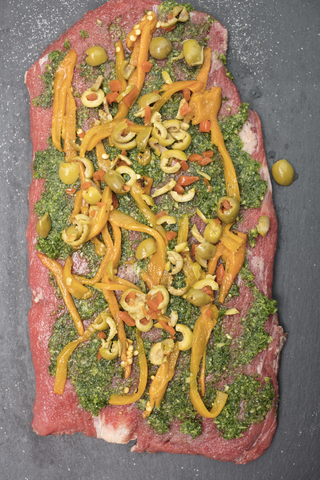 Stuffed Flank Steak in the Oven: Preparation Steps
To prepare the steak, you need to butterfly it carefully by slicing it horizontally through the center, being careful not to cut all the way through. After that, you can fill the steak with your desired ingredients and roll it up tightly, securing it with toothpicks or kitchen twine. You can make skirt steak stuffed if you prefer that to flank – they're very similar.
Once the flank steak is stuffed and rolled, it can be cooked on the grill or in the oven until it is cooked to your desired level of doneness. I like to brown (sear) it on the stove in an ovenproof skillet, and then finish it off in the oven.
Knowing how to cook stuffed steak in the oven means you can rustle up this delicious flank steak recipe stuffed with your chosen filling whenever you are in the mood for a tasty steak dinner.
The result is a tender and juicy steak with a delicious filling that is sure to impress any guests lucky enough to be invited. Serve up your flank steak recipe stuffed with a tasty filling alongside some roasted vegetables and potatoes or crispy fries, perhaps adding a glass of red wine for a truly fabulous dining experience.
Print
Stuffed Flank Steak in the Oven
Flank steak is a popular cut because it's economical as well as rich and tasty. In this recipe, the meat is stuffed with a flavorful stuffing and then roasted to perfection in the oven.
Author:
Prep Time:

10 minutes

Cook Time:

25 minutes

Total Time:

35 minutes

Yield:

4

1

x
Category:

Main Dish

Method:

Oven
1 1/2

pounds (625g) flank steak

3 tablespoons

olive oil

2 tablespoons

basil pesto

1

garlic clove
Zest of a lemon
Juice of

1/2

a lemon

2 tablespoons

pine nuts

1 cup

(large handful) baby spinach

2 tablespoons

sundried tomatoes
Salt and black pepper, to taste
Instructions
Preheat the oven to 350 degrees F (175 degrees C).
Put the spinach, sun-dried tomatoes, garlic, lemon, and pine nuts in a food processor and process until minced.
Drizzle in 1 or 2 tablespoons of the oil until you end up with a pesto consistency.
Cover the meat with plastic wrap and pound with a meat tenderizer to make it 1/4-inch (3/4-cm) thick.
Grind some salt and pepper over the meat.
Use a spatula to spread the pesto mixture over the meat, leaving a 1/2-inch (1 1/4-cm) border.
Following the grain, roll the meat up and use kitchen twine to wrap it in 3 places tightly.
Heat a tablespoon of oil in a skillet on the stove.
Brown the rolled up flank steak for a couple of minutes per side.
Put the skillet in the oven and roast for 25 minutes for a medium result.
Let the stuffed flank steak rest for 5 minutes, and then slice and serve.
Notes
If you don't have a food processor, you can mince the stuffing ingredients by hand instead.
Roast the stuffed flank steak in the oven for 20 minutes for rare, 25 minutes for medium or 30 minutes for well done – check it as it cooks, since ovens do vary.
Serve stuffed flank steak in the oven with potatoes, fries or rice, plus asparagus, green beans, peas, or potato salad and a fruit cup on the side.
Keywords: stuffed, flank steak, stuffed steak, stuffed beef, flank steak stuffing