It's well worth making this bamboo shoot and pork wonton recipe. Pork with shrimp in the same dish might sound like a strange combination but as wonton fans everywhere know, it is a magical mixture! Add bamboo shoots, green onions and a few other choice ingredients and you have wonton soup to die for. These wontons are meaty, fish and full-flavored.
If you use water, then you will get soft wontons. Wontons are boiled in liquid when you want them to be soft and fried when you want a crispy finish.
Another way to get a soft finish is to steam the wontons. This bamboo shoot and pork wonton recipe is easy to make and even if you're new to wonton making you will be happy with the ease of preparation.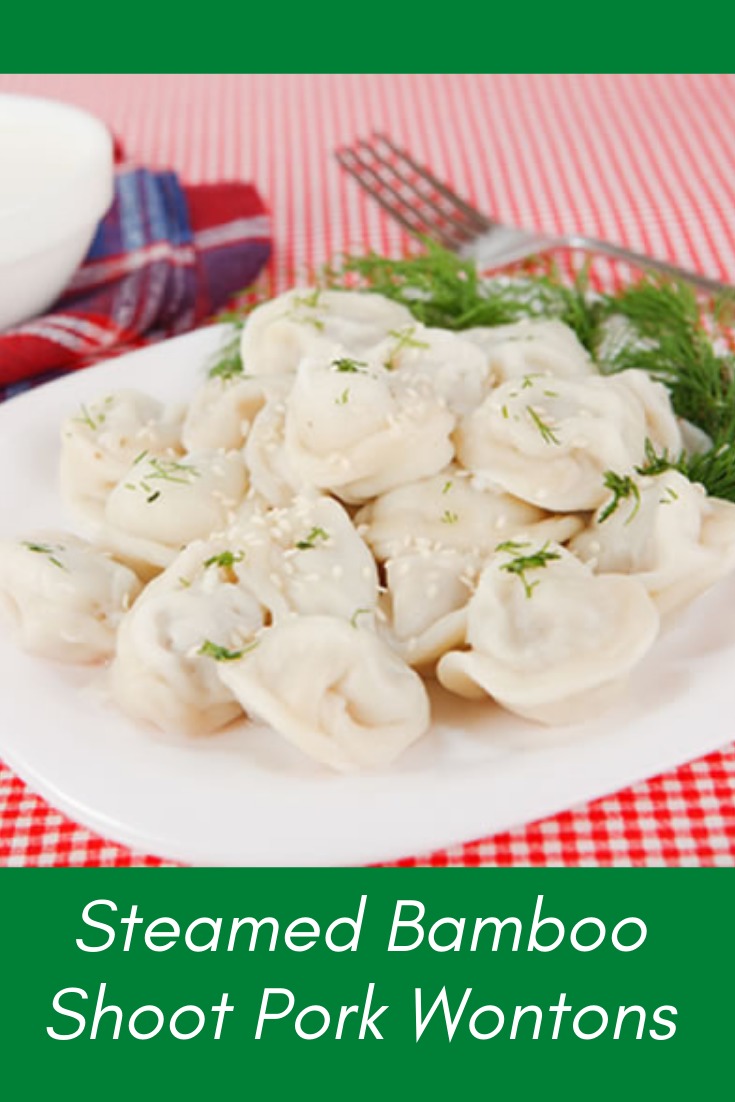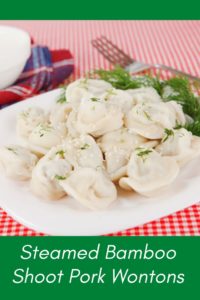 The heat of the steam cooks them and the wetness of the steam keeps them soft and sticky. Both boiling and steaming are reasonably quick ways to cook wontons. These bamboo shoot and pork wontons are sure to come out right.
Bamboo Shoot and Pork Wonton Tips
This bamboo shoot and pork wonton recipe would be ideal for any occasion, whether you are in the mood for a warming lunch or whether you want an appetizer for a dinner party or family meal.
Feel free to use ground chicken or turkey instead of ground pork if you want a slightly different flavor, or if you have some to use up.
Print
Delicious Pork Wontons Recipe
Pork is often used to make wontons, either combined with shrimp, or used as the sole protein. This recipe also features cabbage and bamboo shoots, along with the juicy pork and chopped shrimp.
Author:
Prep Time:

20 mins

Cook Time:

12 mins

Total Time:

32 mins

Yield:

1

5

1

x
Category:

Wonton

Cuisine:

Chinese
12 oz

(

350g

) ground pork

6

blanched Chinese cabbage leaves

1 ½ quarts

(

1 ½

litres) chicken stock

1 teaspoon

cornstarch

½ teaspoon

white sugar

4 oz

(

110g

) finely chopped raw shelled shrimp

2 oz

(

55g

) finely chopped bamboo shoots

1

egg yolk

2 teaspoons

soy sauce

½ teaspoon

black pepper

3

thinly sliced green (spring) onions

1

lightly beaten egg white

1 ½ teaspoons

Chinese rice wine

3 tablespoons

water

2 teaspoons

sesame oil

85

wonton wrappers
Fresh dill and sesame seeds, for garnish (optional)
Instructions
Combine the shrimp and pork in a big bowl with the sugar, cornstarch, soy sauce, wine and pepper. Stir in the water, a tablespoon at a time. Stir in the green onions and the bamboo shoots and let the mixture sit for half an hour.
Blend in the sesame oil, then add the egg yolk right before filling the wonton wrappers. Add a teaspoon of the pork mixture to the center of a wonton wrapper.
Wet the wrapper edges and fold the the whole thing in half to make a triangle, pressing the edges together. Add some egg white on one tip and fold the others together, using more egg white to seal. Repeat with the other wontons.
Heat the stock gently in one pan and bring water to a boil in another bigger one. When the water begins to boil, add the wontons, about 20 at a time. Each batch will take about 3 minutes to cook. Once the wontons are floating, they are ready to remove.
Take them out carefully and put them into the stock. Keep going until all the wontons are cooked. Garnish with dill and sesame seeds, if you like.
These bamboo shoot and pork wonton bites are very plain-looking so you might like to add a green garnish to give the dish some freshness, perhaps dill weed and sesame seeds, or maybe some cilantro or even fresh mint leaves.
You can toast the sesame seeds if you want, to make them more aromatic and darker in color.
To toast sesame seeds, put them in a small frying pan over a low heat and let them cook in the dry pan (don't add oil or butter), shaking the pan often. When they are fragrant and golden brown they are done. Serve these pork wontons warm, perhaps with a tasty dipping sauce, unless you are serving them with the stock.