Bathroom accessories can make a huge difference to the look and feel of your bathroom, and can be surprisingly cheap. Once the essential pieces are in place in there, you can begin the enjoyable task of accessorizing. With a small budget and a boundless imagination, you will be amazed how straightforward it is to liven up your bathroom.
Choosing the Right Bathroom Accessories for Your Style
There is a huge array of different cheap accessories available; however, you need to ensure that you choose the right ones for your style so you are completely happy with them.
Bathrooms are an essential room in every home so you need to get the look and feel perfect. There is no point accessorizing your bathroom with items, which are cheap but not to your taste.
There are many different areas throughout your bathroom which can be accessorized on a low budget. You need to think out of the box and use your imagination to create the ultimate bathroom for you and your family. You may need to consider practical issues if you have small children but there are still many different options.
Bathroom Accessories: Select a Theme and Match Everything
Bathrooms are the ideal place to match all of accessories. There are several themes which are popular. You may want to choose a nautical theme including boats, fish and marine life, or beaches, frogs or flowers. You can also pick a material, such as bamboo or chrome, rather than a color or an animal or place.
These themes are fun, affordable and a fantastic way to jazz up your bathroom but can also choose color-coordinated themes which look brilliant.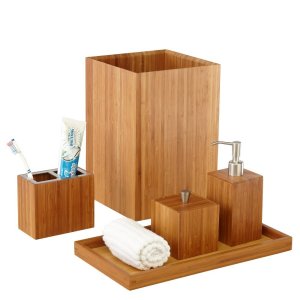 Basic bathroom accessories such as the soap dishes, toilet roll holder, drinking cup, towels and shower curtain can all be the same color for a neat, matched-up look.
You may even want to choose the same color soap and toilet rolls, to ensure that everything goes together and looks neat. Toilet seats are another popular item to cover or change to bring color and design to your bathroom.
Once you have decided on the theme and color scheme of your accessories, you can have a huge amount of fun shopping.
You will be amazed at the amount of items which can be color-coordinated to create a distinctive theme. The possibilities are endless, and you will love the appearance of your bathroom once it has been jazzed up and improved.
Modern Bamboo 5-Piece Bathroom Set, on Amazon
The Ultimate Bathroom Showers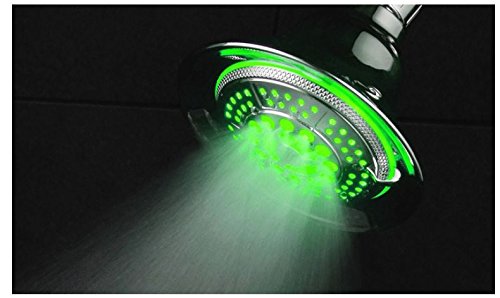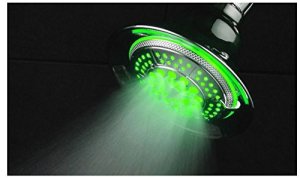 Picking the right shower will ensure that you create the ultimate environment in your bathroom and these are an example of bathroom accessories you can have fun with.
Showers have become a popular addition to many bathrooms and can be easily fitted into the smallest of spaces. Whether you want to save water, or simply prefer to have a shower over a bath, there are several different options for you to choose from.
LED Color Changing Chrome Shower Head, on Amazon
As with all areas of home remodeling, you can overspend with your shower choices, which can become a problem. Therefore, you need to decide on your budget for the shower before going in search of the right one. There are some incredibly affordable options on the market which look amazing and provide a fantastic shower.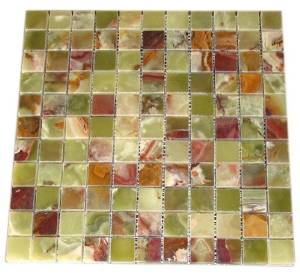 Consider how large your family is, and what size shower you will need. Showers can be ideal for many different families; however, you need to consider how many people will need to use the shower as well as the type of heating system you have in place.
You do not want an angry member of the household who has to have a cold shower every morning when your heating system cannot cope.
You will want to ensure that you choose a shower with enough power to cater for busy households.
There is nothing worse than standing under a shower that is too weak, allowing you to get cold. There are lots of different showers to choose from, and research is vital before you go shopping. You might be shopping for a complete shower or perhaps some new tiles to liven up your existing one or a cool new shower head.
Gorgeous Green Onyx Mosaic Shower Tiles, on Amazon
The Different Showers Available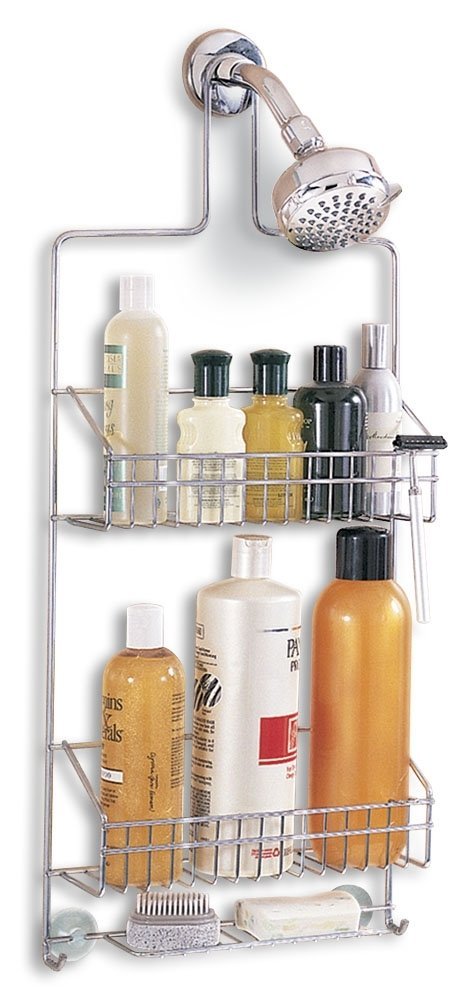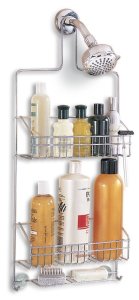 Many people think that all showers are the same but there is a vast amount of different styles, grades and designs to guarantee that you choose one that you need.
You should ensure that you know the differences between the mixer showers, un-pumped and pumped showers and how they all operate.
The more that you understand about the different shower types the better you will be equipped to make the right choice.
Electric showers are considered one of the better options, and will ensure that everyone receives a hot shower in the morning.
There are several different designs, ensuring that every budget is considered and that you find the perfect shower for your bathroom.
Classy Chrome Shower Caddy, on Amazon
Modern and Contemporary Designs
If your budget is larger and/or your taste is more modern, there are some incredible bathroom showers available. Digital showers are becoming the way forward and will enable you to control the temperature of the water remotely. You will be able to activate the water and ensure that you have a pleasurable shower every day.
Choosing Perfect Bathroom and Sanitary Ware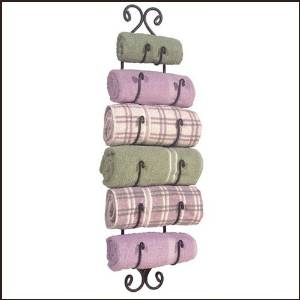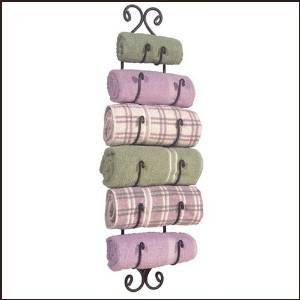 Bathroom and sanitary ware are the fixtures that you will need to make your bathroom the ideal haven for people to spend time in relaxing.
Regardless of the size of your bathroom, you will need to have some form of sanitary ware in place. There are several different designs to choose, regardless of your taste and budget, to ensure that everyone is happy.
Wrought Iron Towel Rack, on Amazon
All plumbed-in bathroom fittings and fixtures are considered to be some form of sanitary ware, and this can include sinks, toilets, baths and showers.
Many people think that all bathroom and sanitary ware is the same, but there are several different designs available.
Whether you have a modest budget for basic fixtures and firings, or a larger budget for luxurious bathroom suites, there is something for everyone.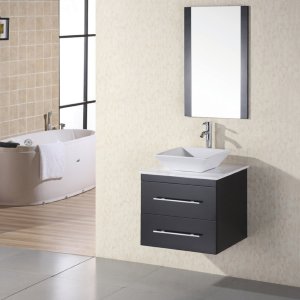 Initially you are likely to choose the bathroom and sanitary ware due to the color and design but there are numerous other features which will also need to be considered.
Technical capabilities have become a crucial element in the factors surrounding what bathroom suites to select. Ease of installation, resistance to chipping and cleanability are all factors to consider.
Wall-Mounted Bathroom Vanity, on Amazon
The selection process for your new sanitary ware may become a challenge if you find that you don't know which style to choose. Therefore, asking for professional help is advised to guarantee that you find the perfect bathroom fixtures that will work for the space you have available. Bathroom professionals will be able to guide you and help you to choose the perfect suite for your family's needs.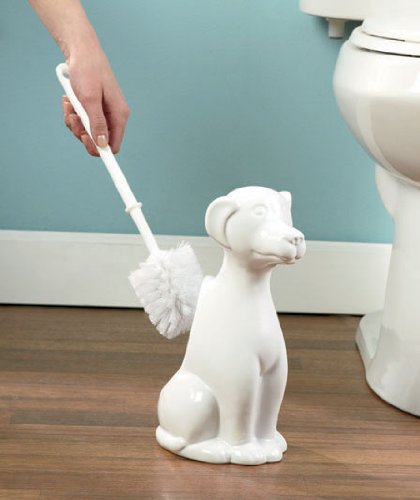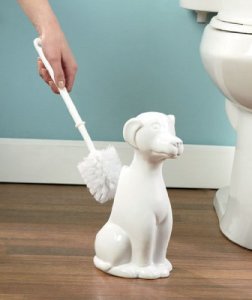 You will find that you may need to be guided on all aspects of the bathroom and sanitary ware including installation and purchasing.
Patience is often needed to ensure that you can spend the time necessary to choose the right bathroom sanitary ware. You need to consider your typical taste, and decide if the bathroom will follow this or step out of the box.
Spending your Money Wisely
Whether you want a traditional bathroom suite or something more modern and contemporary, there are bathroom accessories for everyone.
The amount that you spend on bathroom accessories will depend on your budget, and you need to be realistic when choosing the bathroom sanitary ware.
If you shop around, there are many different bargains for you to find, and online stores are perfect for this.
Whimsical Ceramic Dog Toilet Brush Holder, on Amazon
So, What Bathroom Accessories to Buy?
Whether you are looking to replace all your sanitary ware, put a new shower in, liven up your color scheme or theme, or simply find new inspiration to breathe new life into your bathroom, take a look at our picks and consider what will look best in your 'smallest room'.
Then, whenever you are luxuriating in the tub, taking a quick shower or cleaning your teeth, you will be able to enjoy not only a functional room but a gorgeous one too thanks to your bathroom accessories.