I admit I used to hate Brussels sprouts as a child, largely thanks to the way they were presented in an over-boiled, mushy heap (apologies to my mother if she's reading this). But seriously, sprouts are not only healthy, they can be yummy too, as long as you cook them right! So, find out how to cook Brussels sprouts like a pro and make the best Brussels sprouts side dish of all.
In the old days, this vegetable used to be boiled to soggy death in water, then plonked on the plate alongside the meat or poultry of choice, and kids everywhere (myself included) would leave them on the plate until they were cold, hoping they would just… disappear or something! No wonder sprouts have a bad rep when people everywhere just boil them.
The Magic of Pan-Frying
Now the first time I enjoyed sprouts pan-fried or sautéed was a real eye-opener. This little green vegetable, which may be compared to a miniature green cabbage, is easy to work with. It can be sliced and cooked with wonderful ingredients like red wine or red wine vinegar, walnuts, parmesan and nutmeg and these ingredients help to bring out a brand new side to them. This inspired me on how to make the best Brussels sprouts side dish.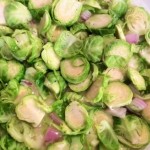 Yep, that's right, sprouts can be delicious if they're cooked in the right way. Even if you've never liked them, trust me, try this best Brussels sprouts side dish  recipe, and you might be converted into a sprout lover!
You might prefer this sauteed Brussels sprouts recipe which includes nutmeg.
How to Prepare the Best Brussels Sprouts Side Dish
To prepare Brussels sprouts, you need to cut off the tough base then remove and discard the outer leaves. They might already be loose. You can then either cook them like that or slice them horizontally or chop them.
Here in Holland you can get green or purple sprouts, the latter of which is nutty and aromatic, and the former is, well as you know them. I think it's a seasonal thing. I never saw them before last month.
Swap the pine nuts in the following recipe for chopped walnuts if you wish. They work just as well.
What to Serve Them With the Best Brussels Sprouts Side Dish
Sometimes I serve these with chicken or beef. I use red wine vinegar or red wine, depending if I have a bottle open. Either of these will add the right note of acidity to the flavor of the recipe.
The parmesan is optional here. If you don't like it or don't want to use it, that is fine and you can just leave it out. But I like how the tangy, creamy flavor plays with the very savory and 'green' flavor of the sprouts. So use your own judgment.
In the photo below I am serving the best Brussels sprouts side dish  with crispy fried chicken leg quarters and some sweet potato mash, a staple in our household since my husband is diabetic, and I like to cook him tasty meals which aren't too high in carbs, to keep his blood sugar stable.
So if you're looking for interesting side dish recipes, try this Brussels sprouts with red wine and nuts, and enjoy every mouthful! Oh, and they're healthy too.
In my opinion this is the best Brussels sprouts side dish I know! Enjoy!
Print
Best Brussels Sprouts Side Dish
Brussels sprouts are cooked with red wine, walnuts, parmesan and more, and the result is a crispy, tasty side dish which complements everything from beef to pork, chicken and even seafood.
Author:
Prep Time:

15 mins

Cook Time:

10 mins

Total Time:

25 mins

Yield:

4

1

x
Category:

Side Dish
1

lb (450g) Brussels sprouts

1/4

finely chopped onion

1 tablespoon

olive oil
Splash of red wine or red wine vinegar

2 tablespoons

pine nuts
Salt and black pepper, to taste

1/8 teaspoon

nutmeg (optional)
Butter (optional)
Parmesan cheese, as needed
Instructions
Cut the bottoms off the sprouts, remove the outer leaves and slice roughly.
Now saute them with the onion in the oil for 10 minutes, stirring often.
Add the vinegar or wine, pine nuts and some salt and pepper.
Add the nutmeg if using.
You can add a small amount of butter here too, if you want.
Cook, stirring, for a minute.
Add the parmesan and cook, stirring, for a minute or so, then serve hot.