The best pool cleaner robot will clean debris and dirt from your pool, which means the water, the walls, floor and ladders or slopes.
This of course means much less time and effort on your part this summer. Instead of having to clean the water and scrub the walls and floor, you can simply plug in the best pool cleaner robot, drop it in the water and leave it for a couple of hours. Got a pool? You need the best pool cleaner robot.
You can then expect your pool to be beautifully clean. There are 3 kinds of pool cleaners, which are pressure-side ones, suction-side ones, and then the robotic pool cleaners.
How to Choose the Best Pool Cleaner Robot
The best ones are the robotic ones because these have their own filtration systems and act as a secondary pool filter. This type of cleaner is self-contained so you do not have to attach it to the filter system or the pump system, like you would with the other types.
A lot of the robotic models may be programmed and some come with a remote control. A lot of them are 'intelligent' and they will scope out the size and shape of your pool, then choose which program to use depending on how dirty the pool is and what kind of debris is in there, as well as the dimensions and shape of the pool.
Collecting Debris and Dirt
The debris is collected in a cartridge or bag inside the cleaner and you can simply empty them after the cleaning cycle is complete. If you are considering a pool cleaner, and not sure whether to get a pressure-side, suction-side or robotic model, we would recommend you choose the robotic kind, since these work independently of the other pool systems and you can simply drop them into the pool and leave them alone to do their job.
A robotic pool cleaner costs more than the other types but the rise in price is totally justified because of the huge benefits a robot offers.
Best Pool Cleaner Robot #1: iRobot Mirra 530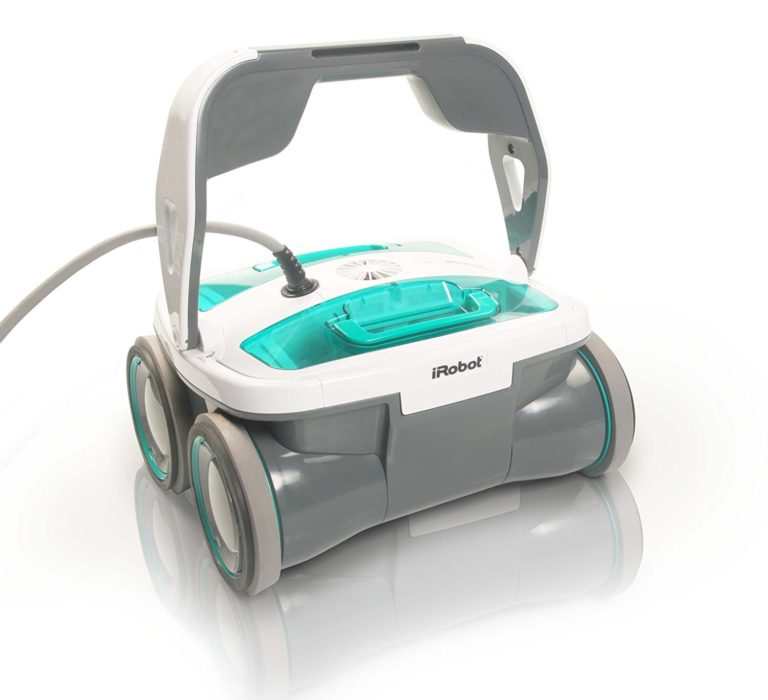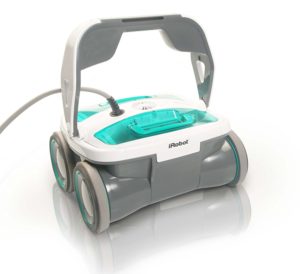 The iRobot Mirra 530 might be the best pool cleaner robot. It's certainly one of the most popular.
This pool robot will take the hard work out of cleaning your pool. The PVC scrubbing brush removes hair, dirt, bacteria, algae, and leaves from the walls and floor of your swimming pool. It will remove unwanted items as small as 2 microns. The self-contained pump, vacuum and filter are important parts of this pool cleaner because your existing systems will not be strained.
This is very easy to use. Just drop it in the pool and let it do its job. The robot sizes up the dimensions of your pool using enhanced robotic technology and then chooses the best cleaning cycle for the job. It can climb stairs and walls, change directions, avoid tangling its power cord, and it will make multiple passes over the whole of the inside of the pool to leave it beautifully clean.
If you watch it, it will seem to be doing the same area over, but reviewers who have watched it clean the pool says it is just taking its time and making sure the entire pool area is fully cleaned.
Best Pool Cleaner Robot #2: Dolphin 99996323 Dolphin Nautilus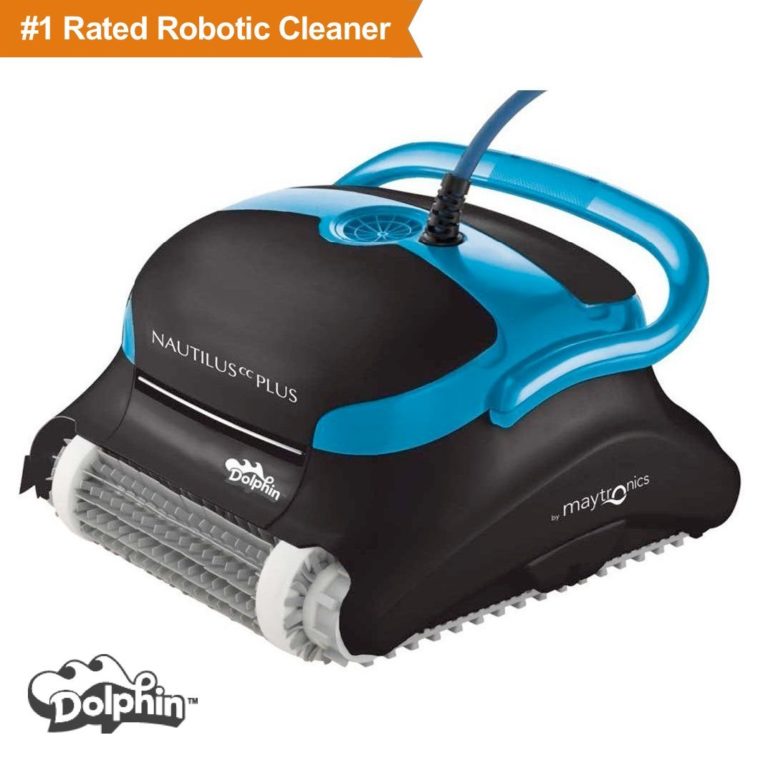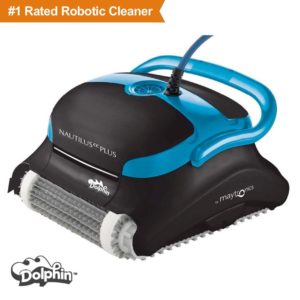 One of the reviewers' favorites as well as one of the most economical pool cleaning robots, there is nothing not to love about this one.
The Naulilus is ideal for in-ground residential pools up to 50 feet long. It is true that this Dolphin pool cleaner will scrub, vacuum and filter all the surfaces – the floor, walls and cove – in 3 hours. Yep it's that fast. And you do not need to connect it to the pool system or do any pre-installation.
The machine is lightweight and so easy to use. You get 2 different removable screens with this one, one for leaves and debris, and the other for smaller particles. The power cord is generously long and does not tangle up at all while the robot is running.
Climbing the walls means it will prevent algae and dirt buildup, and the pump is quite strong. There is a built-in timer so the power supply will automatically shut off after 3 hours.
Best Pool Cleaner Robot #3: Aquabot APRVJR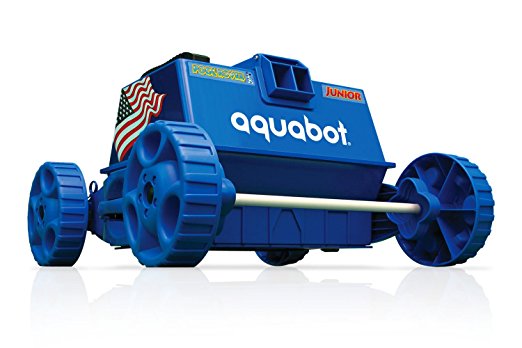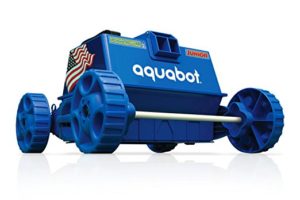 This pool cleaning robot is a quick and convenient way of cleaning your pool whatever shape or size it might be. Just turn it on, drop it into the pool and let it clean it.
The 24 volt pump motor filters water and the cleaner will scrub any dirt or algae off the floor and walls of the pool. It comes with a built-in 2 micron fine filter bag which is reusable and 40 feet of floating cable. The 2 hour automatic shut-off timer saves you money on your energy costs.
The wheels are wide and will roll over footprints or ripples, and the robot will not get stuck in corners or on ladders. Reviewers say this is a reliable machine which will pick up acorns, twigs, leaves, or whatever else has fallen into your pool.
Forget hours of manual cleaning and instead invest in the Aquabot. It will save you hours and leave your pool sparkling clean.
Best Pool Cleaner Robot #4: Hayward TigerShark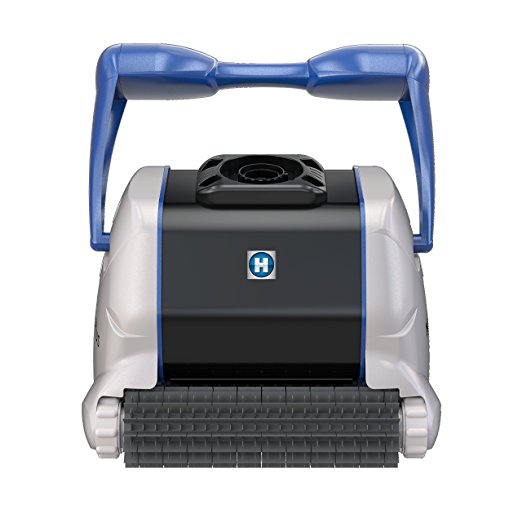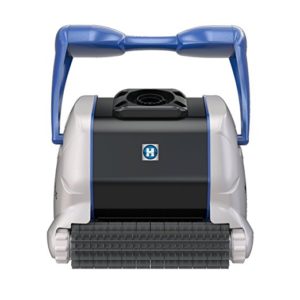 Do you have a residential pool measuring up to 40 x 20 feet? If so, this excellent pool cleaning robot is ideal for you, and will save you hours in pool maintenance and tedious manual labor.
This pool cleaning robot will calculate the shape and size of the pool and then program itself with the most energy-efficient cleaning program to get your pool pristine. The TigerShark cleaner uses less energy than most pressure cleaners, so will save you dollars on your energy costs.
Take it out of the box, plug it in, and drop it into the pool. The cord length on the TigerShark is 55 feet long. Leave the machine to do its job and your reward will be a pristine pool.
The onboard pump is powerful and will suck up all that debris and dirt. The machine has no problem with steps or slopes.
Energy Efficiency
It takes a lot of energy to run your pool's pump and you can save money by choosing a robotic pool cleaner. This is because they operate off a low-voltage power supply and their pumps are powerful enough to clean out the pool while the pool's own pump is switched off.
Bear this final fact in mind – 18 months to 2 years of energy savings will cover the cost of a pool cleaning robot! So take a look at the pool cleaning robots we have picked out for you. See which one you think would be the perfect fit for your budget and swimming pool.