There are not many exact recipes in Cajun cooking, because most of it is done to taste not to measurements, and the same dish can be prepared a different way each time, even by the same chef. This makes classic Cajun food so interesting!
This is because Cajun cuisine is an art form and the result of the dish depends on the mood of the chef as well as what happens to be in the refrigerator and cupboards.
Now what this means creating classic Cajun food is largely about getting a 'feel' for the ingredients and flavors!
Although there are plenty of adaptations and tweaks you can make when making classic Cajun food, if you do want to follow a recipe it can be hard to find the right ingredients outside the New Orleans area. The fresh spices and seasonings can be hard to get, along with ingredients like Andouille sausage and fresh crawfish.
If you want to learn how to make classic Cajun food though, it is essential to get the ingredients so check grocery stores with Cajun seasonings or visit a specialty food market. A lot of Cajun recipes need time to simmer so set the scene with some jazz music and prepare for a wonderful eating experience like no other.
Louisiana Classic Cajun Food and Cooking
This cuisine began with some French residents in Nova Scotia expelled by the Brits in 1755. They were nomads for years then settled in the swamplands of Southern Louisiana, adapting their native cooking methods to whatever ingredients they could find in their new home.
Classic Cajun food is the food of hardworking country dwellers who are not unfamiliar with tough conditions. This practical, strong food is the hallmark of these Arcadians, the name given to the settlers. The word Arcadian was later shortened to Cajun.
A lot of classic Cajun food can be prepared in one pot. There are a lot of recipes that are hard to find in print because they have been passed down verbally from generation to generation, changing slightly with each one adding their own touches.
The independent nature of the Cajun people is reflected in this cuisine and there are many recipes for common dishes, since every chef adds their own special flair.
Famous Cajun Recipes
Jambalayas and other rice dishes, etouffees, gumbos, and Cajun stews are famed now only in the United States but all over the globe, and a lot of these dishes begin with a roux to flavor and thicken them.
There are 3 kinds of roux in classic Cajun food – light, medium and dark, and the color deepens as the mixture is cooked. Light and medium roux are used mainly for thickening sauces, gumbos and etouffees, while the darker one is used for flavor.
Seafood is popular in classic Cajun food because it is native and available in the swamplands of Southern Louisiana, so plenty of recipes will include ingredients like shrimp, red fish, crawfish, crab, speckled trout, and oysters.
Other staple ingredients include rice, pork, beans, homemade sausages, black-eyed peas, beans, yams, tomatoes, figs, pecans, oranges, and okra. Game features in some Cajun dishes, such as turtles, frog, wild turkey, and duck.
Classic Cajun Food: Spices and Seasonings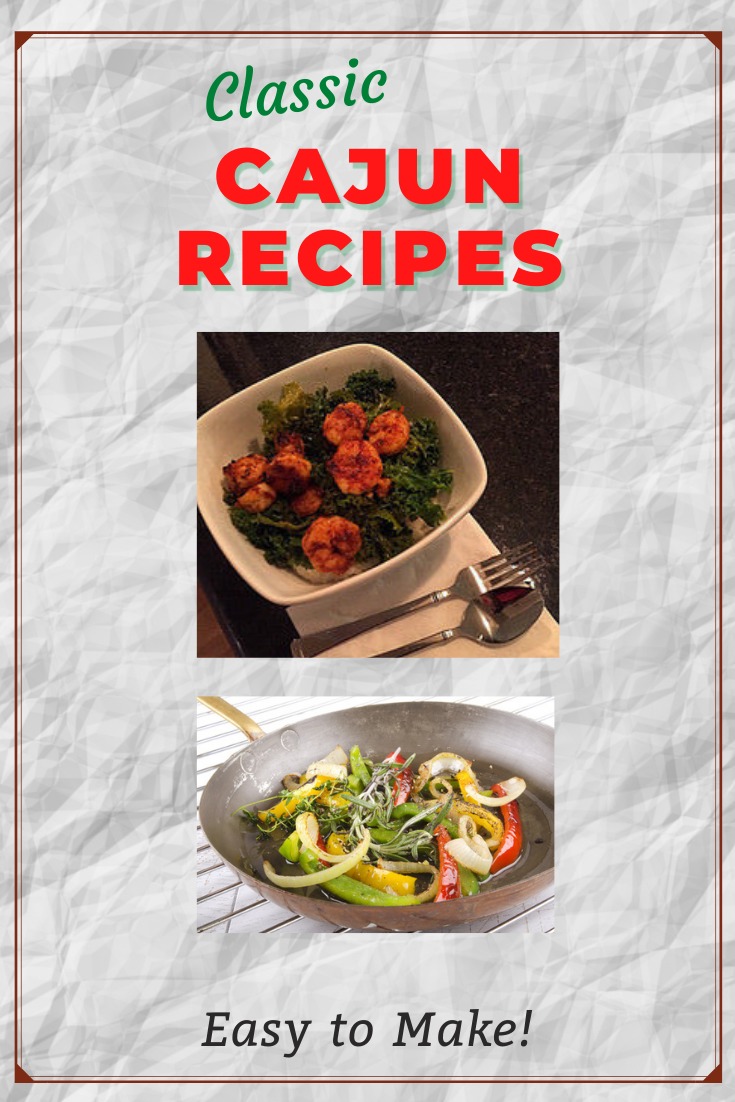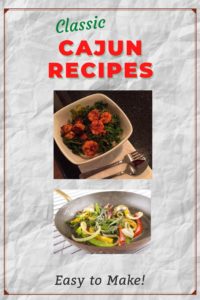 What about Cajun spices? Actually not a lot are used in Cajun cooking and the bold, rich flavors come more from the long simmering times that the addition of spices.
Cayenne pepper features in a lot of the recipes though, and this fiery spice is made from cayenne chili peppers.
Black and white pepper is also used in this cuisine, as is file powder or gumbo powder. This is made of dried, ground sassafras leaves.
Another seasoning is Creole mustard which is spicy and coarse. Hot pepper sauces like Tabasco are typically found on the Cajun table.
This cuisine is unique to Southern Louisiana and classic Cajun food still retains the French influences from the original migrant settlers while making good use of its own local ingredients.
This flexible, varied cuisine includes everything from comfort food to gourmet, exotic dishes, and there is something to tempt every palate.
Print
5-Minute Cajun Shrimp
Large shrimp are flavored with thyme, oregano, garlic, cayenne, and paprika, to make this traditional Cajun shrimp dish. Simply add the seasonings then sauté the shrimp until done.
Author:
Prep Time:

10 mins

Cook Time:

4 mins

Total Time:

14 mins

Yield:

4

1

x
Category:

Entree

Cuisine:

Cajun
1½

lb (680g) peeled, deveined large shrimp

1 tablespoon

vegetable oil

¾ teaspoon

dried thyme

¾ teaspoon

dried oregano

¼ teaspoon

garlic powder

¼ teaspoon

cayenne pepper

1 teaspoon

paprika

¼ teaspoon

salt

¼ teaspoon

ground black pepper
Instructions
Mix the thyme, oregano, garlic, cayenne, paprika, salt and pepper in a Ziploc bag, shaking to mix.
Add the shrimp and shake to coat.
Heat the oil in a skillet over a moderate-high heat.
Add the shrimp and cook for 4 minutes or until cooked through.
When they are bright pink and the meat is no longer glossy or transparent in the middle, they are done.
Photo by Jodie Bowie, on Flickr
Print
Grilled Chicken Cajun Style
This is a wonderful recipe for the grill. You will need to marinade chicken briefly in a seasonings including lemon pepper and garlic. Then you can grill it to perfection.
Author:
Prep Time:

15 mins

Cook Time:

14 mins

Total Time:

29 mins

Yield:

1

0

1

x
Category:

Entree

Cuisine:

Cajun
10

skinless, boneless chicken breast halves, pounded to ½-inch thick

2 cups

(500ml) vegetable oil

2 tablespoons

Cajun seasoning

2 tablespoons

dried Italian-style seasoning

2 tablespoons

lemon pepper
Garlic powder, to taste
Instructions
Mix the oil with the Cajun seasoning, Italian seasoning, lemon pepper and garlic in a dish.
Add the chicken and turn to coat.
Cover and refrigerate for 30 minutes.
Preheat the grill until hot and lightly oil the grate.
Drain the chicken, discarding the marinade.
Cook the chicken for about 7 minutes per side on the grill or until the juices run clear.
Photo by JeffreyW, on Flickr
Print
Easy Crockpot Jambalaya
Jambalaya is one of the best-known Cajun recipes of all, and this recipe make use of your slow cooker to make the recipe even easier. This is full-flavored, hearty, and a treat for all the family.
Author:
Prep Time:

15 mins

Cook Time:

9 hours

Total Time:

9 hours 15 mins

Yield:

8

1

x
Category:

Entree

Cuisine:

Cajun
28 oz

(

800g

) can undrained diced tomatoes

2 cups

(

300g

) chopped cooked smoked sausage

1 tablespoon

parsley flakes

½ teaspoon

dried thyme leaves

1

chopped large onion

1

chopped green bell pepper

2

chopped celery stalks

3

finely chopped garlic cloves

¼ teaspoon

red pepper sauce

½ teaspoon

salt

¼ teaspoon

black pepper

4 cups

(

320g

) hot cooked rice

¾

lb (340g) raw peeled deveined medium shrimp
Instructions
Put all the ingredients except the rice and shrimp in a 3½ to 6 quart crockpot.
Mix well then cover and cook on low for 8 hours or high for 4 hours.
Stir in the shrimp, then cover and cook on low for 1 hour or until they are pink and firm.
Serve over the rice, adding some warm crusty French bread too, if liked.
Notes
Add more red pepper sauce before serving if you want, or stir in some fresh thyme and/or parsley when you add the shrimp if you like.
Andouille sausage is the type usually used in this dish because of its smoky, spicy aroma, but you can use leftover ham instead.
For attractive rice presentation, grease the inside of a ½-cup measuring cup with cooking spray. Press hot rice in there then unmold on to a warmed plate, spooning the jambalaya around the rice.
Photo by Ian McKellar, on Flickr
Print
Creamy Cajun Chicken Pasta
Chicken is teamed with cream, tomatoes, green onion, linguine, and more. This recipe is wonderfully creamy and makes an indulgent, satisfying weeknight meal for all the family to savor.
Author:
Prep Time:

15 mins

Cook Time:

6 mins

Total Time:

21 mins

Yield:

2

1

x
Category:

Entree

Cuisine:

Cajun
2

boneless skinless chicken breast halves, in thin strips

2 tablespoons

butter

1

thinly sliced green onion

1

or 2 cups (250 to

500g

) heavy whipping cream

2 tablespoons

chopped sun-dried tomatoes

2 teaspoons

Cajun seasoning

¼ teaspoon

salt

¼ teaspoon

dried basil

4 oz

(

115g

) cooked linguine

1/8 teaspoon

ground black pepper

1/8 teaspoon

garlic powder

¼ cup

grated parmesan cheese, to garnish
Instructions
Put the chicken and Cajun seasoning in a bowl, tossing to coat.
Sauté the chicken in butter for 6 minutes in a skillet or until tender.
Turn down the heat and add the cream, onion, tomatoes, salt, basil, pepper, and garlic.
Briefly warm this mixture through, then spoon over the hot pasta.
Add the parmesan on top and serve right away.
Photo by Angels, on Flickr