Perhaps you have read about the classic crackslaw recipe on a low carb forum or one of your friends has been raving about it but what is easy crack slaw and why is it called that?
Well, first things first, crackslaw is supposed to be addictive, which is how the name came about, but don't worry, there is nothing illegal in it! It is addictive in a good way because it is a filling low-carb meal packed with nutritious ingredients.
Crackslaw is one of my favorite go-to dinners. It's not only easy to throw together but it's really versatile. That means you can add pretty much whatever you want and make it your own.
Whether you want to use chicken, beef or pork, or even make it vegetarian, there is a way to tailor an easy crack slaw recipe to suit your palate perfectly.
When you are looking for easy keto recipes, this easy keto crack slaw might be something to add to your regular meal rotation. Personally I love it, and I also love the fact I can switch up the ingredients to make something totally different.
The mixture of heat, spice, sweetness and robust meatiness just combine so perfectly. I can happily enjoy this once or twice a week. Also it goes beautifully with cauliflower rice if you want a side dish to make it even more satisfying.
What's in a Classic Crackslaw Recipe?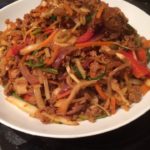 This is an oriental inspired recipe featuring ground meat (or poultry or a vegetarian alternative) as well as cabbage or coleslaw mix (cabbage and carrot, usually). The dish is spiced up with ingredients like soy sauce, ginger, hot sauce and more.
It is impossible to describe just how good this dish is. You will need to make it for yourself to find out. I love it so much that I have experimented with different recipes so you can take your pick from the ones I have. All crack slaw recipes are great! And you can even make up your own classic crackslaw recipe.
Different Recipes for Crackslaw
Perhaps you want to make the classic Crackslaw that Atkins dieters all over the globe turn to when they crave comfort food without the carbs, or maybe you want to try this dish using ground chicken or even TVP instead of beef.
There are plenty of ways to make it so if you want to find out how to make crackslaw, keep reading for the classic recipe or experiment with some of the alternative ones.
Classic Crack slaw Recipe Tips
This dish is perfect for adapting and you can make all kinds of adaptations.
Explore further and you will see how you can make the main ingredient whatever you want, be that fish, chicken or even vegetables.
You will also find ways to give the dish a Greek or even Mexican slant, if you fancy using the ground meat and chopped veggies but you don't want to use the Asian seasonings. You can do whatever you want with crack slaw – just tailor it to your requirements and make it perfect for your palate.
Whether you want your classic crackslaw recipe mild, spicy or somewhere in the middle, cabbage-loaded or leaning more towards other vegetables, sweet (artificial sweeteners in liquid form are carb-free, remember) or savory, there is a perfect crackslaw recipe for you, to satisfy your taste buds and leave your tummy feeling satisfied.
What Ingredients to Use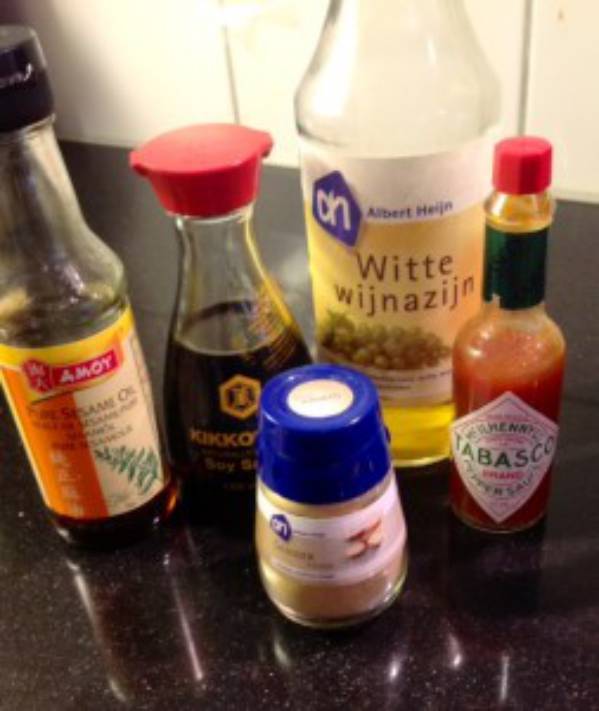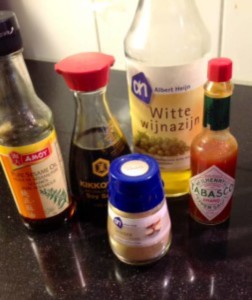 When making crack slaw, it pays to use the best quality ingredients you can find.
You might kid yourself into thinking you are 'cheating' on your low carb diet because this tastes just as good as Chinese takeout, but honestly the carb count is really low, so you might as well enjoy the meal.
And you can have a second bowlful if you want because you are just eating cabbage, carrots and some very carefully chosen seasonings to give you all the wonderful flavors you need to satisfy your tum!
So, first of all the hot sauce for your classic crackslaw recipe. I usually use Tabasco sauce because I live in Holland and that's about all I can get! I use Amoy sesame oil, firstly for that reason and second because it's tasty. White wine vinegar is great and works nicely, just regular white wine vinegar or another kind of wine vinegar. Try rice vinegar if you want.
So what about the soy sauce in a classic crackslaw recipe? Well I used to use Kikkoman soy sauce because it had a very rich, clean taste, but lately I have been using tamari which is wheat-free soy sauce and actually lower in carbs because it doesn't have the small amount of wheat soy sauce has. Check the label when you're using soy sauce because some are carby and that isn't what you want to be putting into this.
By the way, if you like sashimi (Japanese style raw fish) then tamari is better for dipping anyway. I use ground ginger which tastes fine in the crackslaw. I also keep fresh ginger in the freezer, and that can be grated (from frozen) into the pot of crackslaw.
Print
Classic Crackslaw Recipe
The classic recipe combines ground beef with cabbage, ginger, soy sauce, and other low carb ingredients. It's addictive and oh so tasty.
Author:
Prep Time:

10 minutes

Cook Time:

15 minutes

Total Time:

25 minutes

Yield:

4

1

x
Category:

Main Dish

Method:

Stove

Cuisine:

Asian
1

lb (450g) ground beef

2

minced garlic cloves

1/4 teaspoon

artificial sweetener

1/2 teaspoon

minced fresh ginger or

1/4 teaspoon

dried ginger

2 tablespoons

toasted sesame oil

1 teaspoon

white vinegar

3

sliced green onions (scallions, spring onions)

14 oz

(

400g

) coleslaw mix or shredded cabbage

2 tablespoons

soy sauce

1/2 teaspoon

hot sauce (or to taste)
Salt and black pepper, to taste
Instructions
Brown the ground beef in a skillet and add salt and pepper.
Take the beef out of the pan and drain off the fat if you want.
Now heat up the sesame oil and add the garlic onions and coleslaw mix or cabbage until the cabbage is tender.
Stir in the soy sauce, hot sauce, sweetener, ginger, and vinegar.
Add the beef back in and mix well.
Serve with hot sauce on the table for those who like it spicy to spice theirs up a little more.
Notes
I often make double then splash some soy sauce and hot sauce over a portion the following day, to add moisture, and zap it for 90 seconds in the microwave. It tastes just as good as the day before.
You can add other ingredients if you want such as sliced mushrooms or chopped bell pepper.
Nutrition
Serving Size:

1/4 of the recipe

Calories:

340

Fat:

24g

Carbohydrates:

4.5 (net)

Protein:

23g
Keywords: classic crackslaw, classic crack slaw, how to make crackslaw, what is crackslaw, what is crack slaw
You Won't Get Tired of a Classic Crackslaw Recipe
The more you make this low carb classic crackslaw recipe, the more you will wish to personalize it. This is not only to make it milder or spicier, more bitter or sweeter, but also so you can get more creative with your ingredients. Try out different kinds of poultry and meat, even fish and seafood or vegetarian equivalents, and other vegetables.
Use the classic crackslaw recipe as the bare bones and then experiment to your heart's content. I often reheat it for lunch since I work from home and tend to get a bit lazy around lunchtime. This easy crack slaw recipe is going to be your new favorite keto dish because it's absolutely that good.