Cauliflower rice, also known as cauli rice, is a low-calorie, low-carb alternative to regular rice. You can make it with a food processor or, if you don't have one, a cheese grater. There are different ways to cook cauliflower rice recipes too, such as on the stove, in the oven, or even in the microwave. Although cauliflower obviously doesn't share the exact same flavor as rice, you can get the appearance and texture very close.
It is well worth knowing how to make cauliflower rice recipes, even if you are not trying to reduce your carb or calorie intake. Cauliflower is rich in protein, thiamin, niacin, riboflavin, phosphorus, magnesium, vitamins C, K, B6, potassium, manganese and pantothenic acid. It is very low in cholesterol and saturated fat.
Whether you are looking for a paleo cauliflower rice, Mexican cauliflower rice or coconut cauliflower rice recipe, or something else, there are certainly a lot of different recipes to choose from, both mild and spicy, traditional and exotic, vegetarian, vegan and anything else you can think of.
Try it as a side dish for chili con carne or chicken curry, or add Asian ingredients and stir-fry it to make fried cauli rice. Once you have made a few cauliflower rice recipes, you will certainly want to try more.
Cauliflower Rice Recipes vs. Cauliflower Mash
You might have also heard of cauliflower mash which is when you boil cauliflower florets, drain them VERY well and then mash a little butter or cream cheese in. It is absolutely vital to drain the cauliflower as well as you can (squeeze it in a tea towel!) else you will have watery, gloopy mash. However… time to get back to the cauliflower rice recipes!
Print
Veggie Cauli Rice
Onion, garlic, bell pepper and cauliflower come together to make this tasty recipe. The herbs and seasonings you use are up to you, so just add a pinch of whatever you fancy to complete the dish.
Author:
Prep Time:

10 mins

Cook Time:

10 mins

Total Time:

20 mins

Yield:

4

1

x
Category:

Entree
1

large cauliflower, in florets

1/4

finely diced yellow onion

2

minced garlic cloves
Oil, as needed

1/2

finely diced green bell pepper

1/2

finely diced red bell pepper
Optional Herbs and Seasonings
Dried oregano
Dried basil
Dried mixed herbs
Salt
Ground black pepper
Crushed red pepper
Instructions
Process the cauliflower in a food processor until it resembles rice grains.
Saute the onion and garlic in a splash of oil until aromatic.
Add the bell pepper and cook for 2 minutes.
Add herbs and/or seasonings if liked.
Now add the cauliflower and cook, stirring often, until tender.
Photo by Nicole, on Flickr
I often make plenty of cauliflower rice at once, then keep it uncooked in an airtight container in the refrigerator. Perhaps I will make cauliflower rice as a side dish on Sunday, then the next day I will throw in some soy sauce, egg and ham and have it as fried cauli rice for a tasty Monday lunch.
You can also freeze it. One large cauliflower makes 4 portions of cauli rice (well, depending if you are having it as the main dish or as a side dish) while a small one will serve 2 to 3 people. And no, you won't get tired of cauliflower rice recipes – there are too many to try!
Print
Coconut Cauliflower Rice
This exotic recipe teams cauliflower with coconut. Try this with sticky, spicy chicken or perhaps with Thai beef. You can also add shrimp and mushrooms or snow peas to enjoy it as your main dish.
Author:
Prep Time:

5 mins

Cook Time:

10 mins

Total Time:

15 mins

Yield:

3

1

x
Category:

Side Dish
1

medium cauliflower in florets

1 teaspoons

oil

2 tablespoons

coconut milk

2 tablespoons

unsweetened coconut flakes
Instructions
Process the cauliflower florets in a food processor until it is the texture of rice.
Heat the oil in a large pan over a medium to high heat.
Add the cauliflower rice and coconut milk and flakes.
Cook for a few minutes, or until golden brown.
Cover and cook for a further 4 minutes or until tender.
Notes
Leave out the coconut milk if you prefer your rice to be more dry than sticky.
If it is too wet, leave the lid off the pan.
A lot of people only know cauliflower because of cauliflower cheese, and yes of course that is one of the best ways to enjoy it but not the only way. Not only can you enjoy that but you can also enjoy cauli rice and cauli mashed potatoes.
If you want to make that, boil the cauliflower florets until soft, then drain (very well) and mash with butter. Sometimes I prefer cauli mash to cauli rice, but it depends what I am serving with it.
Want to Mash It?
Cauli mashed potatoes can be mashed with anything you like – fresh parsley, milk or cream, even cream cheese. It is very important to drain the cauliflower well after boiling it though, since you will be surprised just how much water it holds on to, and unless you want mushy cauli mash (you don't!) drain it as well as possible.
If you still want to make a cauliflower rice recipe though, choose from one of the recipes on this page or else get imaginative and make something creative, adding in your own flavors and seasonings. Learning how to make cauliflower rice means you can experiment with the recipe as much as you wish.
Print
Cauliflower Rice Indian Recipe
Adding Indian flavors to cauliflower rice is easy and a great way to make a biryani type dish without all the calories and carbs of the conventional rice variety. This recipe smells wonderful and tastes great.
Author:
Prep Time:

15 mins

Cook Time:

40 mins

Total Time:

55 mins

Yield:

4

1

x
Category:

Entree

Cuisine:

Indian
1

large cauliflower in florets

2 tablespoons

vegetable oil

1

cinnamon stick

5

cardamom pods

1

bay leaf

10

raw cashews

1

finely diced onion

1 3/4 oz

(

50g

) finely diced carrots
Small handful thawed or canned corn kernels

1 3/4 oz

(

50g

) fresh or frozen green peas

1

minced garlic clove

1 teaspoon

chili powder

1/2

inch (1cm) finely sliced fresh ginger

1/2 teaspoon

salt

1/2 teaspoon

ground turmeric

1 1/3 oz

(

40g

) chopped tomatoes

1

handful chopped cilantro leaves

1

handful chopped mint leaves
Instructions
Process the cauliflower in a food processor until it is the texture/size of rice grains.
Heat the oil in a pan and add the cinnamon, cardamon, bay leaves and cashews.
Cook for 2 or 3 minutes or until fragrant.
Now stir in the onions.
Cook for 10 minutes.
Add the carrots, corn and peas.
Add the garlic, chili, ginger, salt, and turmeric.
Cover the pan and cook for 20 minutes over a low heat.
Stir the mixture occasionally.
Now stir in the cauliflower and tomatoes.
Cook for 5 minutes.
Stir in the cilantro and mint.
Discard the bay leaves and cinnamon stick.
Add more salt and/or spices/herbs if necessary.
Photo by Iris, on Flickr

Cauliflower Rice with Orange, Lime and Cilantro
This wonderful recipe is just the thing if you are making something sticky and spicy. I paired it with peri peri chicken, and it went really well.
The recipe uses orange and lime juice, along with coconut flakes. Use freshly squeeze citrus for the freshest flavor. You can save some of the slices to garnish the finished dish, to add color (like in the photo).
I like to add some turmeric when cooking to turn the cauli rice yellow. You can add a little pinch and as long as you stir it in well the color will take at once.
Turmeric also offers a light, aromatic flavor, complementing the taste of the dish.
This cauliflower rice with orange, lime and cilantro is the recipe to choose if you want something to pair with a spicy or full-flavored dish but you don't necessarily want the rice spicy to compete.
Here you can expect the delicate flavors of citrus (I prefer more orange than lime, but you can adjust the ratio as you wish) along with coconut for exotic flair.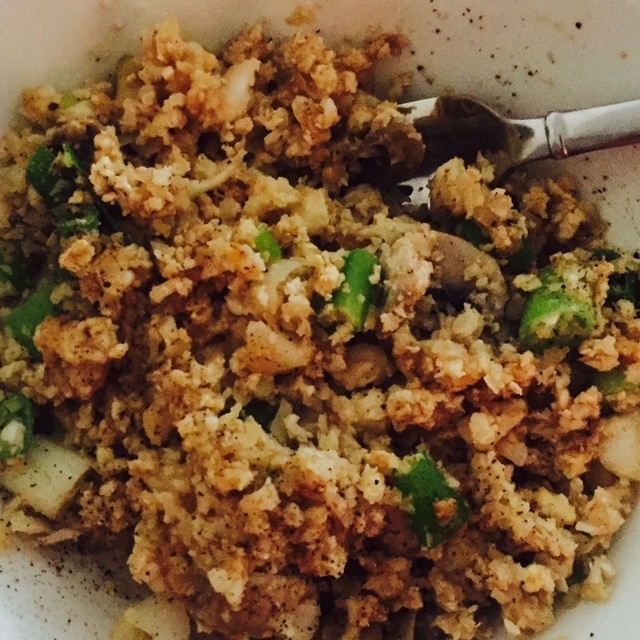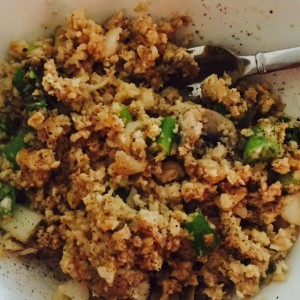 Egg Fried Cauli Rice
Are you in the mood for Chinese food, but you hate the way eating rice makes you hungry again in a couple hours? Here is a great answer.
This easy egg fried cauli recipe is simple to prepare and is sure to wow your taste buds. It is quick, easy and makes really satisfying meal.
I love to add shrimp and chicken or shrimp or ham (or you could use leftover beef or similar) along with green onions, mushrooms and other vegetables. Garlic is also good.
Although green peas are often used in egg fried rice, or egg fried cauli rice, I don't like them so I omit them from mine. Any leftovers can go in there though, like corn kernels or carrots.
In fact, in China, a lot of the fried rice recipes are made with leftovers, just as a way of using them up. I like to make extra of this dish and warm it up the following day. I also like hot chili sauce drizzled over it, and perhaps some omelet strips.
Print
Mexican Cauliflower Rice
This Mexican cauliflower rice is a perfect accompaniment to a south of the border recipe with chicken or meat. If you like to try new Mexican foods, why not give cauliflower a try in this tasty novel dish?
Author:
Prep Time:

10 mins

Cook Time:

10 mins

Total Time:

20 mins

Yield:

4

1

x
Category:

Side Dish

Cuisine:

Mexican
1

medium cauliflower in florets

1/4 teaspoon

cumin

1/4 teaspoon

chili powder

1/2 teaspoon

oregano

1/4 teaspoon

salt
Oil, as needed
Juice of

1/2

lime

1

chopped fresh tomato
Cilantro (fresh coriander) and/or avocado slices, to serve (optional)
Instructions
Put the cauliflower florets, cumin, chili powder, oregano and salt in a food processor.
Pulse a few times until you get a rice consistency.
Heat the oil in a pan and add the cauliflower mixture.
Squeeze in the lime juice and add the tomato.
Saute for a few minutes or until the cauliflower grains are al dente.
Serve with cilantro and/or avocado if liked.
Photo by Leslie, on Flickr
The exact texture of cauliflower rice depends how you like it, but most people prefer to cook this until al dente, which means soft but not too soft. You know, like how you cook pasta. Others prefer to cook it for a bit longer or until it is softer, and that is up to you. There are also raw cauli rice recipes you can try, ones which would make a nice cold, refreshing side dish for chicken or fish in the summer. The best thing to do, to get the consistency right, is just to keep stirring the cauliflower rice as it cooks (so it cooks evenly) and keep tasting a little every now and then. As soon as you like the texture, take it off the heat, give it one final stir, and serve.
Print
Salmon with Cauliflower Rice
This healthy recipe keeps the fat content down, only offering salmon's healthy fats, as well as the carbs and calories. This is a filling dish which will be perfect for dinner, and it offers so much flavor.
Author:
Prep Time:

15 mins

Cook Time:

15 mins

Total Time:

30 mins

Yield:

4

1

x
Category:

Entree
1

large cauliflower in florets

4

fresh or thawed salmon filets

1 tablespoon

olive oil

1 tablespoon

chopped fresh chives

1

chopped yellow onion

6

minced garlic cloves
Small handful chopped fresh parsley

1 tablespoon

chopped fresh dill

1

handful toasted pine nuts
Zest of

1

lemon
Juice of

1/2

lemon

2 cups

(500ml) chicken broth
Salt and lemon pepper, to taste
Diagonally sliced green onions (spring onions), for garnish
Instructions
Preheat the oven to 425 degrees F (220 degrees C).
Process the cauliflower in a food processor until rice grain-sized.
Coat the salmon filets with oil.
Salt and pepper the salmon generously.
Coat with a teaspoon of the chives and a bit of lemon zest.
Grease an ovenproof skillet or dish, and put the salmon in there.
Set it to one side.
Heat a tablespoon of oil in a skillet.
Add the chopped and cook until tender.
Grind in some salt.
Add the garlic and cook for 2 minutes or until fragrant.
Add the other tablespoon of oil to the pan and add the cauliflower rice
Toss to combine and coat.
Add the chicken broth and turn the heat up.
Keep cooking until the cauli rice is al dente.
Drain off any liquid.
Stir in the lemon zest, herbs, lemon juice and pine nuts.
Add salt and pepper to taste.
Stir well then sit over a very low heat for 10 minutes.
Meanwhile put the skillet of salmon in the oven.
Bake for 12 minutes or until cooked through.
Serve the salmon over the cauliflower rice.
Scatter green onion over the top and serve right away.
Bonus Recipe….
This low carb cauli rice paella is really delicious and too good not to include here, so yes this is recipe number eight for you.
Enjoy!
And here we go with number 9… low carb nasi goreng