Cauliflower rice, or cauli rice as it is affectionately  known, is a wonderful substitute for rice, offering a mere fraction of the calories and carbs or rice, yet offering a very similar texture and a neutral flavor. You can do so much with it and there are plenty of cauliflower rice recipes to choose from. This cauli rice with orange, lime and cilantro recipe is easy to prepare and it's yummy!
I like to use a medium or strong-flavored sauce to disguise the cauliflower flavor – not that cauliflower has much of a taste at all, but just to make it as rice-like as possible. Try Chinese rice with cauliflower instead of rice, or consider Mexican cauli rice or Italian flavors.
Cauliflower Rice Carb Count
Whether you are using frozen cauli rice or fresh, count on there being just 3 net carbs per cup or 105 grams.
It is easy to prepare this cauli rice with orange, lime and cilantro recipe if you have a food processor. Simply break a fresh cauliflower into florets and whiz them in the food processor until rice grain-sized. If you don't have a food processor that is okay, just use a cheese grater instead. It will take longer and you will get a similar result.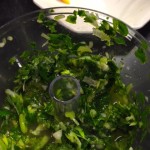 Although Chinese egg fried cauli rice is the one I make the most, I wanted to come up with something which would be good with peri peri chicken, contrasting with the spice. Hence this cauli rice with orange, lime and cilantro recipe.
Peri peri chicken is hot and spicy, so you will want to serve it with something cool and refreshing. I like to make this orange cilantro cauliflower rice to go with it, and also offer tzatziki (cucumber and mint yogurt) on the side to further cut down on the spice and balance out the meal.
Making the Sauce
The first thing you need to do is mix the cilantro, orange and lime juice in a food processor. I have a mini food processor which does the job perfectly. This is going in with the cauli rice to add a citrusy, zesty, herby flavor, which will be great with the chicken or whatever else you are serving it with.
Preparing the Cauliflower
Next you need to get the cauliflower into rice grain-sized pieces. Cut it or snap it into florets and then put them in the food processor and hit 'pulse' until you have rice-sized grains. It's not going to be exactly the same texture as rice but the food processor certainly makes quick work of it.
I find with mine that if I don't break the florets small enough the food processor doesn't break them down properly, so make small-ish florets and you should be fine.
You might need to stop every now and then to scrape down the sides of the food processor bowl with a rubber spatula, so you get most of the pieces the same size.
Get the Aromatics Ready
Now you need to sauté the aromatics. Onion and garlic are great here. You put them in a wok or skillet and cook them until tender and aromatic.
Don't go for golden brown or beyond here. You want them soft and tender, not charred. It will affect the quality of the finished cauli rice with orange, lime and cilantro recipe.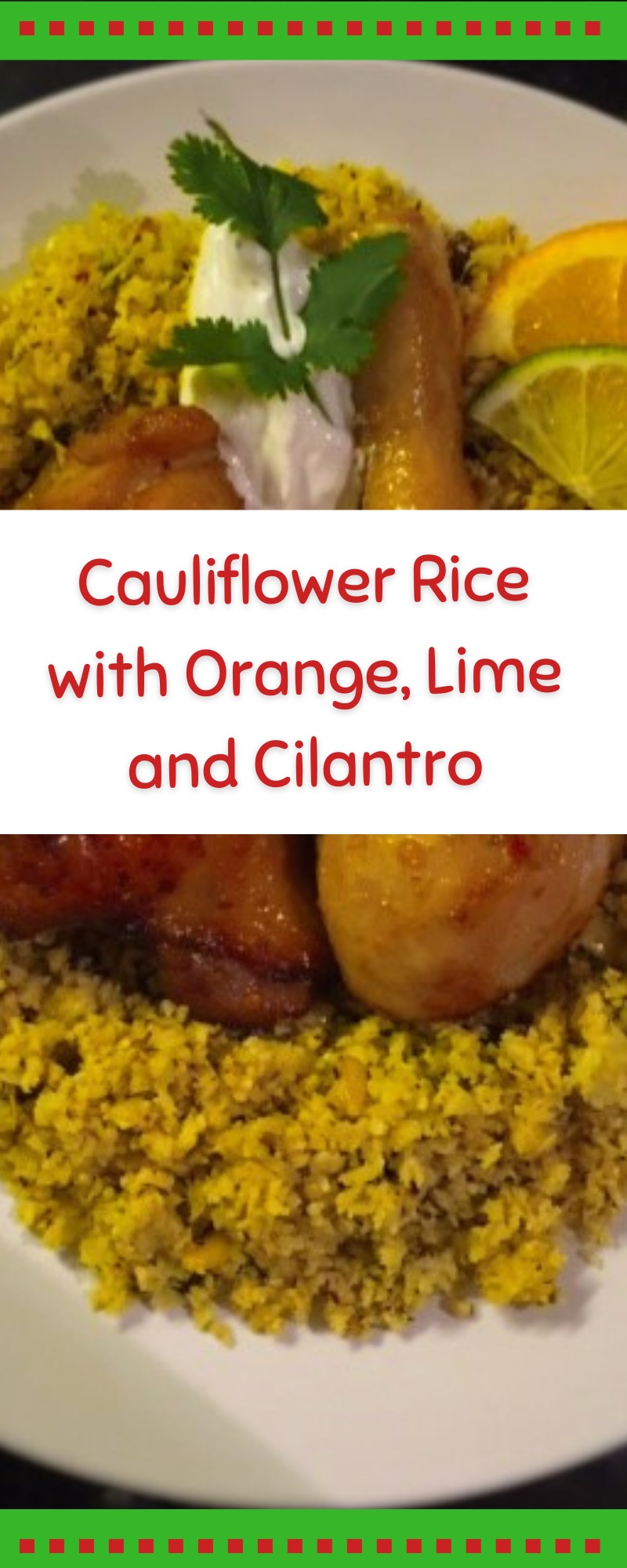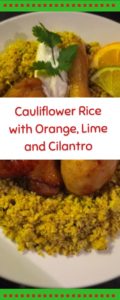 The purpose of aromatics is to add the undertones to the cauli rice recipe, so you will be able to taste a hint of garlic and onion in every mouthful of the finished cauliflower rice. Cook them in plenty of oil, and use a wooden spoon or rubber spatula to keep the onion and garlic moving as they cook. This point in the recipe is when everything starts to smell amazing. Few things smell as incredible as garlic and onion cooking together!
Cauli Rice with Orange: Bring Everything Together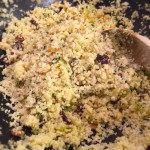 Now it's time to add the cauliflower and other ingredients to your wok and skillet. Keep everything moving as it cooks. You can taste a bit of the rice from time to time, to see how cooked it is.
The best way to serve a cauli rice recipe is al dente, which means partway between raw and soft. Some people like it softer so the best way is to taste as you go and stop cooking when you like the texture and flavor of it.
You want the cauliflower to have  a bit of 'bite' to it, so just keep tasting a little bit every now and then (and keep stirring the mixture often, or all the time) to see when it is ready. If you are serving chicken or duck or something else with the cauli rice, it should be cooking at the same time. Count on the cauliflower rice taking about 20 minutes (including when you sauté the aromatics) in all, and base the cooking time of the meat on that.
Print
Cauli Rice with Orange, Lime and Cilantro
Cauliflower rice is flavored with orange, lime and cilantro, along with onion and garlic. This makes a wonderful low-calorie and low-carb side dish for chicken, duck or fish, and it is really easy to prepare.
Author:
Prep Time:

15 mins

Cook Time:

15 mins

Total Time:

30 mins

Yield:

4

1

x
Category:

Side Dish
1

medium head of cauliflower, broken into small florets

1/2

chopped yellow onion

2

minced garlic cloves
Oil, as needed
Juice of

1

lime
Juice of

1/2

tangerine (or

1/4

orange)

1/2 teaspoon

ground cumin
Small handful unsweetened coconut flakes (optional)
A few raisins and/or pine nuts (optional)
Salt and black pepper, to taste
Small handful finely chopped cilantro (fresh coriander leaves)
Instructions
Pulse the cauliflower florets in a food processor until rice grain-sized.
Saute the onion and garlic in some oil in a wok or pan until tender.
Now add the cauliflower.
Pour in the lime and tangerine juices.
Add the cumin and coconut flakes (if using).
You can also add some raisins and/or pine nuts here.
Grind in some salt and black pepper.
Keep sauteing, and moving everything around with a wooden spoon or rubber spatula.
The cauli rice is done when it has a bit of a 'bite' to it.
Add the cilantro (fresh coriander) and cook for 1 minute more, then serve.