This keto cauliflower nasi goreng – low carb and tasty – might well earn a place on your regular meal rotation. It's just so special! Nasi goreng is a delicious dish from Indonesia, which I've enjoyed plenty of times when I was in Netherlands, since the Dutch are very much into Indonesian foods.
Although cauliflower fried rice is technically a rice-based dish, you can swap the rice for cauliflower and it will be! Also, because this is a spicy dish (a dish with spices, not necessary 'hot' if you don't want it to be) you won't taste the cauliflower.
What is Nasi Goreng?
The name 'nasi goreng' means fried rice in Malay and Indonesian, and the term can refer to pre-cooked rice with a little cooking fat and kecap manis, which is a sweet soy sauce. Shallot, tamarind, chili and garlic are typical ingredients, along with egg, shrimp and/or chicken. Sometimes salted dried fish are used instead of the other proteins.
This recipe is known as Indonesian although it is also popular in Malaysia, the Netherlands and Singapore. Nasi goreng can be enjoyed everywhere from roadside stands in Indonesia to Jakarta buffet tables or fine restaurants. This is known as the national dish of Indonesia, although I'm not sure what the locals would make of this low carb cauliflower nasi goreng variation.
This dish was developed as a way to avoid wasting cooked rice, since frying can stop dangerous microbes propagating especially before refrigeration was commonplace like it is today.
Indonesian Fried Rice vs Chinese Fried Rice
This dish is sometimes compared to Chinese style fried rice, it is different because of the kecap manis (a thick, sweet type of soy sauce) in there. Cauliflower rice keto style can be prepared with alternative ingredients.
Fried onions and/or fried shallots are sometimes served with nasi goreng to give it a distinctive crunch. Pickles might be offered since they contrast well with the oil and spices, and shrimp crackers are also god with it. Don't forget the sambal (chili sauce) to give plenty of heat.
In Indonesia nasi goreng is usually made by frying leftover rice with the previous day's cooked meat or fish, adding some eggs and vegetables to the mix. The basic ingredients will be rice, spices, shallot, garlic, salt, pepper, ketchup, sambal or soy sauce, and kecap manis.
Dutch Nasi Goreng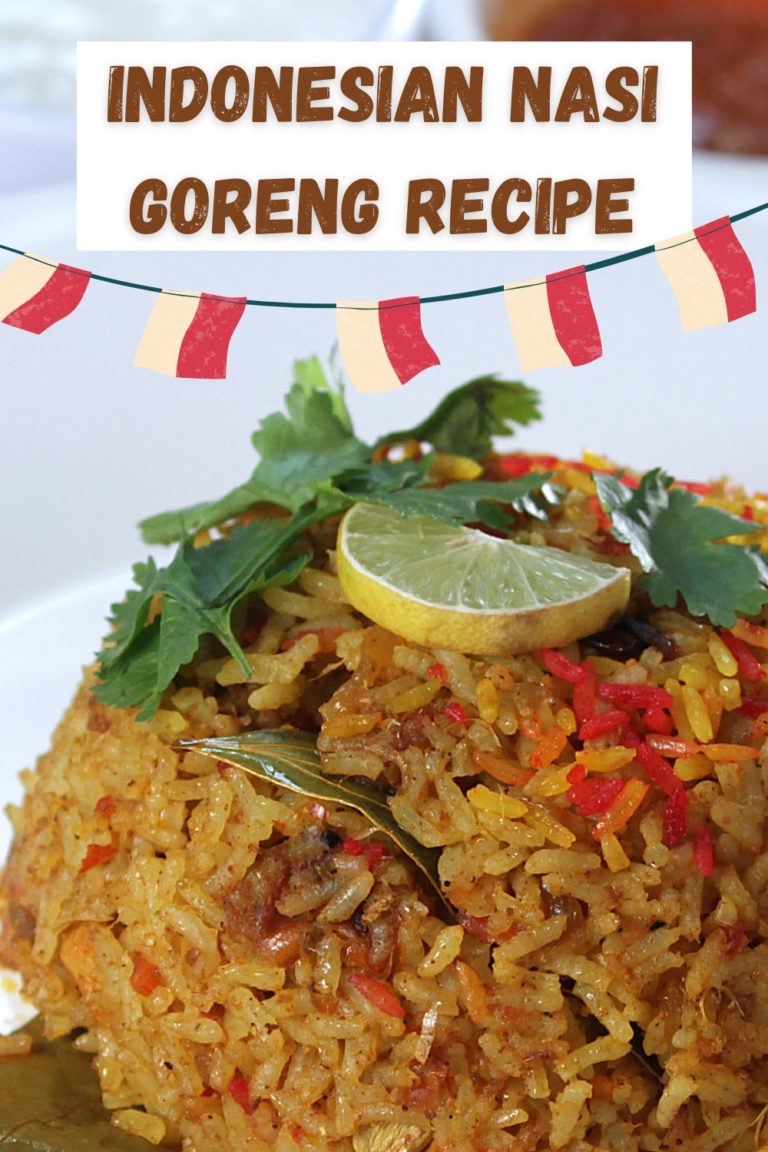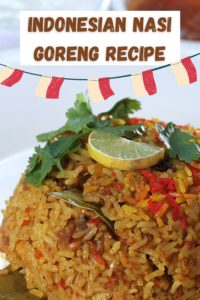 Nasi goreng is well-loved in the Netherlands because of colonial ties with Indonesia, and Indonesian migrants going back a few generations sell Indonesian food in takeouts and restaurants. It's not the same, of course, and I'm saying that as someone who's traveled around Indonesia. Probably because the spices aren't so fresh here, I don't know – I feel the same way about Indian food outside India.
However, it's possible to make a great version of nasi goreng, and we are using cauliflower here to get the carbs as low as possible! We are also using tamari or soy sauce and sugar-free honey to get a similar flavor to kecap manis.
Read on, make any tweaks you want, and enjoy this wonderful low carb cauliflower nasi goreng recipe. The exact calorie/carb count depends on the brands you use and the amounts, so it's perhaps better to work that out yourself.
Print
Cauliflower Nasi Goreng – Low Carb
This low carb take on traditional nasi goreng uses cauliflower instead of rice, and boasts egg, vegetables, meat, seafood and authentic Indonesian spices to offer a wonderful, aromatic flavor that keto eaters will just love.
Author:
Prep Time:

15 mins

Cook Time:

15 mins

Total Time:

30 mins

Yield:

2

1

x
Category:

Main Dish

Cuisine:

Indonesian
2 teaspoons

oil

8

chopped peeled medium shrimp
Salt, to taste

2

finely diced chicken thigh filets

½

peeled, sliced white onion

1

small cauliflower, in florets

1

minced garlic clove

1

peeled, diced carrot

2 tablespoons

Sambal Oelek (Indonesian chili sauce)

½ tablespoon

sugar-free syrup or sweetener to taste

3 tablespoons

tamari or soy sauce

1 teaspoon

Asian fish sauce

½ teaspoon

sesame oil (optional)

2

eggs
Cilantro (fresh coriander) for garnish
For the Low Carb Satay Sauce
4 tablespoons

sugar-free peanut butter

4 tablespoons

soy sauce

4 tablespoons

sugar-free 'honey' (I like this vegan honey)
Optional Ingredients, to Serve
Mixed chopped pickles
Crispy fried shallots
Shrimp crackers (not low carb but so good!)
Tomato wedges
Finely sliced cucumber
Instructions
'Rice' the cauliflower in a food processor until it's rice texture.
If you don't have a food processor, use the large holes on a cheese grater.
Heat a wok over a high heat and add a teaspoon of oil.
Add the shrimp, seasoned with some salt, and stir fry for 1 1/2 half minutes.
Transfer to a plate.
Next add the chicken and stir fry over a high heat for a few minutes, stirring frequently.
Transfer to the plate with the shrimp.
Add another teaspoon of oil, keeping the heat quite high.
Stir fry the onion for 2 minutes.
Add the cauliflower, garlic, carrot, sambal, honey substitute or sweetener, tamari or soy sauce, and fish sauce.
Add sesame oil too if liked.
Cook, stirring, for 30 seconds then the cooked shrimp and chicken back.
Cook, stirring often, for about 2 minutes.
Heat a little oil in another pan and fry 2 eggs until the whites are firm but the yolks are still soft.
Combine the ingredients to make satay sauce (this is optional but yummy).
Serve the nasi goreng topped with the eggs and some cilantro.
Add the satay sauce, pickles, shallots, shrimp crackers tomato, and/or cucumber if using.
Notes
If you can't find sugar-free 'honey' you can use regular honey. Just remember to count the carbs in the finished dish.