Pearl couscous is also known as giant couscous or Israeli couscous. It is enjoyed with tomato paste and fried onion in Israel and usually fed to children, but in other countries it is served as an ingredient to substitute rice, potatoes or another starch. Try this pearl couscous salad if you're looking for new ways to serve it or new homemade salad ideas.
Pearl couscous can be served hot or cold. It does not clump as much as North African couscous (the smaller grains) and you can reheat pearl couscous without it losing its texture or shape. Have you seen it in the store?
Next time you spot it on the shelf grab yourself a package because it is nutritious and tasty, and you can makes all kinds of hot and cold dishes with it, including easy pearl couscous salad recipes.
Pearl Couscous Salad and More Ideas for Pearl Couscous
Although this post is mainly about pearl couscous salad this is not the only way to use pearl couscous or Israeli couscous. You can add it to soup, use it to make a pilaf or risotto, or try it with olives, artichoke and spinach for a gourmet salad. In the following recipe the pearl couscous is combined with tasty, colorful ingredients and made into a salad.
How Do You Cook Pearl Couscous?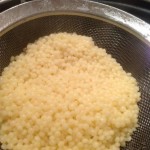 This tasty grain is free from cholesterol and fat, and also low in sodium. One cup gives you plenty of fiber, protein, potassium and vitamin C, although a hefty few hundred calories so you might want to enjoy a small portion if you are counting, or at least add healthy ingredients to flavor it rather than oil, butter, cream or mayo.
To cook it, bring to the boil one cup of liquid for every 1/2 cup of pearl couscous. Choose from water, white wine, chicken broth, or a mixture of these.
When the liquid is boiling add the couscous and turn the heat down to let it simmer for about 8 minutes or until the liquid is absorbed and the couscous is tender but still firm.
You should stir it often as it is cooking so it cooks evenly and also so it doesn't end up sticking to the bottom of the pan. If you want to cool it for making pearl couscous salad don't leave it in a sieve in the sink because it gets too dried out on the part exposed to the air. I prefer to pour it into a covered plastic container and refrigerate it for an hour or so.
Pearl Couscous Salad: Finishing It Off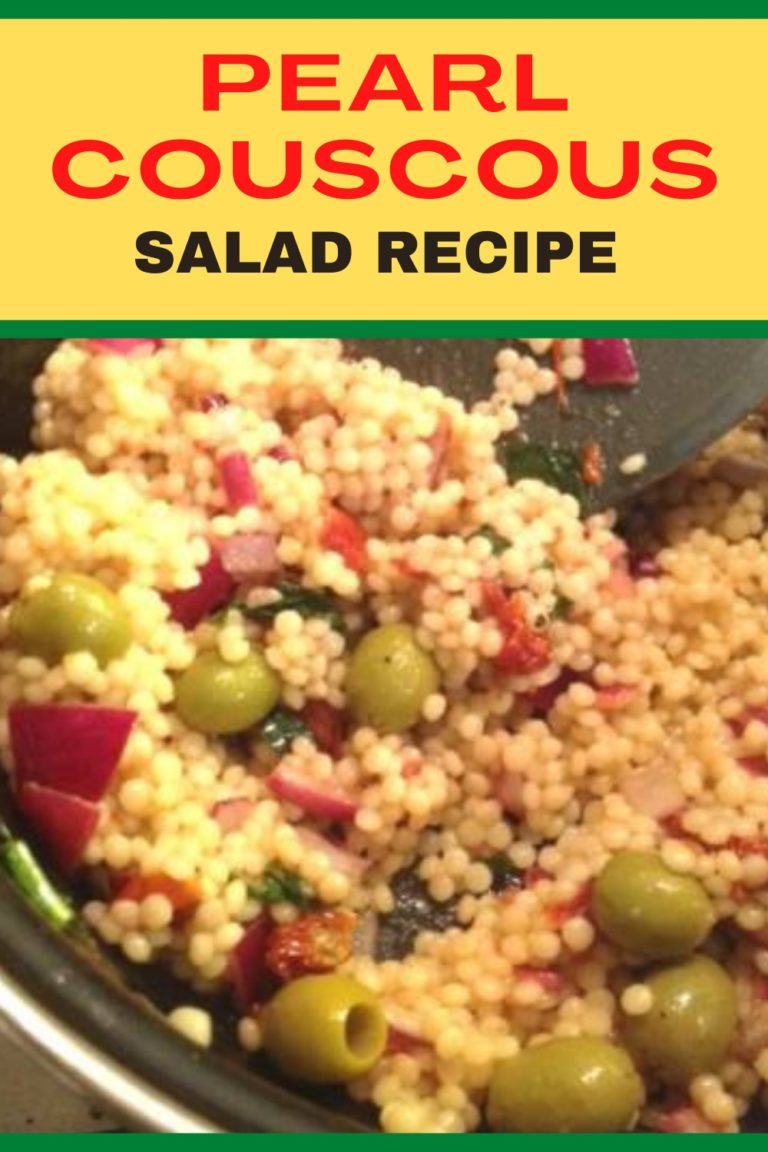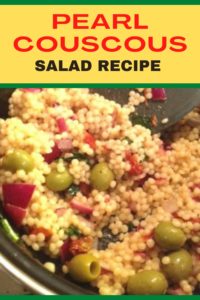 So if you want to add your other ingredients to the pan of couscous while it's cooking, you can add a cup of fresh peas to the pan during the last couple minutes of cooking, as well as 1/2 cup of chopped mint leaves if you like.
Throw in a slug of oil or melted butter, and some salt and black pepper.
Perhaps you have some corn or olives you want to use up in the refrigerator, in which case just go ahead and throw them in.
You will be adding color and new textures as well as bulking out the dish and making it more interesting.
Use your own judgement when it comes to deciding what to add and really make this pearl couscous salad recipe your own. You can make it different every time you make it.
Print
Easy Pearl Couscous Salad With Sundried Tomatoes
Learn how to make this delicious pearl couscous salad using freshly cooked couscous and a selection of colorful, tasty ingredients. A refreshing, healthy dish.
Author:
Prep Time:

10 mins

Cook Time:

10 mins

Total Time:

20 mins

Yield:

3

1

x
Category:

Salad

Cuisine:

American
1 cup

(

170g

) pearl couscous

2 cups

(570ml) water

1/4

finely chopped red onion

3

chopped sundried tomatoes plus some oil from the jar

10

pimento-stuffed green olives
Few drops lemon or lime juice
Salt and black pepper, to taste
Instructions
Cook the pearl couscous following the directions on the back of the package.
Drain the water off, then stir in the other ingredients.
Chill until required then serve on a bed of salad leaves or with chicken or meat.
Notes
Feel free to adapt the above recipe. That is how I made the pearl couscous salad and it was very good but you can add anything you want.
Try chopped anchovies, chopped fresh mint leaves, fresh chopped tomatoes instead of the sun-dried kind, raisins, fried onions or anything else that appeals. Ham or bacon would work too, or even drained, canned tuna.
Keep any leftovers refrigerated for your lunch the following day. This makes a yummy lunch!
Nutrition
Serving Size:

3

Calories:

393

Sugar:

4g

Sodium:

179mg

Fat:

16g

Saturated Fat:

1g

Unsaturated Fat:

14g

Trans Fat:

0g

Carbohydrates:

54g

Fiber:

6g

Protein:

9g

Cholesterol:

0mg
Keywords: pearl couscous salad, round couscous salad, israeli couscous salad