Learning how to make rice salad is very easy and there are so many different ways you can prepare this delicious dish.
Rice salad is perfect for lunch or as part of a buffet, and you can also serve it alongside steak or with chicken or fish. Absolutely anyone can make rice salad recipes and once you are familiar with the recipe you can experiment with other ingredients to make the dish taste different.
How to Make Rice Salad: Simple Yet Perfect
There are not many steps you need to make this dish, which is why it is so simple. If you enjoy being creative in the kitchen you will love making it because you can be imaginative with what goes into it. That's right, getting this dish just right is supremely simple.
First you need to cook your rice in a pot on the stove, then drain it and let it cool. Stir in some mayonnaise or another kind of dressing, then add meat, fish, seafood, chicken, vegetables, fruit, herbs, spices, or anything else you fancy. The resulting dish will be unique and wonderful.
Different Recipes
Perhaps you fancy a creamy rice salad made with mayonnaise or sour cream, adding some crunch with peanuts and some fruity sweetness with banana or strawberry slices, or perhaps you would prefer to make a healthy rice salad with lemon vinaigrette and some finely chopped raw veggies and herbs.
Try adding tuna and corn for a classic rice salad, or try soy sauce, sesame oil, water chestnut slices and Chinese mushrooms for an amazing Asian twist. The sky is the limit when learning this dish and not only that, but making your own unique variety of it!
Coordinating the Meal Elements
Image from Dreamstime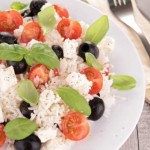 You can coordinate the rice salad with the other elements of the meal if you like. Perhaps you are serving fried chicken with rice salad, in which case what about using lemon juice, crispy fried bacon pieces, fresh herbs and sour cream in the rice?
That would really go nicely alongside the chicken. If you are serving a highly spiced or seasoned piece of meat or fish, keep the rice salad simple. In fact, the more flavors you have in the meat or fish, the simpler the rice salad needs to be.
Stir a little mayonnaise, a pinch each of salt and pepper and some finely chopped cooked mushrooms or zucchini in the rice, for example.
That would very simple and ensure the salad is not going to overpower or clash with the meat.
My Rice Salad Recipe
The point of this recipe is to give you a starting point. When finding out how to make rice salad you will want to make something basic and then tweak future recipes to your own taste and experiment if you wish. If you want to stir cooked chopped chicken or seafood into the cooled rice, go for it. Add capers if you like, or olives.
How do you make rice yellow, you might be wondering. That is simple. If you want your rice yellow not white, then add a pinch of turmeric to it before you add the boiling water. Saffron would also work but it's expensive!
Omit the vegetables if you like, and add fruit instead. Make this rice salad your way, to inject your own personality and palate into it. It's so easy. You can't go wrong!
How to Cook Rice for Rice Salad Recipes
So there is more to this dish than simply combining cooked rice with veggies and a dressing. To make a rice salad, you need to cook the rice until it is tender (simmer one part white rice in two parts salted water) and make sure you drain it well.
Different types of rice have different cooking times, so check the instructions on the package. If there are no instructions then use your judgment. You can tell when the rice is tender by tasting a little.
Print
Victoria's Rice Salad Recipe
Learn how to make rice salad the easy way. This wonderful side dish goes beautifully with any kind of meat, poultry or fish, and it is perfect for any season or occasion.
Author:
Prep Time:

10 mins

Cook Time:

10 mins

Total Time:

20 mins

Yield:

4

1

x
Category:

Salad

Cuisine:

English
Handful of uncooked white rice
Mayonnaise, as needed
Boiling water to cook the rice (enough to cover the rice by a couple inches)
Finely chopped vegetables (eg broccoli mushrooms onion celery zucchini)

1/4 cup

(

110g

) grated cheddar cheese

1/4 teaspoon

mixed dried herbs
A few walnut halves or cashews
Salt and black pepper
Instructions
Cook the rice following the instructions on the package, adding the finely chopped vegetables 5 minutes before the end of the cooking time.
Drain well and let it cool.
Stir in the mayonnaise (the amount depends how creamy you want it, so add a tablespoon at a time until it's just right).
Stir in the cheese, nuts, herbs and a pinch each of salt and black pepper.
Serve chilled or at room temperature.
What Type of Rice to Use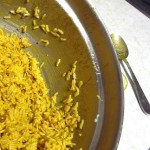 Long grain white rice is the best option for making easy rice salad recipes, but feel free to experiment with different varieties.
Sushi rice would be good in an Asian style rice salad. Brown rice would provide a nutty base for a healthy rice salad. Want to make rice salads for summer? I can't think of one which wouldn't be great, since you can serve it chilled.
Any of those would be wonderful. Or try mixing your rice with quinoa or another grain, or even adding some wild rice to the mix. Store it in the refrigerator overnight and you can use it the next day to make some tasty buffet recipes.
Image Credit: RexRoof, on Flickr
For the dressing, you can add sour cream, mayonnaise, vinaigrette, or any salad dressing you like. Feel free to combine mayonnaise with lemon juice, curry powder or mayonnaise for a tangy and delicious dressing.
Savory Rice Salad Recipe Ideas
Mix the cooled rice with mayonnaise, sour cream, heavy cream or a combination of these. Rice will be too dry if you do not add some kind of dressing.
Use a fork or tablespoon to mix it in. Stir in a little at a time, adding more if necessary. If you do not add enough the rice will be dry. Adding too much will give you a gloopy mess, so take care you add the right amount.
Add a little salt and black pepper too, if needed. Perhaps some chili powder would also be tasty, or some red pepper flakes.
Rice Salad Ideas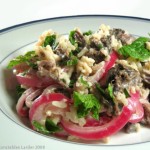 Add cashews and your favorite crumbled or grated cheese for an exciting, tasty dish. Add chopped beets, pineapple and peas for something with plenty of color. Add Cheddar, ham or tuna, and some peas for a retro rice salad. Add drained, canned crab and chopped anchovies or baby shrimp for a fishy one.
As well as the mayonnaise you might wish to stir in tomato concentrate, mustard or curry powder. If you are making a seafood or fish based salad, add some tomato concentrate stirred into a base of mayonnaise, and you can also throw in a couple drops of Worcestershire sauce and perhaps some Tabasco if you want to add some heat.
Whenever you make rice salad recipes using bold flavors like blue cheese and walnuts, or 2 kinds of fish or seafood for example, just use the mayo to keep the dressing flavor simple.
If you are using chopped turkey and sultanas or beef and fried onions, feel free to include a pinch of curry powder to set off these amazing flavors and create a well balanced, stylish dish. Knowing how to create such a dish means you can try any of these tasty variations.
The key to making a winning rice salad is to be imaginative, thinking about combining colors and textures, as well as of course flavors.
Add finely chopped veggies or some fruit or chicken, shrimp, or whatever you like, and the chill the rice salad in the refrigerator to get your rice salad recipe cold. Taste it and check the flavors are balanced, then serve this delicious dish.
Photo by: Giffconstable, on Flickr
Fruity Rice Salads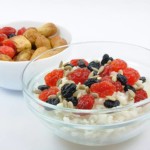 Yes rice pudding is a well-known dessert. However, it is possible to serve a sweet rice salad recipe on the buffet table alongside the savory foods. Using a fork or tablespoon, mix together your cold cooked rice with sour cream or mayo, then add some raw, baked or stewed chopped fruit and see what an amazing rice side dish that makes.
Try grapes, apples, banana, plums, raspberry, peach, strawberry, or several of these. Go exotic with mango, papaya and coconut, or keep things simple using apple and banana. Bright red fruits look attractive too.
You can use half mayo and half sour cream for a balanced flavor. Adding allspice, nutmeg or cinnamon brings out the fruitiness. Perhaps you would also like to add walnuts, cashews or a handful of peanuts to this fruit rice salad side dish recipe.
We All Love a Good Rice Salad
Oh yes, rice salad has been popular at buffets for over 50 years and it is not disappearing from our hearts just yet. Rice salad is always a fail-proof choice if you wish to make something economical and easy, yet tasty and impressive for everyone.
Rice is filling and there are endless possibilities when making a rice salad recipe. The fact that you can make it ahead is another plus.
Making the Best Rice Salad for a Party
This recipe allows you to cater easily for a party, even making big batches of it. Rice salad is one of the most popular dishes at a buffet and the dish is guaranteed to be finished.
Even if it is not finished you can store it for a few days in the refrigerator. It will keep for a while, so just set out as much as you think people will eat and keep the rest in the refrigerator in case it is needed.
If you let the whole batch become warm you might have to toss it out after the party, since mayonnaise or cream dishes should not be left in warm conditions for too long. Cook a good amount of rice hours before your party, or preferable the day before.
Then you will be able to divide it up and make various rice salad recipes, not just one. Rice costs very little so if you want to make party food which will not cost too much, ensure you have a big batch of rice salad. It is tasty, filling and always a hit at parties.
Let the Rice Cool Down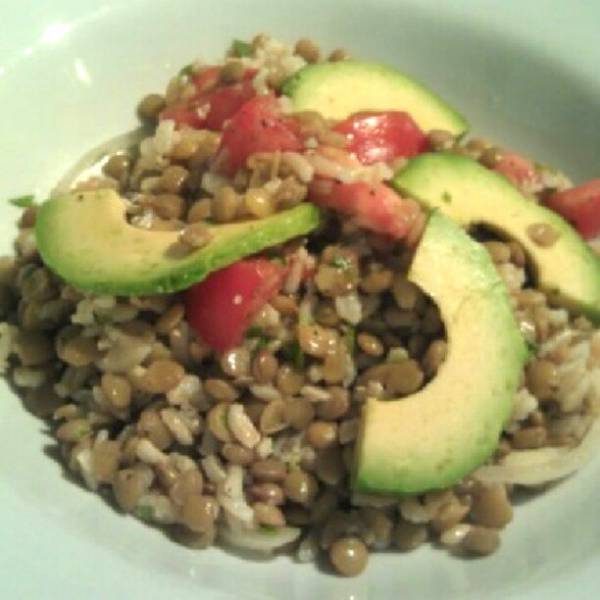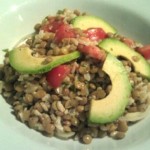 You can also cook it just before you make the salad but remember it does need to chill for a while before you serve it.
Rice salad can be served chilled or at room temperature but not warm else it becomes a pilaf. Choose your own preferred serving temperature. Some people do like their rice salads chilled well and others like the way that having them warm brings out the subtle flavors in the recipe, so it is up to you.
Rice salad should not be left sitting around at room temperature for too long though, especially if you have added cream or mayonnaise, so take this into account when planning yours.
Photo Credit: Rooey, on Flickr
How to Serve Rice Salad
The most popular way to serve this dish is from a big salad bowl, offering a ladle or similar so that people can serve themselves. If you are serving it as an appetizer or as part of a main dish then you can fill small cups with the rice salad mixture, use a flat wide knife to level it off, and tip it out on to a serving plate. It will keep its shape.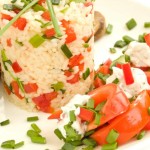 Make sure you stuff as much rice salad as possible in the cup before turning it out on to the serving plate, to ensure it holds it shape. When sliding it out, hit it firmly on the plate so it slides out and stays cup-shaped.
This looks excellent and adds a gourmet touch to dinner, so it is worth doing. Another option is to serve your fried chicken or steak on top of a bed of rice salad, or next to it.
So then you can add a handful of mixed green salad leaves to the dish and you have a complete meal. Rice salad is a key dish because it always makes a wonderful side dish and you can make a lot of it if you are preparing food for a buffet. Learning how to make rice salad means you will be able to prepare this tasty dish any time you choose.