There are easy 3 ingredient recipes for every occasion, season and palate. Perhaps you are in the mood to make a hearty meat dinner or something fancy with fish. It could be that you are looking for easy 3 ingredient recipes for the crockpot because you are going to be out all day and you know you'll get home late and want to eat dinner and fall into a comfy chair in front of the TV with something already made.
Or what about making three ingredient sauces or dips for your meat, fish or chips? Some of our drinks recipes are sure to tempt you too. There are recipes for every skill level, whether you have barely set food in the kitchen before or whether you like to rustle up exciting treats for your family on a daily basis.
Some of these easy 3 ingredient recipes might be good with a grinding of salt and pepper over, or with some mayonnaise on the side or another embellishment, but if that is the case I will suggest it in the matching recipe. They are great as they are, or you can always add more, to personalize the meal exactly how you like it.
Why Easy 3 Ingredient Recipes?
A better question might be why not 3 ingredients? Why make something with 20 ingredients when three will suffice? A lot of classic recipes only feature three ingredients. Think of egg salad, strawberry smoothie, cheese omelet, and so on. You can make versions of these recipes with a whole list of ingredients, or you can stick to three. Using too many ingredients means your recipes loses its essence.
Imagine cooking filet mignon for example. Cook it with a little salt and black pepper on, or even plain, and you get the amazing flavor of the meat. This is one of the best easy 3 ingredient recipes. Add another 15 ingredients to the pan – butter, garlic, onion, port wine, and so on, and the flavor of the meat becomes completely obscured!
Over-seasoning is never good. If you want to present a beautiful piece of meat or fish, then make the sauce and seasonings as basic as you can. Let the flavor of your meat or fish shine through. Limit yourself to three ingredients only, and see what you can come up with.
More Examples of Easy 3 Ingredient Recipes
There are all kinds of recipes using just a few ingredients. You can make various sandwiches or baked potatoes with tasty fillings, or you can buy a readymade pie crust and fill it with a delicious sweet or savory mixture. Try basic cookies or another kind of dessert, or even a salad if you want to find more easy 3 ingredient recipes. It might surprise you just to learn how much scope there is, so if you are new to cooking and the thought of having to combine 15 or 20 items puts you off, choose one of these exciting dishes instead and relax in the knowledge it is going to be delicious.
Easy 3 Ingredient Recipes: Which Recipe Suits the Occasion?
It's not always simple to pick out the best easy 3 ingredient recipes to make for a certain occasion, and there are plenty of dishes using three ingredients to choose from, but there are a few rules to guide you. If you want to make something for the family to enjoy, it usually pays to pick out something simple. If you have a family, the odds are you will have plenty of things to do besides cooking, so making something simple will save your time for other chores.
When entertaining, a complex dish is not always better. In fact you can make something really simple and know everyone will love it. Serve baked king crab legs with lemon and butter, for example. Any more than the lemon and butter would overwhelm the subtle crab taste. Sometimes fewer components in a recipe are preferred which is why easy 3 ingredient recipes are so popular.
Goat Cheese Empanadas with Corn Salsa
This recipe goes to show what you can make with as few as three ingredients. All you need are a couple of rolled piecrusts, some goat cheese and a small jar of corn salsa for dipping. The resulting empanadas are really beautiful and they look stunning too. Using refrigerated piecrusts saves you the time and effort of making your own pastry. These little snacks are sure to thrill the kids, and they are perfect if you fancy nibbling on something savory in front of the TV.
Try them with another kind of cheese if you want. Mozzarella would give a stringy result, cheddar would make them sharper-tasting and feta would give them a Greek feel. Pretty much any type of cheese would work actually, or you could buy a package of mixed grated cheeses for a multidimensional taste.
Assemble and freeze them for up to a month in advance if you like. To do this, arrange them on a parchment-lined baking sheet (assembled but uncooked) and freeze until firm, then transfer them to a re-sealable bag and freeze. Bake them from frozen for about 40 minutes at 375 degrees F, and keep them warm until required at 250 degrees F.
Print
3 Ingredient Empanadas with Goat's Cheese
These delicious empanadas only require 3 ingredients. You will need refrigerated rolled pie crusts, goat's cheese and corn salsa. Combine those to make these delicious little treats.
Author:
Prep Time:

15 mins

Cook Time:

20 mins

Total Time:

35 mins

Yield:

1

6

1

x
Category:

Snack

Cuisine:

Mexican
2

refrigerated rolled pie crusts

4 oz

(

115g

) goat cheese
Small jar of corn salsa
Instructions
Preheat the oven to 375 degrees F or 190 degrees C.
Cut 16 rounds from the pie crusts, using a 3 inch round cookie cutter.
Divide the goat cheese between the rounds.
Dot the dough edges with water, then fold them in half and press with a fork to seal.
Alternatively you can place one round on top of another one, to make circular instead of half-moon shapes.
If you want to do that, you will end up with 8 large empanadas instead of 16 little ones.
Bake on a rimmed baking sheet for 20 minutes or until golden brown.
Serve hot with corn salsa.
Notes
To get extra-shiny empanadas like these, simply paint them with a beaten egg yolk before baking. You can see how appetizing these are, and you can make them like this or make half-moon shapes instead. Empanadas are versatile enough to make great snacks for the family, nice packed lunches, buffet food, or even gifts if you are going to someone's home. They make a change from turning up with flowers or chocolates anyway. Enjoy these homemade goat cheese empanadas with a store-bought corn salsa or with another dip that you like.
Photo by XmasCarol, on Flickr
An Introduction to Easy 3 Ingredient Recipes
Simple recipes need no introduction in a way, since they are the dishes we have grown up with. Everyone has, at one time or another, put two or three ingredients together and come up with something tasty. Many sandwich recipes only need this many components, as do many snacks. Choose from sweet or savory, soft or crunchy, hot or cold, and many other factors, and there will be something delicious you can make to satisfy your craving.
Nervous cooks need not fear these easy 3 ingredient recipes – they are so basic that anyone can master them. So why not have a look at what we have to offer, and pick out something which you think will suit your cooking ability? Feel free to add salt and pepper if the dish requires, as well as anything else. Just because the recipes can be made with just a few items doesn't mean you're forbidden from adding anything else!
Easy 3-Ingredient Recipes: Basic Dishes to Try
Simple ones are always an attractive prospect to the home cook. They mean you can make quick and easy food which is tasty and nice-looking. If you have a hundred people to feel, the thought of making dishes which will go down well and not take hours to put together is probably a tempting one.
Don't think you can't make impressive two or three ingredient appetizer recipes because you absolutely can. Choose good quality ingredients and get the presentation right and your starters will be fine.
More Examples of Simple Recipes
Peanut butter and jelly sandwiches – that staple of packed lunches everywhere. How many ingredients are used in that? You guessed it – three (if you forgo the butter anyway). Buy a package of mixed salad leaves and toss with blue cheese and walnuts, for a tasty appetizer or side dish. Add strawberry yogurt, apple juice and a banana to your blender to make a smoothie. These are just a few examples of the kind of thing you can make without an ingredients list as long as your arm.
Print
Three Ingredient Peanut Butter Cookies
All you need to make these wonderful sweet cookies are three ingredients. Simply combine these ingredients, shape your cookies and then bake them in the oven. You will love how they taste.
Author:
Prep Time:

10 mins

Cook Time:

6 mins

Total Time:

16 mins

Yield:

6

1

x
Category:

Cookies
1 cup

(

265g

) peanut butter

1 cup

(

200g

) white sugar

1

egg
Instructions
Preheat the oven to 350 degrees F (175 degrees C).
Line baking sheets using parchment paper.
Mix the peanut butter with the white sugar and egg until smooth.
Drop spoonfuls of the dough on to your prepared baking sheet.
Bake for 6 to 8 minutes (depending on your oven).
These cookies are best when they are still soft and only slightly golden on the bottoms.
Photo by Larry, on Flickr
How to Serve These Little Snacks
Depending what it is you are making, there are always different ways to serve the food. If you are making something quick and easy for the family, then ladling the mixture into bowls or on to plates and serving with a fork and spoon, or knife and fork, is the typical serving method. Add some bread on the side if you want to make it more filling.
For a dinner party, think about matching crockery and cutlery, and perhaps some cute napkins. Lay out salt, pepper, sauces and condiments on the table, as well as individual finger bowls (warm water with a slice of lemon) if you are serving something messy like ribs which need to be eaten with the fingers or jumbo shrimp which the diners must peel themselves. You're making easy 3 ingredient recipes remember, so you will have time to add the little touches too.
A basic potato salad (potatoes, mayonnaise and onion perhaps) can be served on a bed of lettuce or even alongside a large steak. A crockpot chicken recipe can be served with rice, egg noodles, potatoes, or pasta, depending what kind of recipe it is and what is in it. As a rule, something with a lot of sauce or liquid is good served with rice to soak up the liquid or bread so you can mop it up.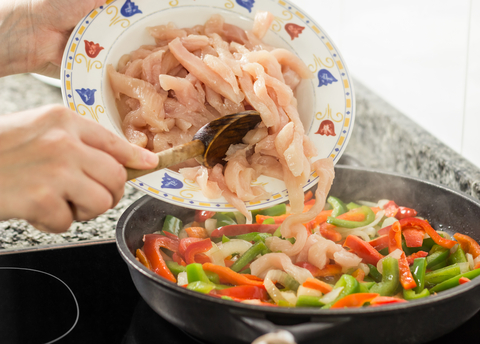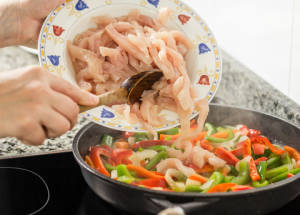 Something without much (or any) liquid is good with a sauce on the side, whether you are going to make your own sauce or use something bottled. Plan these accompaniments ahead so you are all ready to serve the meal when it's done, instead of letting it get cold by panicking about making a last-minute sauce or side dish, or trying to find four sets of cutlery or bowls.
You can be creative when serving your easy 3 ingredient recipes, perhaps trying a fresh herb garnish (sprigs of cilantro, parsley or basil, or even finely chopped herbs) or adding something brightly colored (like mint leaves or tomato slices) for a fresh-looking splash of color. There are no hard and fast rules but remember it is always better to under-garnish than overdo it. Too many garnishes will ruin the meal and make it look too busy. When in doubt, keep things simple.
Appetizers and Snacks to Try
Appetizers and snacks are easy to make, even if you are limited to the number of ingredients. Make little canapés with crackers or melba toast, adding cheese, pate or some other little gourmet treat as the topping. Cook sticky ribs or potato wedges if you want hot small bites, or make something sweet for the kids to enjoy. These recipes are snack-size rather than dinner-size, although you can make as many as you want.
As for meat recipes, a lot of carnivore-friendly meals have naturally short ingredient lists. After all, why mask the flavor of a nice piece of meat by adding too many flavors to it? Whether you are in the mood for beef, pork, chicken, or another kind of meat, this is where you can find the tastiest meat dishes for baking, stovetop cooking, grilling, or preparing in another way. If you want to make an easy meat recipe, take a peek at these.
Not only can you choose from all kinds of fish, but also seafood and shellfish such as shrimp, crab and clams. Fish is a healthy alternative to meat, and it is recommended that you add it to your diet for the nutrients. Try a thick, rich chowder, or a light, aromatic soup. Fish dishes can be light and delicate or bold and vibrant in flavor, so there is something for everyone here if you are in the mood for something fishy.
And for the Veggies?
Vegetarian dishes can be great when making easy 3 ingredient recipes. Cheese and eggs feature in these recipes, as well as a whole lot of other possibilities. You can find dishes rich in fresh fruits and veggies or even ingredients like tofu or TVP to replace the meat. There are lots of options for non-carnivores and vegetarian never has to mean boring. What about a flavorful soup or a tasty casserole for dinner tonight? Even the meat-eaters are not going to miss the meat in these delicious dishes.
Consider slow cooker or Instant Pot recipes if you only want to make a 3 ingredient dish. A crockpot is one of the best investments you can make. Not only can you all your three ingredients in the morning and come home to something ready to serve, but slow cooking really brings out the flavor of your dish, giving it a richer, better taste than if you cook it using another method. Crockpot recipes range from appetizers to main courses and even desserts or beverages, and since the slow cooking process fuses the different tastes in the dish together so well, a limited amount of ingredients works great.
Drinks and Desserts with 3 Ingredients
Every great meal also features delicious drinks and indulgent desserts but like the other courses these can be easy too! What about making a flavorful fruit smoothie or clever cocktail, or how about making three ingredient cookies or a mouthwatering pie? Make your dessert ahead and keep it safely in the refrigerator while you prepare the rest of the meal, or whip something easy together just before serving. The choice is yours.
Sauces and dressings are great additions to any meal or snack, whether you are serving the sauce or dip with something savory or sweet. Try a healthy yogurt-based dip or a creamy mayonnaise dressing. A basic vinaigrette for your salad is made with oil and vinegar (only!) so you can add anything you want to add another dimension, such as lime zest, lemon juice, parsley, mustard, or something else. Keeping the flavors simple in your sauces and dips means they will complement your meal instead of overwhelming its flavor. That's why we love easy 3 ingredient recipes – they are practically foolproof.
Why Easy 3 Ingredient Recipes are Best
1. There is So Much Choice
There are so many to choose from. You are never going to get bored because there are literally hundreds of dishes you can make and you only need three ingredients to make them.
2. They are Temptingly Easy
A lot are really simple, no matter whether you are new to cooking or you just prefer straightforward dishes. There is nothing difficult here, and a lot of the very best recipes in the world are the simplest ones anyway.
3. Easily Sourced Ingredients
The ingredients are usually easy to get. If you only need three things, then the odds are you already have them. A long, complicated recipe might call for a pinch of something strange you've never heard of, or a splash of something you have no idea where to buy. Our recipes are deliberately kept short and easy.
4. Memorable Dishes to Recreate
You can easily remember then for next time. Remember that wonderful meal you made a few weeks back that you fancy making again? Well do you remember which cookbook it was in or which website it was on, or do you remember what goes into it? The odds are you will forget where it was or you will omit one of the key ingredients and the dish will not be as you remember. Three ingredient recipes are simple to remember. Once you've made one once you will be able to recreate it from memory the next time.
5. Educational for the Kids
When it's time to teach your kids the art of cooking (and as soon as they are old enough to enquire about cooking they are old enough to be shown something) then making a very simple recipe demonstrates how easy it can be. Let them pick out the recipe, stir the mixture together or weigh and measure out what you need, and they will be very proud of the part they played in the cooking process. Starting with easy 3 ingredient recipes is a great idea.
The Evolution of Easy 3 Ingredient Recipes
Easy 3 ingredient recipes have been around for about as long as there have been ingredients, so you could say they were timeless! Earlier recipes might have been simpler than newer ones, featuring raw or grilled fish or meat, but these recipes do date back a long time.
Our ancestors hunted and ate their prey, either raw or cooked depending on the time period in question, and used very little in the way of seasonings.
Our tastes might have changed and there are of course many more ingredients at our disposal today, partly thanks to refrigeration and shipping, as well as farming, but making simple dishes is still worthwhile, so you can enjoy pure flavors.
Simple Food for All
No matter what kind of palate you have, there will be some excellent recipes you can make with easy and enjoy heartily. Combine two or three items to make something exquisite, or prepare a range of snacks or appetizers for guests using just a few items. You might be surprised just how easy 3 ingredient recipes can be.
Whether you want to make hot, warm or chilled foods, there is so much choice. Limiting the ingredients encourages you to be creative too, and ensures your ingredients will be top quality because they will all be recognizable in the finished dish.
Some Inspiration
If you tend to over-complicate your dishes and use way more seasonings than you should, mixing and matching your flavors as you go, then limiting yourself to just a few ingredients is going to be a good exercise for you, because you will be forced to limit what you add and choose each of the three ingredients carefully.
No more throwing in a pinch of this and a pinch of that and hoping for the best. Instead you need to ask yourself "do I really need to add this?" or "does this flavor belong in this dish or will it mask some of the flavor of the fish?" for example, to determine what you should be adding and how much you should add.
Making Dishes Everyone Will Love
There is a lot to be said for sticking to classic dishes, and many of these already contain a limited amount of ingredients. If not, it might be possible to recreate the dish just as well but leaving out some of the ingredients or omitting the garnish, for example. Pare down a complicated recipe to get an easy one which tastes every bit as good.
Obviously, you want your recipes to come out well, as that means choosing the right recipe and making it taste good by following the instructions as well as using your own palate to judge the amounts. A recipe might call for 'salt to taste' which means add a little at a time until it tastes good.
Ingredients and Presentation
A dish might be memorable because of the way it is presented, the good quality ingredients you have used to make it or because you are dishing up an eclectic mixture of classic cuisine and interesting regional items.
If you get the ingredients and the presentation correct then your food is going to be a resounding success. Choose the items you are going to make in plenty of time to allow you to have time to cook and then assemble the dishes perfectly.
Quality and Quantity
Some recipes take two minutes to prepare and others take a long longer. You might be making a crockpot recipe with 3 ingredients which takes a few minutes to put together but eight hours to cook. Make sure you make enough food. If a recipe says 'serves 2' that usually means it will serve 2, unless you're serving 1 very hungry person or 3 people who aren't that hungry.
Some easy 3 ingredient recipes will freeze, so you can double them or triple them if you want, and then freeze the rest for another time. When doing this, ensure you label the container with the contents, the date you made it and any thawing or reheating instructions.