A spiralizer isn't the most commonly talked about kitchen gadget, but it's definitely one that has been gaining popularity recently. If you haven't heard of this interesting invention before a spiralizer is basically a neat, time saving tool that turns vegetables into thin, noodle like strips to use in a bunch of different dishes. There are plenty of easy spiralizer recipes to have a go at too.
If you have ever tried to thinly slice a zucchini using a julienne peeler, or worse – a knife – and given up halfway through because it was taking too long then the spiralizer will be your new culinary sidekick.
The way a spiralizer works is in one of two ways. The first and simpler type, a handheld spiralizer, is used by inserting a vegetable into the end of the device and rotating the spiralizer by hand. Once the vegetable is too short to be held safely, you can use an end piece with a prong to hold the vegetable in place without endangering your fingertips.
The second type of spiralizer sits right on your countertop, making light work of your easy spiralizer recipes. It usually comes with more accessories to change the way your spirals look and gives you more variety. Instead of rotating the device itself, the countertop version allows you to simply turn a crank, which is quicker and even safer than the handheld version.
Easy Spiralizer Recipes – Zucchini Noodles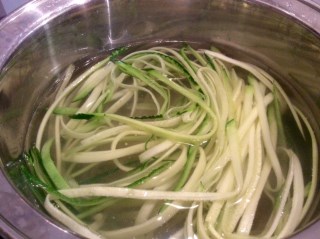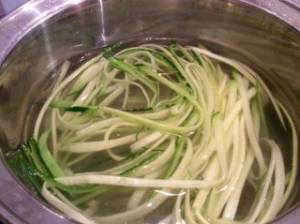 The most popular recipe to make with a spiralizer is "zoodles" or zucchini noodles. Zoodles are how most people learn the spiralizer even exists. Zucchini noodles or any form of spiralized vegetable are a low carb, gluten-free alternative to pasta that is about as cheap as pasta itself. Most pasta alternatives are on the expensive side and made from ingredients some people haven't heard of, but vegetables are familiar, a bargain in comparison, and add color to your pasta dish. This is one of the first easy spiralizer recipes most people make.
How to Use Spiralized Vegetables
Spiralized vegetables can be used in all kinds of easy spiralizer recipes that call for noodles. Zoodles can be used in traditional pasta dishes like spaghetti or fettuccine. When you mix spiralized vegetables with meat and other veggies you get a super healthy stir fry.
I've even seen a recipe for macaroni and cheese using sweet potato noodles instead of wheat based macaroni noodles. Spiralized vegetables can even be used in broth so a chicken zucchini noodle soup is a possibility and one of the tastiest examples of easy spiralizer recipes.
Super Speedy Cooking with Easy Spiralizer Recipes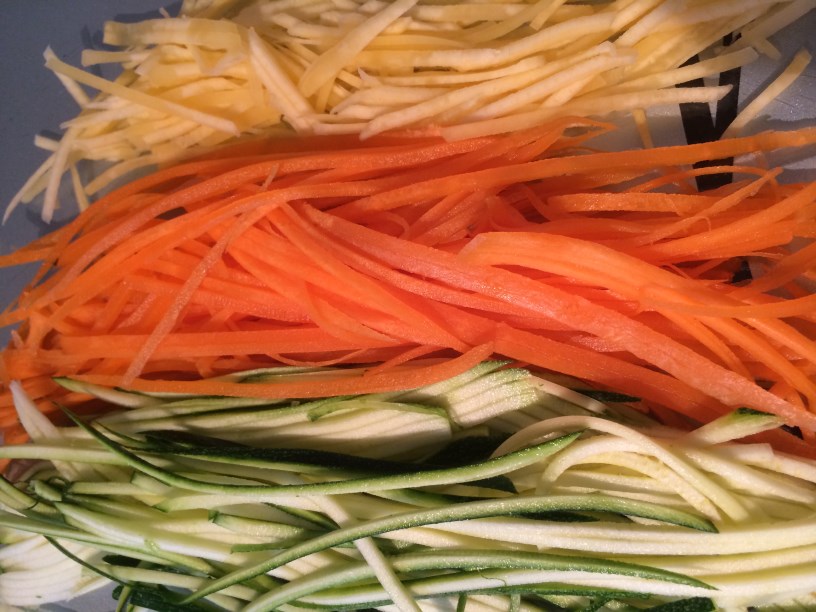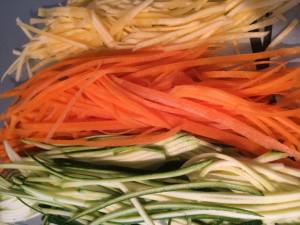 One nice thing about using spiralized vegetables in place of pasta is that there is no real wait time for them to cook.
Once the vegetables are spiralized it's easy to just toss them in a pan with whatever other ingredients you are using, stir them around for thirty seconds, and then transfer them to a plate. Using vegetable in place of noodles is such a time saver in this way.
Zoodles made from zucchini are popular, but many other vegetables can be used in a spiralizer too. Beets, sweet potatoes, and carrots are some common choices. Spiralizing causes vegetables to be used in a new and fun way, which is a great strategy to get kids and those veggie-hating adults in your life to try new produce.
I know I'd much rather eat a beet disguised as the noodles in a bowl of ramen than just a sliced beet by itself. That's why I happen to love easy spiralizer recipes. If you aren't looking to hide or distract from the use of vegetables in your dishes, a fresh cucumber salad can be invigorated just by spiralizing the vegetables instead of slicing or dicing them.
Easy Spiralizer Recipes – Different Spiralizer Settings
Most spiralizers have at least two settings: a thin spaghetti like one and then a thicker spiral that measures about an inch wide. Another way to get use out of your spiralizer is to use the thicker setting to make garnishes for drinks and dishes.
You can use a spiralized apple to dress up an apple martini or a spiralized bit of carrot to accent an otherwise mundane vegetable platter. You can even use a spiralizer to energize an average salad and make it seem like much more than an overused side dish.
Vegetti Spiralizer, on Amazon 
Spiralized Curly Fries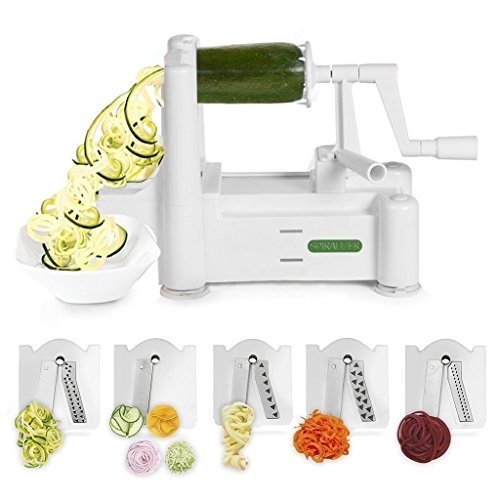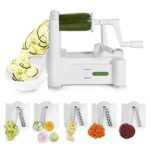 If you aren't necessarily interested in the health aspect of using a spiralizer then there is an awesome use for you: curly fries. Yes, you read that right. Have you ever eaten curly fries in a restaurant and wished there was an easy way to make them at home? There is now.
The best part about using a spiralizer to make homemade curly fries is that you can season them any way you want. You can use garlic and paprika for a spicy fry or try something lighter like rosemary as a seasoning. Now you're really getting into these easy spiralizer recipes!
Budget Spiralizer, on Amazon
Using the same reasoning behind the curly fry idea, a spiralizer could probably even be used to make onion rings or to thinly slice onions quickly without the risk of onion tears. Regardless of how healthy or adventurous you like to get with your food a spiralizer can have a place in your kitchen. It's a versatile tool for anyone's tastes and there are many easy spiralizer recipes you can choose from.
Print
Tasty Spiralized Vegetable Stir Fry
Vegetables are cut into long strips using a spiralizer before being stir-fried with Asian seasonings for a delicious, filling and low-calorie dinner. Top with fried eggs for the ultimate garnish.
Author:
Prep Time:

15 mins

Cook Time:

10 mins

Total Time:

25 mins

Yield:

4

1

x
Category:

Entree

Cuisine:

Asian
3

spiralized zucchinis (courgettes)

1

finely diced onion

1/2

finely diced red bell pepper

1

spiralized carrot

1 teaspoon

vegetable oil
Large handful spinach

20

cashew halves (optional)

1 cup

(

100g

) cooked shrimp or chicken breast (optional)

4

fried eggs, to serve
Cilantro, for garnish
Good splash of your favorite stir-fry sauce
Instructions
Use the spiralizer to cut the vegetables into noodles, peeling them if you prefer.
Heat the oil in a wok over a medium heat, then add the onion and carrots.
Cook them, stirring often, until translucent, then add the bell pepper and zucchini noodles.
Cook for 3 minutes then add the shrimp or chicken (if using) as well as the spinach and a good splash of stir-fry sauce.
Cook until the spinach wilts then serve topped with cashews and/or fried eggs if liked, and garnish with cilantro for a splash of color.
Notes
Peeling the zucchini is optional.
You can use any sauce on this or else combine equal parts teriyaki sauce and soy sauce, adding in a pinch of garlic powder and cornstarch until the mixture is thick and tasty.
Replace the fried eggs with poached eggs if you want.
Leave out the shrimp or chicken to make it vegetarian, or add in some marinated tofu cubes instead.