Although it can be nice to have casseroles in many shapes, sizes and colors, that is not always practical. That is, unless you have a huge budget and a lot of storage spare. Instead it makes more sense to figure out what type of casserole you need, the brand you prefer, and the size and shape you want. Also consider the material the dish is going to be made of. Then you can get the best casserole dishes for your household.
You might want to start off with one casserole dish, or you might like to invest in a set. Perhaps your favorite casserole broke and you are shopping for a replacement, in which case you will find you have more choice these days than ever before.
Best Casserole Dishes Materials
The most popular materials for casserole dishes are ceramic, stainless steel and enameled cast iron (such as Le Chasseur or Le Creuset). Cast iron casserole dishes evenly distribute heat and the enamel coating prevents rust.
These dishes can be used on the stovetop and then transferred to the oven, which is good for browning meat first before adding the other ingredients to the casserole and then baking the meal. I find the best casserole dishes are those which are more versatile. This is also very attractive so you will want to use it as oven-to-tableware. The only drawback is the price; enameled cast iron is the most expensive type of casserole bakeware. Ceramic and ovenproof glass are also popular, or you could save money with a stainless steel type.
A pot roast or stew needs air to circulate, so choose a big casserole dish if you are planning to cook large portions or you are feeding a large family. A smaller casserole might be a better purchase if you have a two or three person household however. Most home cooks will want to have a couple of different sizes so they can pick the one that fits the recipe they are making best. If you are cooking a big batch of something that can be frozen, you might want to use a bigger one.
Stoneware Casserole Dishes
Stoneware has been used for thousands of years so it is fair to say this material has stood the test of time. Stoneware heats evenly which means it yields good results when using it for baking. It is also free from toxins and heavy-duty, which is why it often comes with a warranty covering you for several years. Look after your stoneware and you might eventually pass it down to your kids or even your grandkids one day. Stoneware is cheaper than enameled cast iron, which is why it is a very popular choice.
CorningWare French 14-Piece Bakeware Set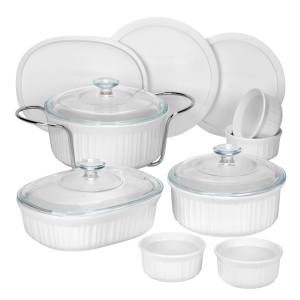 This bakeware set comes with 4 ramekins, an oval dish, a large round dish and a small one, and all the pieces come with matching lids. Because this CorningWare set is made of stoneware it is fine to use in the oven or microwave, and it is also fine in the refrigerator or freezer. These are perhaps the best casserole dishes if you want to buy a whole set.
The surface is non-porous so it will not stain or absorb odors or flavors. Make your favorite meals in this bakeware then pop the lid on top and keep any leftovers in the refrigerator.
You can then take the lid off and zap the food in the microwave the following day to heat it back up, then finally put it in the dishwasher for easy cleanup. Whether you are looking for more CorningWare items to add to your existing collection, or shopping for a starter set which is versatile and attractive, this is a nice bakeware set to choose.
CorningWare French Oval Casserole with Glass Lid, 2.5-Quart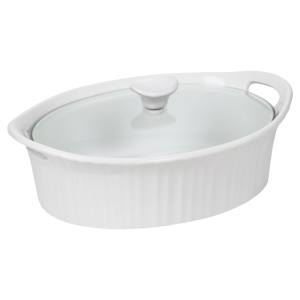 This stylish and versatile casserole comes with a glass cover, and its contemporary design means it will look great displayed in your kitchen or even used as a serving dish on the dinner table.
This casserole can also go in the refrigerator if you have leftovers to store or the microwave to heat back up, and the lid fits snugly.
The inside of the casserole is high-gloss which can be wiped clean. Alternatively you simply pop the casserole in the dishwasher for cleaning.
CorningWare is an internationally known brand and many people like to collect matching items. CorningWare offer plenty of different types of bakeware in different shapes and sizes.
This oval casserole with its glass cover is a nice size to have because you can cook all kinds of meals in there such as cheese-topped baked pasta, spicy enchiladas, old-fashioned beef or chicken stew, or anything else you want to oven-bake for your family's dinner.
Rachael Ray Stoneware 3 1/2-Quart Rectangle Lasagna Dish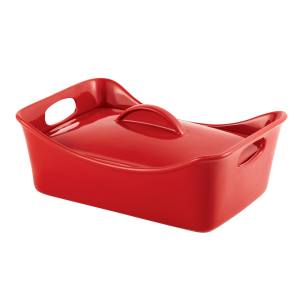 I like Rachael Ray stoneware so this could be one of the best casserole dishes to go for if you like the style. This model comes in red, orange or a deep eggplant color. It is 3 1/2 quarts in size and boast wide handles so you can transfer it to the oven and then to the dinner table.
The lid of course matches the dish and you can use it in the oven up to 500 degrees F and put it in the refrigerator or freezer. This one is also dishwasher safe for easy cleanup.
Do you have a favorite baked pasta recipe or lasagna recipe? This casserole dish would be ideal, or you could even use it to roast a chicken or turkey.
The lid fits snugly to seal in all the flavors and heat, and whichever of the 3 beautiful colors you choose, you are sure to have a gorgeous statement piece of bakeware which is a hit with your dinner guests.
Cello 3.5 Liter Hot Pot – Insulated Casserole Food Warmer/Cooler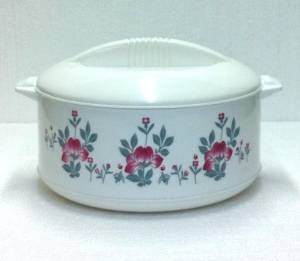 This 3 1/2 liter (nearly 7 1/2 pints) casserole is strong and sturdy. The double-walled interior will keep your food hot or chilled, as you wish, and if you transfer hot food into here it will stay hot for hours.
The same is true of cold food, so try beans, meatballs, rice, tortillas, breakfast muffins, rice, or anything else you want to keep safely at the same temperature. The food will not start to lose or gain heat for about 4 hours.
You can also use this as a yogurt maker by adding lukewarm milk and yogurt then leaving it for a few hours. This casserole food warmer is easy to wipe clean with hot soapy water and a sponge, making it one of the best casserole dishes if you want to keep hot things hot or cold things cold.
This is well-insulated and the outside of the dish does not get hot. This is the item to choose if you want to keep food hot for hours, perhaps for a potluck or lunch at work, or simply because you have prepared food ahead.
How to Use a Casserole Dish
The word 'casserole' means 'stew pan' in French and the first ones were probably earthenware and made to slow-cook foods over a fire. A casserole is a combination of meat and/or vegetables along with a thick sauce.
Ingredients like pasta, rice, beans, or breadcrumbs might also feature in there to bulk it out. Casserole is simple to prepare and a satisfying, warming meal, which is why it is popular during the colder months. Most people like to make extra so they can warm up the leftovers for lunch or dinner the following day. Casseroles range from basic beef or chicken with vegetables, Italian lasagna or pasta casseroles, American style mac and cheese, or even fusion dishes.
A good casserole dish is able to withstand long cooking, while keeping the food moist and encouraging a crispy crust to form too. A thick casserole dish is best for this, perhaps something coated on the inside with a glaze or enamel.
Plain glass or stainless steel are low budget alternatives to glazed stoneware or enameled cast iron. A good casserole dish is also attractive enough to go straight from the oven to the dinner table, and the large handles found on most mean you can carry it over there easily using a potholder.
How to Make a Casserole
Now you know about the best casserole dishes you might want to get cooking! A typical method of using a casserole dish is chopping stew-meat and vegetables into similar sized pieces, then dipping the meat in seasoned flour so you can brown it in the casserole dish on the stove. Work in batches if you are browning a lot of meat for your casserole.
The vegetables go in next and can also be browned. Your liquid will be the next addition, along with any herbs, spices or seasonings, and then you can cover the pot and transfer it into the oven to complete the cooking.
It is best to have it about 3/4 full. If the dish is too small the liquid might overflow while if it is too big the casserole might dry out. Many people like to prepare their casseroles ahead and then keep them in the refrigerator overnight to intensify the flavors. You can also freeze casseroles for up to 3 months but if you plan on doing this do not add any dairy products before freezing. Of course you will need best casserole dishes to ensure your casserole comes out perfect.
Best Meat for Making a Casserole
Choose stew-meat for casseroles because it is richer in flavor and will stand up to the long, slow cooking time. Round, blade, skirt, or chuck steak are good choices, or you could choose topside, shin beef or silverside. Lamb forequarter or shoulder are good, or neck chops, or if you want veal consider shoulder, osso bucco or shanks. Any kind of chicken is great for making casserole recipes. Belly, forequarter chops or shoulder are good pork cuts for making a casserole.
Lodge Color Enameled Cast Iron Covered Casserole, 3-Quart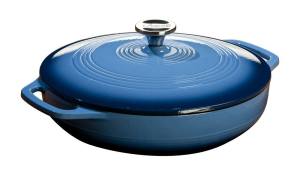 Investing in enameled cast iron is a wise choice if you want the very best casserole dish. This model is 3-quarts and it is a gorgeous vivid blue color. The casserole can be used on a gas, electric, induction, or ceramic stovetop, in the oven up to 500 degrees F, and you can also use it for marinating, or put it in the refrigerator or freezer.
One of the prettiest and also best casserole dishes to choose, this one is certainly worth mentioning. The lid fits tightly to keep all the juices and moisture in, and the dual-layered porcelain enamel are chip-resistant and eliminate the need to season the pan before use. Heat distribution and retention are excellent with this dish and the base, walls and lid will all heat up evenly to yield the best results from your cooking. This casserole is dishwasher safe although most people prefer to hand wash in soapy water to maintain the appearance of the dish, but the choice is yours.
Cuisinart Chef's Classic Enameled Cast Iron 5-Quart Casserole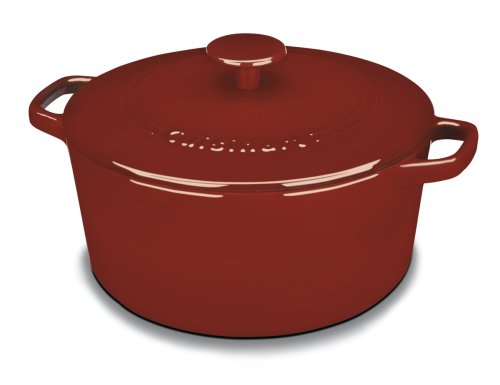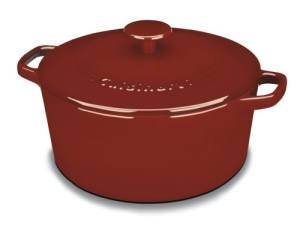 One of the very best casserole dishes according to the ratings on Amazon, this Cuisinart model is 5-quarts and comes in either red or blue to match your kitchen décor. The cast iron will retain heat evenly and well, and the porcelain enameling does not allow the casserole to absorb odors or flavors.
Use this on the stove, in the oven, or under the broiler. You can also use it on an induction stovetop. Because of how gorgeous this casserole is, you can take pride in presenting the food in there on the dinner table instead of having to find a serving dish. Clean it in the dishwasher if you want, or in hot soapy water by hand. Cuisinart is one of the leading brands when it comes to casserole dishes because of the superior performance and timeless style too.