I love my hot cherry pit pillow and use it all the time. A couple of weeks ago I slept in a strange position on a flight and ended up with not only a crick in my neck but also really stiff shoulders.
I remembered I had given my mother a hot cherry pit pillow for her birthday a year back and thought something warm on my shoulders would feel nice.
It's hard to keep a hot water bottle in that position but a long, thin shaped pillow would be perfect, so I placed an order and it came the following day. I was very excited to open it, heat it up and enjoy the wonderful feeling!
How to Use a Hot Cherry Pit Pillow
Although you can freeze the pillow if you want a cold-pack, most of the time you will be heating it up instead. Spritz some water over the pillow, not too much but just enough to make it moist, then microwave it for 2 minutes.
I usually do my hot cherry pit pillow for 4 minutes but our microwave isn't very good! Put the cherry pit cushion around your shoulders or anywhere you want and enjoy the amazing heat, and let the warmth penetrate into your aching joints or bones. The sensation is amazing.
How Long Does a Hot Cherry Pit Pillow Actually Stay Hot?
It only stays hot for about 45 minutes, which of course is less than a hot water bottle, but that is the amount of time most therapists recommend a heat treatment session should last, so it works out about right. If you want longer you can always pop it back in the microwave for a couple minutes anyway.
An Enticing Aroma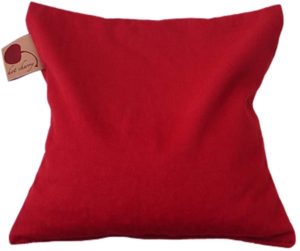 Something you will notice when you heat the hot cherry pit pillow is the aroma. It's not very strong but like a subtle fragrance of cherry pie or cherry cookies. I love the smell.
If you like a gentle smell of cherries you will like it. Another idea is to add some essential oil (a few drops of lavender perhaps) to the pillow before microwaving it, and then you can enjoy the essential oil benefits as well.
I spritz my hot cherry pit pillow with a pine and eucalyptus, although I also like the natural cherry stone aroma, which is soothing.
A little essential oil will go a long way, so you will only need a couple drops in a full spray bottle of water. Give it a good shake then spray on the pillow before microwaving, and you will end up with a lovely aroma.
Thermal Cherry Stone Pillow
A budget option but equally soothing and luxurious, this hot cherry pit pillow is packed with 2 pounds of cherry pits. It is unscented but you will still notice that delicate cherry pie aroma.
This one can also be used hot or cold, so simply pop it in the microwave or into the freezer if you prefer to use it chilled.
You can machine wash it as well. Whether you suffer from aches and pains, a condition such as carpal tunnel or arthritis, or you simple want to indulge yourself at the end of the day, this cherry stone pillow is a fabulous way to do just that.
Spritz the hot cherry pit pillow with a little water, then microwave for a couple of minutes and allow the luxurious heat to seep into your body as you feel yourself relax.
Stomach cramps, backache, cold feet or puffy eyes can be helped with this lovely item, and it measures 21.5 by 5 inches, so you can sit it along your shoulders if you wish or have it across your lap.
Infuse your hot cherry pit pillow with essential oil if you want to add even more bliss to your relaxation session. The feeling of the cherry pits offers a gently massage, especially if you have this around your neck/shoulder area. This cherry pit pillow is nice for practitioners treating clients and it is also something nice to have at home whenever you fancy heating it up for some soothing relaxation time.
Organic Cherry Stone Thermal Pillow
Luxurious Hot Cherry Pit Pillow Made in the USA

This is a high-end product and as soon as you touch the soft Italian maraschino moleskin fabric you will know.
Use this yourself or choose to give it as a gift, because it comes with a gift tag and stylish reusable bow.
This cushion is natural and green, and it is proudly made in the United States. The American tart cherry industry ends up with plenty of cherry pits, and these pillows are one great way of using them.
How to Use It
The pits are cleaned and dried and the resulting product can warm you, life your mood and soothe tired muscles. Either warm it in the microwave or oven for a hot pillow or chill it for a couple hours in the freezer if you prefer a cold pack.
Different Size Options
You can get a single or double square hot cherry pit pillow, but this triple square one is perfect because it is the biggest and you can cocoon yourself in it, wrapping it around your shoulders and upper back or using it to warm your bed before you get into it.
A generous 30 inches long and 10 inches high, this offers plenty of fabulous soothing heat, and also makes the perfect gift for that 'hard to buy for' friend or family member. Reviewers love the gentle moist heat and this pillow is suitable for anyone. Kids find them just as soothing as the grownups do, and it can be cleaned in the washing machine too.
Triple Square Hot Cherry® Therapeutic Pillow in Maraschino