Learn how to cook fresh mussels and you will be able to prepare this delicious seafood whenever you're in the mood. Mussels can be purchased or you can pick your own, depending of course where you live. If you are collecting your own then ensure the water is unpolluted.
Mussels are nicer during the colder months which are not in the breeding season. If you are shopping for them, then shop around and choose ones with tightly closed shells.
When cooked, you will want juicy, plump flesh and the taste of the sea. Mussels are white if male and orange if female, so color does not indicate freshness. Knowing how to cook fresh mussels means you can prepare all kinds of mussel recipes from simple ones with white wine and parsley to bolder mussel dishes, paella and more.
How to Cook Fresh Mussels: Keep Them Fresh
Eat mussels the day you get them unless you are sure how fresh they are. Put them carefully into a sink filled with cold water.
Discard any which stay open when you tap the shells because those are dead and when shellfish dies it begins to rot immediately and could potentially make you sick.
You might find one or two like this, or you might not have any 'off' ones.
Pull the beards off and scrub the shells if you are going to serve them in the shells.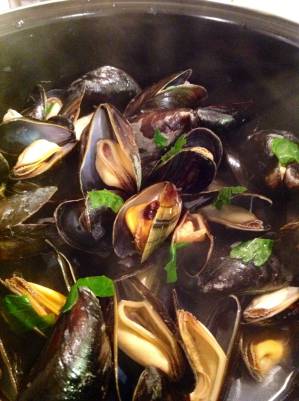 If you aren't so bothered about how they look you don't have to do this.
How to Cook Fresh Mussels: Perfect Cooking
Mussels do not take long to cook. You just need to put them in a big, heavy pan with a little liquid and turn the heat up so they steam.
When the shells open, they are ready to serve.
Don't overcook them unless you want rubbery shellfish. If there are any mussels which don't open, discard them because they might have been dead when you started.
How to Cook Fresh Mussels: Mussel Steaming Liquid
Although water would work, a lot of home cooks use white wine to steam mussels because the flavor works so well.
Try vermouth for a different flavor, or how about ginger, coconut, lemongrass and chili with a splash of wine, for an Asian twist?
Serve the finished mussels with plenty of bread to soak up the juices, and some napkins to clean those fingers. Once you have discovered how easy this is to make you will want to steam mussels on a regular basis.
I usually use the same recipe (white wine, parsley and some garlic) but sometimes it's nice to use other ingredients. My husband likes cream and a little curry powder instead of the wine and parsley, and that's nice too (messier to eat of course!) Now you know how to cook fresh mussels you can try the following recipe and enjoy these wonderful shellfish.
Print
How to Steam Mussels
Fresh mussels are a real joy, offering the taste of the sea with every bite of their plump, juicy flesh. Learn how to steam mussels like a pro, for a superior flavor.
Author:
Prep Time:

15 mins

Cook Time:

5 mins

Total Time:

20 mins

Yield:

4

1

x
Category:

Main

Cuisine:

American
2

pounds (1 kilo) live mussels, in shells

1

finely chopped shallot or

1/2

an onion
Small glass of white wine
Chopped parsley, to serve
Instructions
Swish the mussels around in a sink full of cold water to clean them, using a small knife to scrape off any barnacles or beards.
Discard any mussels that don't close when tapped, or any with broken shells.
Tip the mussels into a big pot, then add the shallot and wine.
The pan should be half full or less, to allow the mussels to cook properly.
Turn the heat to high and cover the pan tightly.
When it starts to steam cook the mussels for 3 or 4 minutes, shaking the pan occasionally.
When all the shells have opened, they are done.
Any closed shell mussels are OK to eat if the shells open easily, but discard any others.
Take the pan off the heat and sprinkle the parsley on top.
Spoon the mussels into warmed bowls and pour the juices from the pan over them.
Serve with crusty bread to mop up the juices and perhaps a glass of white wine.
Notes
Add a couple of finely chopped garlic cloves with the shallots if you like.
Nutrition
Serving Size:

4

Calories:

421

Sugar:

0g

Sodium:

839mg

Fat:

10g

Saturated Fat:

2g

Unsaturated Fat:

5g

Trans Fat:

0g

Carbohydrates:

18g

Fiber:

0g

Protein:

54g

Cholesterol:

127mg
Still curious about cleaning mussels and wanting to ensure you do it right? Here is a handy video about cleaning mussels which will put your  mind at rest.