Plateau de fruits de mer is the French term for seafood platter, and this recipe comprises both cooked and raw seafood on a chilled platter, often on a bed of ice. If you order a fruits de mer recipe, you can expect shellfish along with bread, mayonnaise (preferably homemade) and condiments like cocktail sauce and mignonette sauce.
The serving platter will be above table level on some kind of stand, and sometimes there are several tiers, both to make it look for elegant, and also because some of the shellfish is served on the half-shell or in the full shell, and then it takes up a lot of room.
Fruits de Mer: Traditional Serving Idea
A fruits de mer recipe is traditionally served after midnight mass in France as a Christmas treat. Fill your tiered platter with as much wonderful seafood as it can hold and chill the rest until you are ready to replenish it. Prepare homemade mignonette and mayonnaise, ensure you have plenty of bread and white wine (or Champagne) and get ready to wow your dinner guests with this authentic French seafood dish.
Gin goes well with seafood so perhaps serve martinis or even gin and (a good quality) tonic before you bring out the show-stopping pièce de résistance – your icy platter of shellfish in all its glory.
Do you have a simple platter or tiered platter for your fruits de mer recipe? If not, you can use a cake stand under a dish to give your fruits de mer recipe some height. Spread the surfaces with crushed ice and add seaweed for decoration if you have some. Use coarse dishwasher salt instead of ice if you are not serving the dish immediately.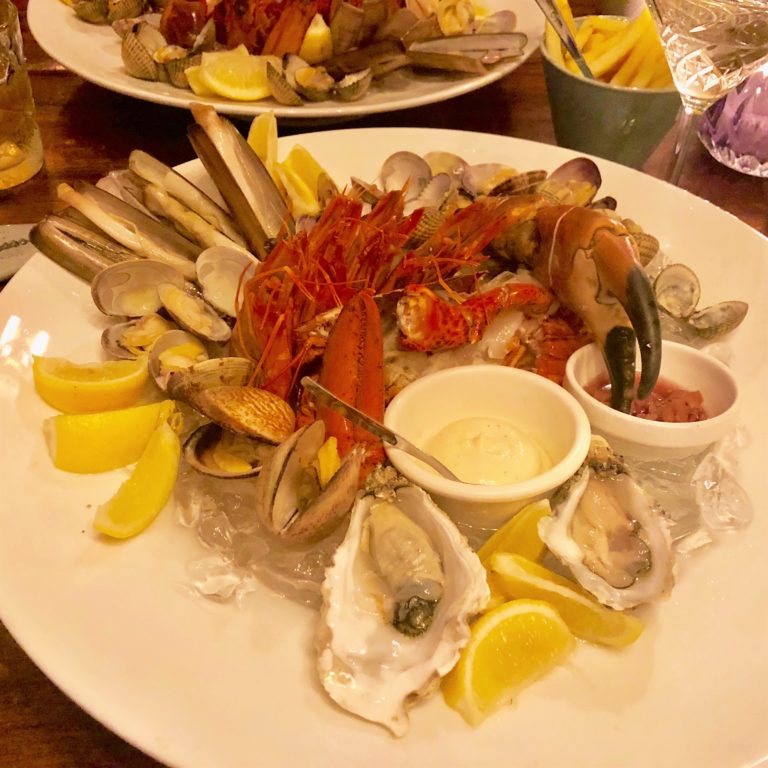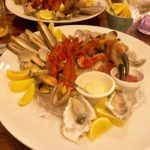 Arrange your seafood on the tiers and drape a couple of the prawns over the sides. Add mayonnaise, lemon wedges and maybe some mignonette too.
Serve the bread on the side and make sure everyone has a little bowl with water and a slice of lemon so they can wash their hands, or at least some moist napkins.
You can buy little pins for the winkles, so people can get them out of the shells, and other implements.
Working with Fresh Seafood for a Fruits de Mar Recipe
Although it is fair to say a lot of people worry about handling fresh seafood when creating a fruits de mer recipe platter, there is nothing to fear as long as you adhere to a few basic rules. Choose your seafood carefully, buying from reputable places, and cook them the day you buy them. Look for shiny, unbroken shells which are tightly closed and seafood which smells either neutral or like the sea (not 'fishy'). Discard any shellfish with broken shells and mussels that don't close when you gently tap them. Also mussels which don't open during cooking should be discarded.
How Much Seafood per Person for a Fruits de Mer Recipe?
This is a great question and while it is better to have too much seafood than too little, it does help to have some idea of the quantities you are looking at. I would recommend 10 brown shrimp, 2 langoustines, 6 prawns, 2 oysters, 2 whelks and 2 razor clams per guest, along with 10 mussels, 10 cockles and 10 winkles.
Add 2 crab claws or ¼ crab and perhaps a lobster claw or half a tail per person too. Then you have bread, mayonnaise and condiments. That should be sufficient for one guest, but there are no hard and fast rules as to the type of seafood you wish to serve. Nothing in that list is compulsory, although lobster, oysters and some kind of shrimp or prawns are common.
Steam the mussels, winkles, cockles, razor clams and whelks in a large pot until they open, the drain and cool. Hold the oysters in a folded towel and use a stout knife to twist and crack the hinge. You can then cut through the root to remove the oyster from the shell.
Prawns, shrimp and langoustines can be boiled briefly then served in their shells (devein the shrimp through their shells if you can). You can purchase cooked lobster or crab or else just broil, grill or boil your own. Don't forget the crackers to crack the shells open, and the metal implements so people can get all that juicy meat out of the legs and claws.
Few dishes are more visually arresting than tiers of frosty silver platters heaving with wonderful fresh seafood. Nobody will know what to have first – should they take a crab claw or lobster tail, or how about tasting an oyster with some mignonette, or a couple of those plump, juicy prawns?
Are Fruits de Mers an Appetizer or Entrée?
Although traditionally a fruits de mer recipe is an appetizer, serving abundant seafood along with salad and bread turns it into an entrée. Either way works, so if you prefer to serve 10 small items of seafood and then bring out an entrée, that is fine. But!! Many people (including me) love to enjoy this dish as the main course, and it is certainly satisfying enough if you get the quantities per person correct.
Take a look at the history of fruits de mer – history on the half shell – and you will discover it dates back to aristocrats in the 1600s. So use 'excess' as your buzzword and don't skimp on the oysters or lobster. This is supposed to be indulgent.
Plateau de Fruits de Mer Tips and Tricks
Now we have looked at the components of a fruits de mer recipe, it is time to take a closer look. After all, you want your fruit de mers to come out perfect. Wash shellfish like clams and oysters in crushed ice rather than water and it will help get any debris off the shells as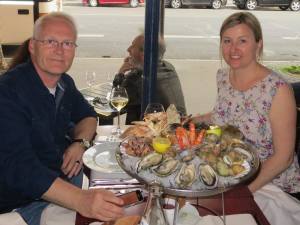 well as keeping them very cold.
Make a pot of court bouillon with water, white wine, and some aromatic vegetables and herbs, then use this to cook crab, shrimp, lobster, mussels, sea snails, and anything else which is going to be cooked.
Cook the shrimp and lobster first, then the crab, then the mussels, and finally the sea snails and cockles if using. You can put the shellfish in the bouillon then take it off the heat and this is sufficient to cook them through. Chill the shellfish afterwards. You can do this a day ahead if you wish.
What to Serve with a Fruits de Mer Recipe
Although aioli (garlic mayonnaise) can be rather overpowering with seafood, a homemade mayonnaise, either with or without the bright zing of fresh lemon juice, is ideal, especially with lobster, crab and shrimp. Some people are concerned about eating homemade mayonnaise because of the raw egg but if I'm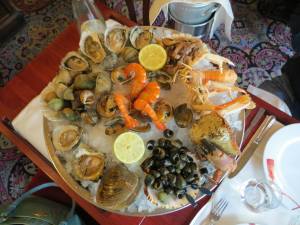 eating a whole platter of raw and lightly cooked seafood I'm not overly concerned about a little egg. If you are, serve a good quality store-bought mayo instead.
Offer a sweet cocktail sauce as well if you like, for the shrimp. Oysters can be served with lemon juice or mignonette, although personally I don't add anything to mine.
Slice some bread and take butter out of the refrigerator so it is not rock hard. Cut some lemons into wedges. Once all that is done, you can assemble the fruits de la mer. If you don't have any fresh seaweed to decorate the platter, use sprigs of fresh parsley instead, just for a splash of green.
Optional gourmet touches for your fruits de mer recipe include a little bowl of caviar with a mother-of-pearl serving spoon, a Dungeness crab shell or even some sea urchin (you can order live sea urchin from some specialist seafood markets).
If you want to have sea urchin (one of my all-time favorites!) cut a circle out of the top of the shell using kitchen shears, watching out for the pointy spines which are hard to get out if they splinter into your finger (trust me on that one) then discard the liquid inside. Scoop out the orange roe with a teaspoon, rinse out the shell, fill it with crushed ice and put the roe on top. Urchins taste amazing and they're pretty quick to prepare too.
Fruits de Mar: Try Making Your Own
So the next time you are in the mood for seafood, instead of visiting your local poissonerie (if you have such a thing nearby) consider making your own fruits de mer recipe, knowing that everyone will be extremely impressed with this classic French seafood dish.
Print
How to Make a Fruits de Mer Platter
Few dishes are as visually stunning as fruits de mer, with ice-filled platters boasting abundant, amazing treats of the sea such as lobster, oysters, crab, shrimps, mussels, and plenty more.
Author:
Yield:

2

1

x
Category:

Entree

Cuisine:

French
6

opened raw oysters

8

cooked whelks

3

cooked small crabs

24

small brown shrimps

12

cooked prawns, deveined but shell-on

6

opened large clams

6

cooked langoustines

24

cooked mussels

24

winkles
Crushed ice, as needed
Seaweed or parsley sprigs, for garnish (optional)
For the Mayonnaise
3

egg yolks at room temperature

2 pints

vegetable oil, at room temperature

½ teaspoon

Dijon mustard
Lemon juice, salt and black pepper, to taste
For the Mignonette
4 tablespoons

red wine vinegar

1 tablespoon

finely diced shallot
Salt and black pepper, to taste
Instructions
Combine the red wine vinegar and shallot to make the mignonette, then add salt and black pepper to taste.
You can make it a day ahead if you want (and the flavors will mellow out nicely if you do).
Next make the mayonnaise.
Whisk the egg yolks with the mustard, then add the oil bit by bit.
Don't add it too fast else the mayonnaise will split.
Add lemon juice, salt and black pepper to taste.
Arrange the crushed ice on a large platter.
Add seaweed or parsley sprigs to garnish (optional).
Arrange the seafood on the ice, then serve with the mayonnaise and mignonette on the side.
Notes
To cook the seafood, prepare some court bouillon with water, white wine and aromatic veggies and herbs, then plunge the seafood into this boiling liquid. Take it off the heat and the seafood will be cooked in minutes.
Alternatively you can steam the seafood or (if you must) get it already cooked.
Omit the mignonette if you're not keen on it.
Keywords: fruits de mer recipe, how to make fruits de mer, what is in fruits de mer, seafood platter recipe, fresh seafood platter