Lobster tails make a real treat and, when cooked right, you can expect a succulent, tasty result with plenty of ocean flavor. Learning how to cook lobster tails is straightforward and the results are impressive.
These little delicacies might not be the cheapest type of seafood in the store (far from it, usually) but once it in a while it is nice to spoil yourself to a lobster tails recipe. Buying the tails is cheaper than buying a whole lobster, and they're easier to prepare and eat too.
I spotted some of these on sale just after Christmas. Of course we had a full-to-bursting refrigerator then (who doesn't at that time of year?) However, they were frozen, so into the freezer they went. When I felt like cooking them, I thawed them overnight in the fridge and then started researching the best recipes for them.
The two times I'd had lobster tails before were memorable. Once was in Gran Canaria and they were caught fresh that morning (it pays to have fishermen as friends!) and char-grilled. The second time was on the Oasis of the Seas cruise ship and those were boiled. I wanted to know how to cook lobster tails so I could make them any time.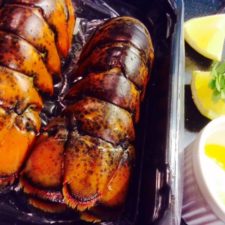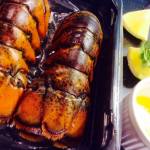 The first ones were best because they were fresh not frozen, but it is possible to cook lobster tails from frozen, and end up with an impressive result. So the first thing to do is plan ahead. If you start thawing them now, you can have them for tomorrow evening's dinner.
How to Cook Frozen Lobster Tails
One word – don't! Do you need to thaw frozen lobster tails before cooking? Yes you do, else they will be tough! Give them 24 hours in the refrigerator overnight or else pop them in a sealed bag and submerge the bag in water (this is a faster way).
How Many Lobster Tails per Person?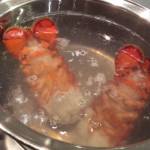 Part of learning how to cook lobster tails is knowing the quantities you need. One large lobster tail per person is reasonable if you're having another protein, like steak, on the side (for a surf 'n turf). Else you might want a couple if they are smaller or if you're hungry.
I could probably eat three but I'm like that with seafood! I just love it! Lobsters vary in color but mine were an orange-red with lots of dark spots and dark bits on. They changed color as they cooked which is very handy for telling when they are done. When they look cooked, they are cooked.
I only bought one package of two because there are two of us. I figured one each would be enough (at that price) and I didn't know if they were going to be any good anyway. Fortunately they were amazing but unfortunately the store doesn't sell them any more (doh!) so I wish I'd got extra at the time.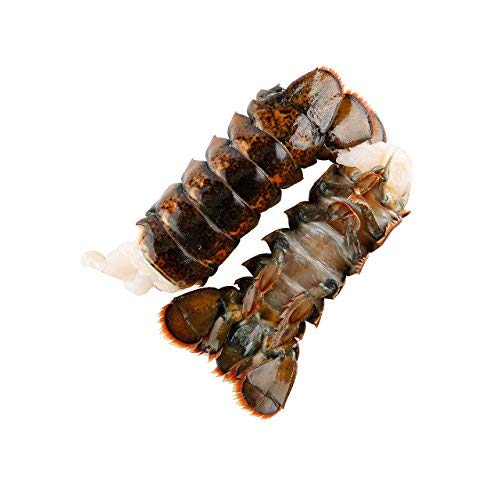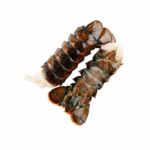 You can buy lobster tails on Amazon which means you don't even have to go to the store. Shipping is a couple of dollars for 1-day delivery or free for 2-day delivery.
What to Serve with Lobster Tails
So now you know how to cook lobster tails, but what will you serve with them? I melted some butter for mine and cut some lemon wedges. Then I prepared a nice salad on the side so all the focus would be on the lobster.
You could have something else though, such as steamed green asparagus tips, a nice broccoli and cauliflower with cheese sauce (OK that is a bit heavy perhaps) or what about some couscous with fresh herbs? Or a brussels sprouts side dish?
You might even want to incorporate them into a complete fruits de mer recipe if the occasion calls for a seafood extravaganza!
If you're having this as an appetizer instead of an entrée, then just have it on some salad leaves so you have some color on the plate. When making this, I brought some water to a boil, added some salt, and then popped the pair of lobster tails in there.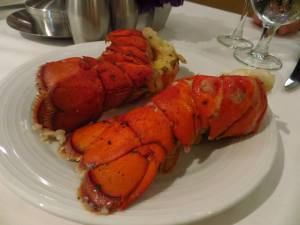 How long to boil lobster tails? Not very long! So have your side dishes ready, your plates warmed and your table set! Within minutes my lobster tails had turned pinkish red and the meat was succulent.
I love that you can see when they're done by keeping an eye on the color change. It makes the process foolproof! They were then ready to serve as soon as they were pinkish and they were gorgeous. The slower you thaw lobster tails (ie overnight) the fresher they will taste when you serve them.
How to Cook Lobster Tails the Best Way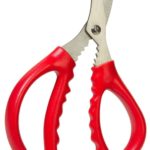 There are other ways to cook lobster tails of course, like broiling and baking, but boiling is so simple, why not begin with this recipe? To be honest, I use this recipe way more than I grill, broil, bake or other cooking methods.
The results are pretty much foolproof and there is no risk of dried-out lobster meat. The tails will be moist so you will like them, and once you are confident with this particular cooking method you can try others.
I would use this recipe again but I haven't seen any lobster tails in my local store recently. That's unfortunate because they're seriously good! Now you know how to cook lobster tails, it's your turn!
By the way, if you're looking for an easy way to cut the shells and get all the tasty meat out, consider some seafood scissors.
You can get seafood scissors on Amazon. Use these on crab, shrimp, king prawns and other kinds of seafood and shellfish. The curved blades make light work of de-veining shrimp.
How to Cook Lobster Tails in the Oven
If you want an alternative to the boiling method, consider baking them instead. Prepare the tails and lay the meat on top of the shell. Give them about 12 minutes in a 450 degrees F (230 degrees C) oven.
It might take a few minutes more, but you can check after 12 minutes (or less if they're small). When the lobster meat is pink and succulent it's done. Cooking lobster in the oven for too long can make it rubbery so take care to avoid this!
Print
How to Cook Lobster Tails
Spoil yourself with succulent, delicious lobster tails. This recipe is incredibly easy and any home cook can master it. The resulting lobster will be a rich-tasting gourmet treat.
Author:
Prep Time:

10 mins

Cook Time:

5 mins

Total Time:

15 mins

Yield:

2

1

x
Category:

Entree
2

fully thawed lobster tails
Melted butter, to serve
Lemon wedges, to serve
Instructions
Bring a pot of water to a boil and add a pinch of salt.
Add the lobster tails.
Simmer then until they are done.
Count on them taking between 4 and 10 minutes depending on size.
When the shell changes color and the meat turns from glossy to opaque, the tails are ready.
Let them cool for 5 minutes, then use sharp scissors to cut down the shell, so you can pull the meat out.
Put the meat back in the shell and serve with the melted butter and lemon wedges.
How to Grill Lobster Tails
Grilling lobster tails is easy and this results in such a delicious dish. Throw a couple of steaks on the grill if you want to make Surf and Turf. Else just serve the lobster tails as they are. However you serve them, this is definitely an impressive and mouthwatering dish.
Now, if you are using frozen lobster tails, put them in a plastic bag and submerge them in warm water to thaw them. You are going to need a basting sauce as well. Melt some butter and add herbs and garlic, like in the following recipe, or lemon juice and garlic, or whatever else you want.
You could even just use plain butter for basting lobster. Cut down the shell so you can baste the meat inside using a pair of kitchen shears.
Now go ahead and cook the lobster tails directly on the grate, after cleaning and oiling it to stop them from sticking.
If you are using a charcoal grill, ensure you distribute the coals to get an even heat. If it's a gas grill, then preheat it to medium-high.
Cook the lobster tails flesh side down first, then flesh side up. Baste the lobster tails to keep them moist but watch out for flare-ups caused by the butter dripping on to the hot coals!
Print
How to Grill Lobster Tails
Lobster tails feature on all the best seafood restaurant menus although they aren't always the cheapest dish! Find out how to make your own, flavored with herbs, garlic, lemon and hot sauce for incredible flavor in every delectable bite. This seafood dish is so mouthwatering.
Author:
Prep Time:

15 minutes

Cook Time:

10 minutes

Total Time:

25 minutes

Yield:

4

1

x
Category:

Seafood

Method:

Grill
4

lobster tails, about 7 ounces (

200g

) each

1

stick (115g) salted butter, at room temperature

1

minced garlic clove

2 tablespoons

chopped chives

1 tablespoon

chopped tarragon leaves
Few drops hot sauce
Olive oil and salt, as needed
Black pepper, to taste

4

lemon wedges, for garnish
Instructions
Preheat the grill to a direct moderate to high heat.
Blend the butter with the hot sauce, garlic, herbs, and black pepper, and then cover it with plastic wrap.
Butterfly the lobster tails down the middle of the shell's softer underside with kitchen shears.
Next you can cut the meat down the middle but don't cut all the way through.
Insert a metal skewer down the tail to keep it straight.
Brush the tails with some olive oil and also add a little salt to each.
Grill them for 5 minutes cut side facing down, or until the shells are bright in color.
Flip them over and spoon some of the herb butter on to the meat.
Grill for 4 more minutes, or until the lobster is opaque.
Serve it with lemon wedges and more herb butter on the side.
Notes
Few things beat grilling lobster tails, first because this recipe is a lot of fun to make, and second because the flavor of the dish is unparalleled. Fasten your lobster bib and get ready for an amazing flavor experience.
Grilling lobster tails keeps them moist and flavorful, because you will be using a baste, and the smoke from the charcoal gives them a nice, aromatic taste.
The next time you are firing up the grill, think about grilling lobster tails, because this recipe is a real classic, and everyone is sure to be seriously impressed when you serve these. How could they not be!
Keywords: how to grill lobster tails, how to grill lobster tails cut in half, grilled lobster tails
How to Fry Lobster Tails
The following recipe is one of the best lobster tail recipes you can make. Lobster tail is juicy, soft and great for making all kinds of dishes from salads to delicate soups. It is nice served alone too. Just add a wedge of lemon or lime and lobster makes a perfect appetizer or snack.
The following recipe is easy to make and you are going to love the contrast between the crispy fried batter and the soft, juicy lobster tails. The sweet 'n sour sauce is incredible with fried lobster tail recipes like this one as well. If your lobster tails are big you can cut them into pieces. If they are small then just use them whole.
What is Tempura?
This type of shellfish is a wonderful ingredient to choose if you want to make an impressive meal. Cooking the lobster tempura style yields a wonderful, crunchy result. Tempura is a Japanese method of battering and frying seafood or vegetables.
The batter is usually made with water, flour and egg. It's left deliberately under-mixed and lumpy, to give the finished tempura a fluffy crispness. If you mix it too much, then the wheat gluten is going to get activated, and this will cause the batter to become chewy when fried. Which isn't what you want!
Lobster tails are a great choice for tempura and other kinds of seafood to choose from include squid, shrimp, crab and scallops. Vegetables such as carrot, green beans, bell pepper, eggplant (aubergine), zucchini (courgette) or pumpkin can also be used to make it.
Tempura may be served hot, either with or without a dipping sauce. Tempura was first introduced to Japan by the Portuguese Jesuits in the mid-16th century.
Print
How to Fry Lobster Tails Tempura Style
These lobster tails are seriously delicious. They are coated in a tempura batter for a nice crunch and are served with a homemade sweet 'n sour sauce for perfect harmony. You are going to love the rich seafood flavors in this dish.
Author:
Prep Time:

15 minutes

Cook Time:

5 minutes

Total Time:

20 minutes

Yield:

4

1

x
Category:

Main Dish

Method:

Frying

Cuisine:

Japanese
8

shelled lobster tails

2 cups

(500ml) very cold water

2

eggs

2 cups

(

270g

) sifted all-purpose flour
Salt and black pepper, to taste
Oil, for deep-frying
For the Sweet 'n Sour Sauce:
2 tablespoons

ketchup

½ cup

(

100g

) brown sugar

¼ cup

(

40g

) cornstarch mixed with 4 tablespoons water

⅓ cup

(85ml) rice vinegar

2 teaspoons

soy sauce
Instructions
Break the eggs into a bowl and beat them.
Add the water, then add the flour and mix lightly.
Do not over-mix the tempura batter. It is perfectly okay to leave it a bit lumpy – this actually gives the best tempura texture.
Sprinkle salt and black pepper over the lobster tails and then coat them in the batter.
Deep-fry them at 350 degrees F (180 degrees C) for 2 minutes or until golden brown.
Drain on paper towels.
Put the vinegar, sugar, soy sauce, and ketchup in a pan and bring the mixture to a boil.
Combine the cornstarch and water, and then add this to the pan, stirring to thicken.
Serve the sweet 'n sour sauce with the lobster tail tempura.
If you prefer the sauce chilled then make it first instead of last.
Notes
Lobster tail recipes like this one are great to make as an indulgent snack for the family, or even for an event such as a dinner party. No one can fail to be impressed with this gourmet recipe.
Keywords: tempura lobster tails, japanese lobster tail recipe