Pan sear scallops and you can enjoy delicious results. Pan searing scallops is so simple, and searing them without sticking is just down to ensuring your pan is hot enough when you add them, and also down to adding enough fat. I know firsthand that learning how to sear scallops without sticking can be a frustrating learning curve. Scallops aren't cheap and ruining a batch by cooking them wrong is a costly mistake!
You will need to use oil or butter (I like to use both) to stop them sticking and you will also want to wait until the fat begins to smoke before adding those scallops.
Pan Sear Scallops without Sticking Pro Tip: Get the Pan Really Hot!
If your pan is hot enough the scallops will sizzle and spit when you add them and they will be done in just a few minutes, which is why you should prepare your side dishes before you begin cooking them. This dish is ready before you know it! This is an important tip when learning how to sear scallops without sticking – a pan that isn't sufficiently warm will not yield the best result.
How to Cook Frozen Scallops by Pan Searing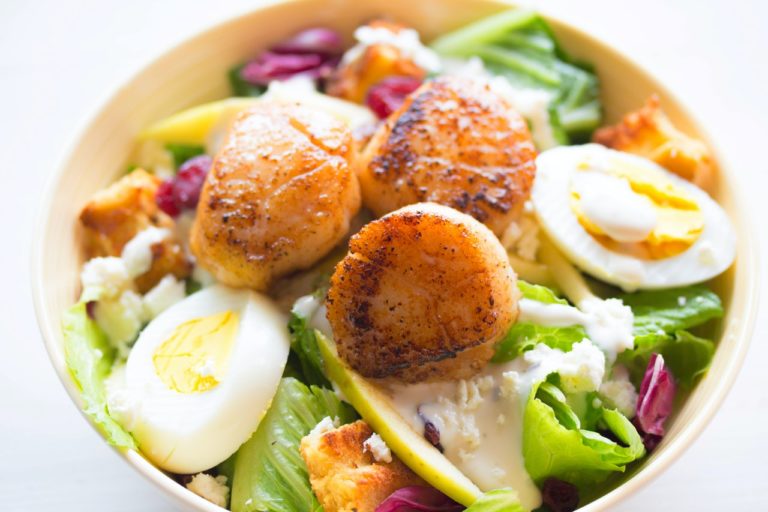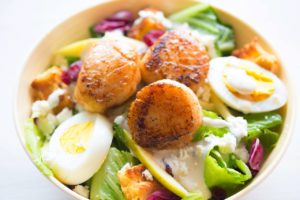 Before you learn how to sear scallops without sticking, you will need to prepare or thaw your scallops.
Frozen scallops are much cheaper than fresh ones and they taste fine (at least to me!) when served as part of a pasta or rice based dish or in a sauce or seafood soup.
So, first of all you need to thaw them overnight in the refrigerator and then pat them dry with paper towels.
Don't expect previously frozen scallops to have the same texture as fresh ones though. In fact I usually use them in stews and casseroles (or creamy pasta sauces) because they are mushier.
Can You Pan Sear Frozen Scallops?
You can sauté thawed scallops but they won't be as firm as fresh ones. The reason for this is they hold a lot of water when you freeze them and that changes their texture. A lot of people don't live where they can get fresh scallops (or maybe don't way to pay for them – they are about $2 per scallop where I live and that is for thawed ones!)
In that case it pays to know how to pan sear scallops without sticking using the thawed kind, but you will end up with a slightly softer result so don't be disappointed, imagining they are going to taste/feel like fresh ones in the mouth. It is vital to drain them very well to get as much of the water out as you can.
Obviously wringing them like wet sponges is going to ruin what is left of their texture so just pat pat pat on paper towels until they are as dry as they are going to get. Serve them with a tasty corn salad or your favorite side.
Print
How to Pan Sear Scallops
Find out how to pan sear scallops without sticking. Sticking is going to ruin the look of your scallops so it is worth learning how to sear them without that pesky sticking!
Author:
Prep Time:

5 mins

Cook Time:

3 mins

Total Time:

8 mins

Yield:

4

1

x
Category:

Entree

Cuisine:

American
1

lb (450g) dry sea scallops (about 16)

2 teaspoons

unsalted butter

2 teaspoons

olive oil
Salt and black pepper
Instructions
Take out the small side muscle from the scallops, rinse them using cold water and pat dry.
Add the oil and butter to a wide saute pan over a high heat.
Add salt and pepper to the scallops.
When the fat starts to smoke, add the scallops, ensuring they don't touching one another.
It is VERY IMPORTANT you let the pan get sufficiently hot before adding the seafood, because this will stop the scallops from sticking!
Sear them a minute and a half per side.
The scallops should have a 1/4-inch (3/4cm) golden crust on both sides but should still be translucent in the middle.
Serve them right away!
Notes
Use the biggest pan you have, even one you think is too big, the reason being scallops are going to leach out water when they cook.
This recipe is so utterly simple but if you enjoy the flavor of good seafood without too much flavor interference, it really is the best way to cook them.
Nutrition
Serving Size:

4

Calories:

117

Sugar:

0g

Sodium:

484mg

Fat:

5g

Saturated Fat:

2g

Unsaturated Fat:

2g

Trans Fat:

0g

Carbohydrates:

4g

Fiber:

0g

Protein:

14g

Cholesterol:

32mg
Keywords: pan sear scallops, how to pan fry scallops, scallops, scallops sticking, scallops without sticking