Pet ID tags are valuable for every pet owner. If your dog or cat ever gets lost then having an ID tag is an absolute must, so you can be reunited quickly and relatively easy. The longer a pet is missing the more that can go wrong, and let's face it, our pets are so precious. They are like members of the family, so consider pet ID tags as a must-have!!
A lost animal might not be able to find his or her way home, so invest in one of these tags (many cost under $5, even the personalized engraved ones) and if anything does happen, whoever finds your pet will know how to contact you to let you know they found your dog or cat.
When a Pet Goes Missing
Losing our pets is an absolute nightmare (and I've been there, my cat is very keen to explore!) but knowing they are wearing pet ID tags bearing your telephone number means you are sure to get a call from an animal lover who just wants to reunite Prince or Fluffy with his or her Mom.
If your pet does not have a collar or tag they might be mistaken for a stray. If they have a collar but no tag, whoever finds the animal isn't going to know how to contact you.
Plenty of Choice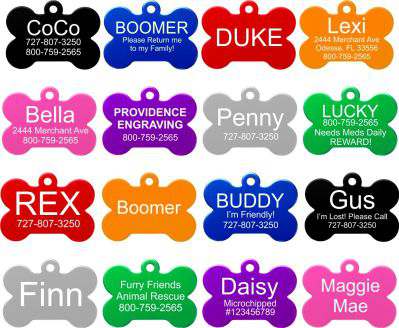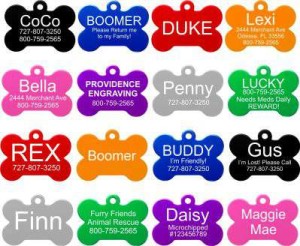 Pet ID tags come in many different shapes, designs and colors. You can get ones for cats, ones for dogs and ones for both.
They used to be plain, engraved silver disks but now you can get all kinds of exciting options such as bright pink tags or bone-shaped ones.
Some companies even let you pick out your preferred font, so you can make your pet's tag completely unique and special.
Whether or not to invest in one of these pet ID tags is a no-brainer because even if your pet is kept indoors he or she can get off the leash or run outdoors suddenly, and this could literally save their life, enabling you to be contacted if your beloved dog or cat does get away.
The fact you can choose not only the color and design of their ID tag but also the shape, size and style makes it even more fun.
Personalized Pet Tags, on Amazon
Types of Pet ID Tags
So, let's say you're looking for something a bit different from the plain round disk type tags. What about a bone-shaped tag for Rover, or a cat-shaped tag for Tiddles?
You might like to get a plastic tag instead of a metal one, or even choose a square one. A star-shaped tag is cute but perhaps not the most comfortable thing if your fur-baby lies on it at a strange angle.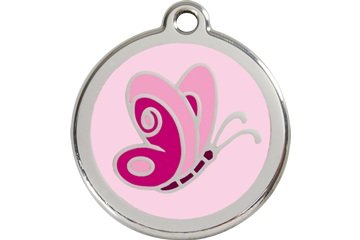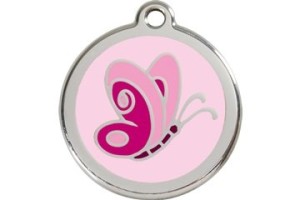 You can get cheap pet ID tags for under $4, even with all the engraving, and our pets are certainly worth that small expense. Definitely. You will also get peace of mind.
Even if your dog or cat is an indoor pet, they can run outside when you open the front door and get lost in a matter or minutes. My cat's done the same but luckily I found her the same day.
Blue or silver pet ID tags might be a nice choice for a big, macho dog, or a sparkly pink one for a cute puss.
Opt for a clear acrylic one or a logo pet ID tag with a smiley face or in the shape of an angel. There is tons of choice so just have a look at some on Amazon or eBay and you are sure to find the best pet identification tag for your fluffy friend.
Engraved Stainless Steel and Enamel Pet ID Tag, on Amazon
Pet ID Tags: Fitting a Collar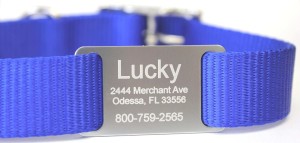 How tight should the collar be on your fluffy friend? Secure it and then slide two fingers between the collar and your pet's neck.
If you can slide two fingers between your pet and the collar that is a great fit. Any looser and it might catch on something. Any tighter and it will be uncomfortable on your pet.
Engraved Pet ID Collar, on Amazon
A personalized collar can be yours for under $5 and you can choose from various sizes and colors. Put your pet's name, your address and phone number on there (or whichever details you prefer) and rest assured if he or she gets lots, they can be reunited with you swiftly.