This Prada Infusion d'Iris perfume scent has been around since 2007 if you are wondering what year it came out, and this is a beautiful fragrance. Read on for some links to discount Prada Milano if you are into makeup and want to buy some of this gorgeous perfume for yourself or a friend.
How Prada Infusion d'Iris Perfume Smells
You will be able to smell orange as well as orange blossom, mandarin and galbanum and then iris, vetiver and cedar come in afterwards. This delicious fragrance is held in a delicate glass vessel which has a retro look and feel about it.
If you haven't been able to get Prada Infusion d'Iris out of your head it is no surprise. I love the Prada Infusion d'Iris perfume and it is great for day or night, not too subtle or too heavy.
This amazing Prada Infusion d'Iris perfume captures a warm summer morning when the sun is high in the sky, the flowers are swaying in the gentle breeze and everything is good in the world. I loved it the first time I smelled it and it's one of my favorites now definitely.
Transport yourself somewhere warm, sunny and beautiful just by inhaling one sniff of this lovely fragrance. Yes, it really is that lovely and that special. If you like feminine scents, this one is girly and feminine without being too flowery or strong.
If you are looking for a classy perfume which is subtle yet distinctive, choose Prada Infusion d'Iris perfume for its citrus scents and elegant bouquet. This perfume always makes a lovely gift because it smells great on women of all ages.
Prada Infusion d'Iris Perfume on Amazon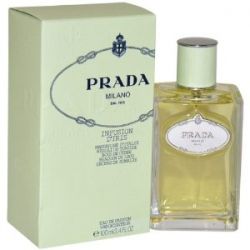 Yes it's nice to visit perfume stores but it's easier to order perfume from Amazon, especially since it is usually cheaper than going to the store.
You are getting the exact product and many vendors will deliver your perfume the following day so you do not have to leave the house or wait too long for it to come.
Perfume can be really expensive, especially if you do buy it from the store rather than online, and especially if you are looking at premium brands such as Prada.
But what elegance you get for your dollars if you do choose such a scent.
Buy a brand new sealed bottle of Prada Milano on Amazon or even a second hand one which has only had one or two spritzes used.
Some girls receive Prada Infusion d'Iris as a gift and then decide it's not for them – their loss is your gain! Grab yourself a bargain.
Click Here to View and Buy Prada Infusion d'Iris on Amazon
Why Wear Perfume
Perfume is like an invisible cosmetic. It enhances your beauty but instead of making you look different it gives you a subtle aroma which can be fresh, enticing, attractive, magnetic, pretty, charming, youthful, or whatever you wish, depending on the scent you choose. Pick out something with citrus (orange, lemon or tangerine, for example) to give yourself a youthful aura.
Prada Infusion d'Iris Perfume Samples
I've bought lots of perfumes on eBay, some brand new ones which are still sealed, some which are new but were received by other girls and unwanted gifts (and then sold for a fraction of their retail price) and some which were 1/2 or 2/3 used but still with plenty in the bottle, so it's certainly worth a look.