These flavorful pork wontons feature shrimp, ginger, green onion and more. Try pork and shrimp wonton soup for your supper tonight and enjoy the fresh flavors. Pork and shrimp wontons are usually served in authentic wonton soup recipes and if pork and shrimp go together better than you might imagine.
If you have ever tried bacon-wrapped shrimp, you will know this is a match made in heaven. Pairing pork and shrimp means you will have a delicious wonton filling for your wontons. In addition to the pork and shrimp, the wontons feature ginger, soy sauce, Chinese rice wine and more, for a traditional wonton feel and a mouthwatering finish.
How to Make Pork and Shrimp Wonton Soup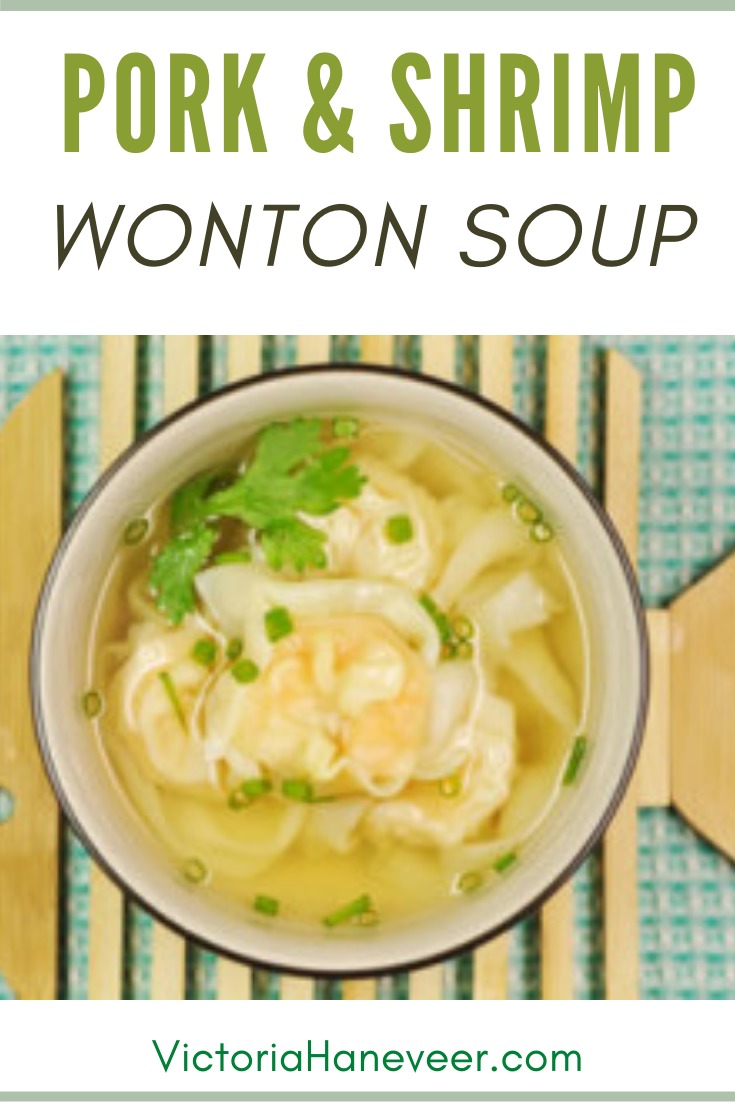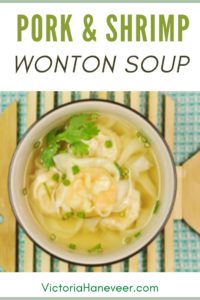 For this pork and shrimp wonton soup, first you need to make the wonton filling, then fill and seal the wonton wrappers and finally simmer then in chicken stock for a bit. The finished soup is light yet satisfying and if you are looking for wonton soup recipes which are easy enough for a beginner to master immediately, this might be a nice one to start off with.
The wonton soup is hearty and satisfying, so it would be perfect for a cold evening, but it is also light and delicate enough to work well as a spring or summer meal.
This free wonton recipe gives you an idea how easy it is to make authentic wonton soup to delight your family, and it is quick to make too. Everyone will love this pork and shrimp wonton soup.
The wonton filling mixture should be left to stand for half an hour, to intensify and blend the flavors, but once the chicken stock reaches a simmer, you can drop the wontons in, and they only take about four minutes to cook. The soup is then ready to be ladled into bowls and served piping hot.
Print
How to Make a Wonton Soup Recipe
Few dishes conjure up the exciting image of China in a culinary sense as well as wonton soup. This wonderful Chinese delicacy is both simple and elegant, light and satisfying. It's easy to make too.
Author:
Prep Time:

15 mins

Cook Time:

5 mins

Total Time:

20 mins

Yield:

8

1

x
Category:

Wonton

Cuisine:

Chinese
½

lb (500g) roughly chopped boneless pork loin

1 teaspoon

brown sugar

1 teaspoon

chopped fresh ginger root

1 tablespoon

Chinese rice wine

2 oz

(

50g

) peeled, finely chopped shrimp

1 teaspoon

minced green onions (spring onions)

1 tablespoon

light soy sauce

2 tablespoons

sliced green onions

3 cups

(700ml) chicken stock

24

square wonton wrappers (

3½

inch or

9

cm)

8

cilantro (fresh coriander) leaves, for garnish
Instructions
Combine the pork, shrimp, wine, ginger, minced green onion, soy sauce and sugar in a big bowl and mix well.
Let this mixture stand for half an hour so the flavors can blend.
Put a teaspoon of this filling in the middle of each wonton wrapper.
Wet the edge of each one with water and pull the top corner over to the bottom, folding the wonton wrapper to enclose the filling in a triangle shape.
Press the edges firmly to seal.
Bring the left and right corners together over the filling and overlap the tips. Moisten them with water and press them together.
Bring the chicken stock to a boil and drop the wontons in. Let them simmer for 4 minutes or until they turn translucent and float to the top.
Garnish the soup with sliced green onion and cilantro before serving.
As the picture shows, a traditional pork and shrimp wonton soup recipe makes a very attractive dish. The cilantro and green onion garnish adds a vibrant splash of color, and the filled wontons float like soft clouds in the light, aromatic soup.
In Cantonese, the word wonton translates to mean 'swallowing clouds' and you will understand why, when you taste this amazing traditional wonton soup recipe.
Although this is a light, fragrant soup, it is also satisfying and very tasty. If you want to make a quick and easy soup recipe, this one is ideal.