Women's control underwear is the easy, pain-free way of smoothing out those love handles as well as your belly and other bits and pieces you would prefer weren't there. Maybe you already own Spanx control underwear to keep those wobbly bits under control.
Browse and shop for all the best control underwear and wear figure-hugging skirts and dresses once more. Control panties are just as comfortable as regular panties. The material stretches and holds you in, and you will forget you are wearing them.
Spanx Control Underwear : Plenty of Choice
Body contouring undergarments are available from lingerie stores and you can also buy this magic underwear online. The size you need is the size you currently wear, so you can order the right size for you.
Body shape wear comes in various styles, colors and designs, so whether you want a girdle to hold your tummy in so you can wear a new dress or slimming shapewear for women which goes from just under the bust to the thighs, you can browse what is available and take your pick.
Shapewear for Every Woman
So if you want to wear sexy clothes without revealing your tummy or love handles, invest in some Spanx control underwear . If you have never tried it before, you will be amazed at how streamlined it makes you look.
I first bought it when I wanted to wear a dress to a party but was self-conscious about my tum. I put on the shape wear, put on the dress and lo and behold – a flat tummy! It's not the most attractive lingerie (think Bridget Jones in those 'frightfully big knickers') but who's going to see it?
Comfort Shape V-Neck Camisole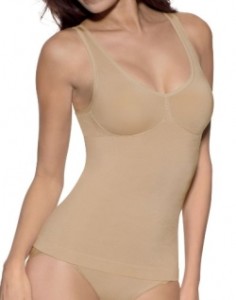 This attractive Spanx control underwear  garment will hide any unsightly lumps and bumps, and give you a stunning silhouette. All that and it's a great price too!
For the ultimate waist-smoothing, this V-neck shape wear camisole is a great fit. The extra wide straps allow you to wear a bra underneath if you want.
There are no uncomfortable wires and it will not roll up. This comes in beige or black, and in various sizes. The Lycra content means it fits like a dream.
V Neck Shaping Camisole, on Amazon
How to Put Spanx Control Underwear On
Ensure the material is crease-free, smoothing it over your bottom then back and tummy and finally sort out the top part. If your Spanx ends just underneath your bra, put the Spanx on 1st and then your bra over the seam. Take your time and it will fit fine and work just great!!
How Much Control Do You Want?
Light control will shape and smooth you without being binding. You can get control top pantyhose which offers about as much support as light support shapewear.
Moderate Control
If this does not sound enough, moderate control has more spandex in it, and will probably have some light control panels in there somewhere too, to flatter your body shape. Wear this type of control underwear for up to 8 hours in comfort.
Firmer Control
Firm control is comfortable but you might not want to wear it more than say 6 hours. This would be fine for a dinner party or evening event, for example, if you want more control that you'd have with light or moderate control.
The highest level of control is extra-firm and this will include reinforced panels, maybe also boning. This is the best control underwear for an incredible shape but after a few hours the comfort factor begins to wear off.
How to Wear Spanx Control Underwear to Look Gorgeous
Spanx is a style of undergarment which is excellent for concealing lumps and bumps, and ensuring that you leave the house with 100% confidence. The fantastic body shaping elements of the material guarantee that, regardless of your size, you will appear slimmer. Investing in Spanx is a brilliant idea, and the undergarments are available in several styles, ensuring that there is something for everyone.
Choosing the Perfect Spanx Control Underwear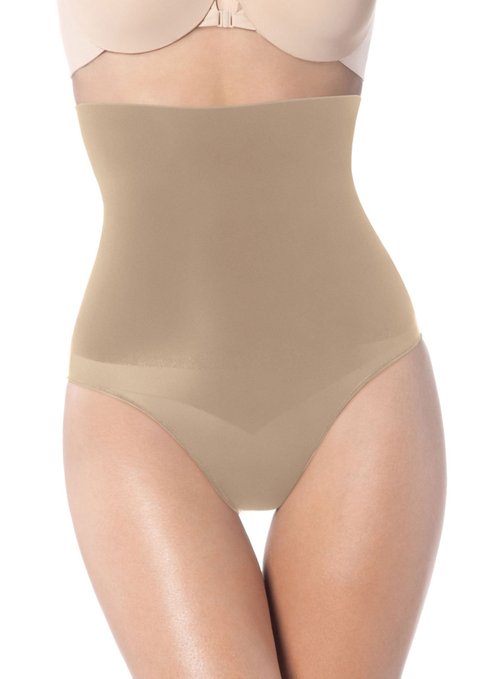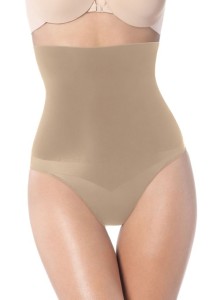 There are a number of different hosiery-inspired items to choose which will ensure that regardless of your taste, you will find an item to suit.
The design of the Spanx is suited to wearing under your everyday clothing. Therefore, you will be comfortable, as well as confident and stylish everywhere you go throughout the day.
There are tights, camisoles, panties, and bras to choose from, and you can pick out one or several different Spanx items to wear.
The body shape design, allows the underwear to be virtually invisible, which is excellent for all clothing. Whether you want to wear jeans and a top, or a revealing dress, you will be able to disguise your underwear selection.
Classic Spanx Tummy Trimming, on Amazon
No More VPL
Many underwear items produce a visible panty line, which can be a concern when you are out and about. However Spanx is snug-fitting and targets your shape to ensure that you will not be able to detect any underwear lines under your clothing. There is no bulk with the Spanx product as they are incredibly thin.
You will be able to choose the Spanx in both black and neutral colors, which allows it to be worn with several different options. There are limited outerwear options since the target market remains within the underwear sector. With over 100 different styles to choose from, you will never tire of experimenting with the latest Spanx control underwear options.