Showers have become popular additions to bathrooms all over the world as more people become aware of saving water. Another reason for having a shower fitted is to save space, and for many people this is vital. You can choose between a variety of different types of showers to suit your needs and budget.
Before rushing out to purchase a new shower, you will need to consider several different elements, which will determine the style of shower that you choose.
You will need to think about the amount of people in the household, and your current heating system. The right shower should cater to all your needs and suit you and your existing bathroom perfectly.
Choosing a shower which has enough power is vital, and manufacturers have ensured that they have improved the designs to cater for everyone. There are many types of showers to choose from and it pays to take your time in making your decision.
People often think that all showers are the same but this is untrue, and you need to understand the differences before purchasing your shower.
There are mixer showers, electric showers, and digital showers, pumped and un-pumped showers to choose from. Those are only some types of showers. You can see now that research is vital, to guarantee that you know what you need.
Electric Showers
Electric showers are the most popular choice for households everywhere and will provide an easy source of hot water at the touch of a button. These types of showers are available in several different designs, styles, colors and power ratings. You simply need to have a cold water feed to the shower, and a power supply to operate the unit.
Pumped vs. Unpumped Showers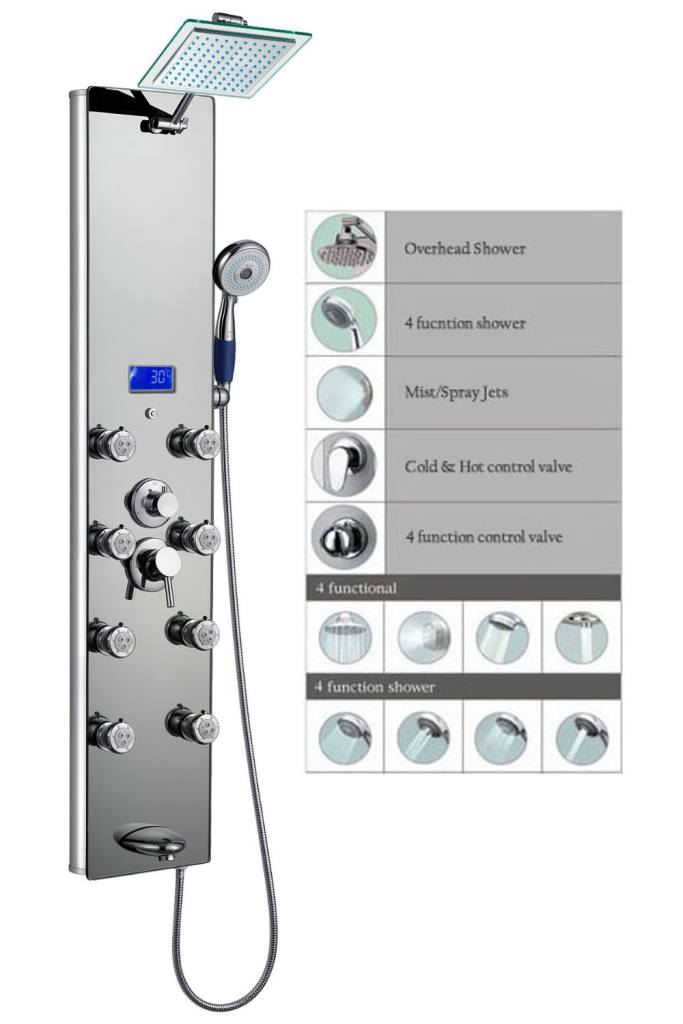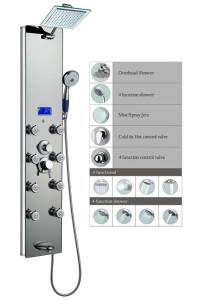 Mixer showers are available in both pumped and un-pumped varieties, and style that you need will depend on your hearting system.
A mixer shower is a fantastic option, since it takes the water directly from your hot water tank or through the mains water feed.
The tanks which are used are gravity fed, and the water is only taken when needed. There are issues with this style of the shower though, and you might find that water pressure can be low when you use the shower.
People often find these showers to be more of a tap than a power shower so they do not suit everyone. You will also risk using all of the hot water in the house, which may leave you with cold showers for everyone else (and that won't make you popular!)
Spa Shower Panel, on Amazon
Types of Showers Best for Increasing the Pressure
If you want a mixer shower installed, it is often advised to have a pumped style, to increase the water flow and provide a greater pressure. If your home has a combination boiler, the shower will use the water when it needs to making this shower very economical. The boiler will also help with the pressure issues, and ensure that an extra boost is not needed.
Modern Shower Designs and Different Types of Showers
Digital showers are new on the market and are excellent for people who love gadgets and gizmos in their home. You will be able to control your shower with a remote control, which will activate the water and set the perfect temperature for your needs. Alongside the remote control, there is a button outside the shower allowing you turn the shower on and off without getting wet.