Monthly Archives:
March 2014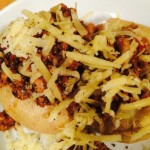 Chili is always good, especially when served on a baked potato with some grated cheese on top, and perhaps also some sour cream or guacamole if you like it. Try chili with baked potato for lunch and see how satisfying this dish is.
Chili is versatile enough to be tweaked a lot, so not only can you choose how spicy you want it but you can also choose the ingredients which go in there, such as kidney beans or another kind of bean, garlic, even some grated Mexican chocolate or cocoa powder if you wish.
This recipe shows you how to make a simple chili con carne recipe using ingredients guaranteed to come together seamlessly and offer an abundance of flavor. Feel free to make your own tweaks.
A vegetarian might prefer to use Quorn or TVP rather than the meat, while someone who isn't keen on beans might prefer to leave them out and perhaps add some chopped red bell pepper to the chili mixture instead. The choices is yours. Continue reading →
Other Posts You Might Like