Monthly Archives:
April 2015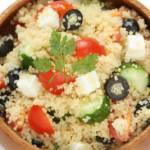 The following Greek couscous salad offers all the wonderful flavors typically found in Greek salad. Those include feta cheese, tomatoes, Kalamata olives and cucumber, along with a bright and zingy lemon-based dressing. But then you also have couscous in there which works perfectly and makes the Greek couscous salad more filling.
This Greek couscous salad is a versatile dish which can be served as an appetizer or main dish, perhaps teamed with some crusty bread and aioli or butter. It can be served chilled or at room temperature although we prefer it at room temperature because the flavors are better that way. Making a change from a Greek pasta salad recipe or other chilled Greek vegetable dish, you will find this refreshing and tasty.
Continue reading →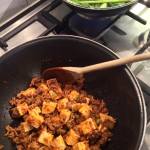 Mapo tofu, which is sometimes written mapo doufu, is a delicious Chinese recipe from the Sichuan province in China. It is comprised of tofu in a reddish, spicy bean and chili based sauce. The tofu is usually cooked with ground meat, either beef or pork, along with fermented beans. There are variations of course, and everyone has their own way of making it. Discover how to make mapo tofu and you will fall in love with this dish!
Why is Mapo Tofu Called That?
So how did mapo tofu get its name? Well the 'ma' refers to 'mazi' which is pockmarks, and the 'pa' refers to 'popo' meaning old woman or grandmother. So interestingly mapo tofu means pockmarked grandmother or, better, pockmarked grandmother's beancurd. This presumably refers to the old lady who first invented the dish. Learning how to make mapo tofu means you can relay this interesting history at the dinner table.
The Flavors of Mapo Tofu
This recipe is traditionally fiery, as many Sichuan dishes are, and this dish in particular is described using 7 Chinese adjectives, namely numbing, hot temperatures, spicy hot, fresh, soft and tender, flake, and aromatic.
The most important ingredients are the beancurd (tofu), salty bean paste or chili broad bean paste, fermented black beans, chili oil, garlic, green onions, rice wine, Sichuan peppercorns, and chili flakes. There might also be some starch to thicken up the sauce and often some kind of ground meat.
Continue reading →
Some More Hot Content For You
Other Posts You Might Like