Crackslaw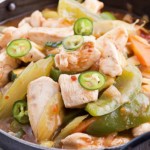 Crackslaw is usually made with Chinese ingredients but add some Teriyaki sauce and you get a sweeter result which also has a distinct Japanese flair. Whether you are counting your carbs or simply looking for something really tasty, this Japanese chicken crackslaw recipe is a real winner. Perhaps you have made the classic crack slaw recipe before and you wonder what a similar dish but made with slightly different flavors would taste like, in which case try this recipe for a change of pace.
You may use canned or fresh chicken. It should be cooked before adding it to the recipe, so this is a great dish to make if you have leftover chicken to use up. Alternatively try using turkey for a slightly different result.
This Japanese chicken crackslaw recipe has fewer ingredients than some of the others. You may shred cabbage and carrot yourself or else use a bag of coleslaw mix. These are basically the same thing. I tend to get the coleslaw mix, since it works out about the same price, at least here, and it saves time. I can pick up a bag of it on sale sometimes to make a very economic dinner which is high in flavor but low in carbs. Continue reading →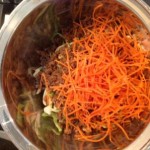 Cut the carbs in your diet by using seafood and low carb ingredients to make a tasty meal. This crab crackslaw recipe features crab instead of the beef used in the original recipe.
This is a rich, spicy recipe so the crab flavor is not so strong but that is what we are aiming for here, a dish with a hint of seafood flavor. And lots of typical crackslaw flavor.
Crab is recommended if you are low-carbing but if you want to replace the crab with crabsticks or imitation crab watch out, because those do contain carbs and sometimes sugars which you obviously want to avoid when making low carb crab crackslaw.
Canned crab is an economical alternative to fresh crab, so perhaps that would be the best choice, since the spicy flavors mask some of the crab flavor anyway. Continue reading →
Some More Hot Content For You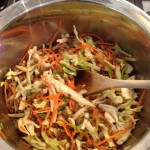 This pork crack slaw recipe is really good if you want to make use pork in a low carb dish. Featuring ginger, garlic and green onions, this pork crack slaw recipe has a strong Asian theme which you will love. The original crackslaw recipe is Asian and, while you can theme your crackslaw on Greek, Italian or another cuisine, the Chinese recipes always taste best, at least in my opinion.
Ground pork is a budget choice and while it is often used to make meatballs or burgers it is also great in this recipe because it suits the Asian flavors and soaks up all the different tastes. It just works well!
Pork Crack Slaw: Maybe Try a Ground Beef/Pork Mix
Where I live you can't buy ground pork, you can only get ground half-and-half, which is half pork half beef. I've used that in this recipe and it's been fine.
That's the great thing about crackslaw recipes – you can change them up however you want, adding a bit of this or a bit of that, and altering the end result. I could always grind my own pork I guess, but I'm happy with the half-half mix so I haven't done that yet. Just see what ground meat you can get or what is on sale and rest assured it will make a tasty crackslaw. Make sure you double-check it's 100% meat though, no sugar added. You don't want sugar in a low carb pork crack slaw recipe. Continue reading →

This is a video for you to watch and wow, this buffalo crackslaw recipe looks so good! The chef uses the main crackslaw recipe, but watching him cook is a sheer delight. If you want to make something different, consider this recipe and you will find it easy to stick to your low carb diet and not feel deprived whatsoever.
Mmm, you can almost smell this through your monitor. If you are new to making this dish then watching someone else cook it first is always handy.
There is nothing difficult about making buffalo slaw but you might be curious about preparing the ingredients, cooking the mixture in the pan, or even what the dish should be looking like at various stages of the cooking, so if you are brand new to the world of crackslaw just sit back and take a look at this video. Continue reading →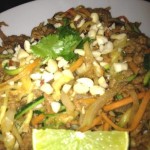 If you want to try something brand new, this Thai vegetarian crackslaw recipe offers an aromatic Asian flavor. Use Quorn, TVP (textured vegetable protein) or your favorite vegetarian meat alternative as well as julienne-cut veggies to make this dish commonly known as veggie crack or vegetable crackslaw.
You will love the fragrant Thai flavors this dish offers, and probably want to make it again and again. This dish is low in carbs yet high in flavor.
Thai Vegetarian Crackslaw
If you want to use meat or poultry by all means go ahead. Just ensure it is fully cooked before adding the other ingredients to the pan. This recipe offers a wonderful taste of Southeast Asia and you won't regret making Thai vegetarian crackslaw. In fact, I promise you'll want to make it again and again! Continue reading →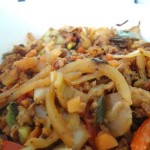 Say you are in a hurry and you want to make some of your favorite recipe but you only have 10 minutes to spare – what can you do? The answer is to make 10 minute crackslaw. Rather than cooking the meat and vegetables separately, you will be saving time by cooking everything together.
I always used to make the dish the regular way, which meant frying the meat, draining it, cooking the vegetables, then adding the meat back in and the seasonings, but since fat is not 'the enemy' when low carb eating you don't even have to drain the meat after browning it, although if you're using high-fat ground meat you might prefer to.
10 Minute Crackslaw Tip: Keep Stirring!
The key to making this Thai vegetarian crackslaw work is to stir, stir and stir! A lot of Chinese recipes are made in the wok and you need to stir constantly, keeping the heat as high as you can without allowing the ingredients to burn. This recipe is similar.
Keep those ingredients moving and they will cook faster. As soon as the beef is browned all over with no pink remaining, serve the crackslaw. Whether the veggies are soft, al dente or a little crunchy it will be good. Continue reading →
Other Posts You Might Like