Authentic Stetson Salad Recipe
This is my favorite salad right now. The flavors are simply amazing and I adore this stetson salad recipe. I am a fan of chopped salad anyway and often make cobb salad for dinner, but once I heard about this one I just had to find out more about it, and it's definitely my number one favorite now!
The ingredients in a stetson salad recipe are colorful and tasty, and the dressing goes beautifully with the flavors in this Stetson salad. This salad is one of the most popular items on the menu at Cowboy Ciao, a restaurant in Scottsdale, Arizona. Depending where you live you might not be able to get all the ingredients for Stetson salad but that's OK because they're quite easy to tweak.
If you don't like smoked salmon, for example, you can use chopped chicken breast in the stetson salad recipe instead. If you can't get Asiago cheese then fresh parmesan makes a good substitute. Likewise, you can swap the dried berries for currants or raisins.
Some people swap the pearl couscous (Israeli couscous) for regular couscous or even quinoa, but I love pearl couscous. Cook it for 11 minutes though, not 12 (on the package it will probably say 11 or 12) else it gets too sticky and will stick to your hands and the plate when you're trying to make the rows.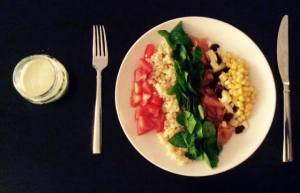 What's in a Stetson Salad Recipe Dressing
The dressing is gorgeous and blends buttermilk, pesto, aioli, and other flavors. You will have some left over but it keeps for a week in the refrigerator so go ahead and make it, then you can use it on future salads.
Stetson salad can be arranged in rows or you can arrange rows on a bed of greens or on a bed of pearl couscous. You can even toss everything together if you prefer to mix it all up.
How to Make Stetson Salad Recipe Dressing
The dressing for this is what really brings the ingredients to life. You can either make or buy the pesto and/or aioli, depending how much time you have. I usually use store-bought pesto, but for the aioli I just throw some mayonnaise and garlic cloves into the food processor and make it that way, for a fresher flavor.
They do sell a nice aioli here though. It's higher in calories and fat than what I make but it's really tasty. The following recipe makes about twice the dressing you need, so either halve it or make it like that and then enjoy it the following day with some veggies for lunch! Everyone is sure to love this stetson salad recipe. The flavors are amazing.

Authentic Stetson Salad Recipe
Rows of smoked salmon, cheese, pearl couscous, corn, tomatoes and more are paired with a pesto and aioli dressing. This has to be one of the tastiest, most delicious, addictive salad recipes ever.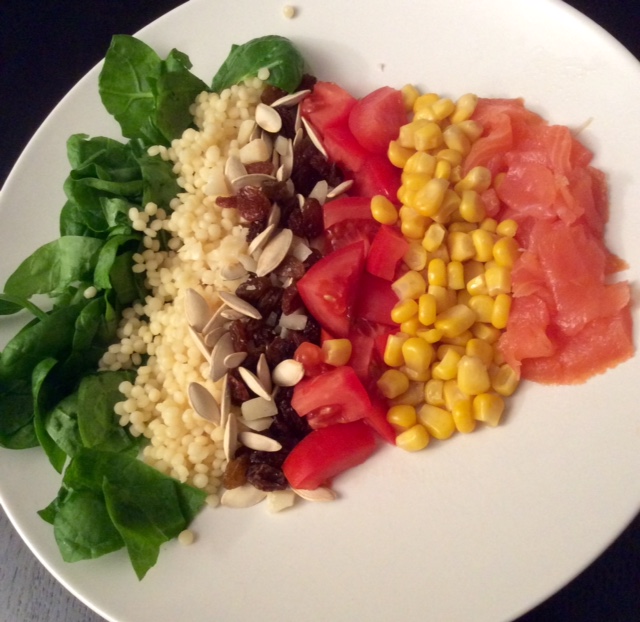 Author:
Victoria Haneveer
Ingredients
1 cup (340g) uncooked pearl couscous
2 chopped fresh tomatoes
½ cup (60g) crumbled Asiago cheese
½ cup (60g) salted, roasted pumpkin seeds
½ cup (60g) dried blackcurrants
1 cup (180g) roasted dried corn kernels
1 cup (50g) chopped arugula or baby spinach
1 cup (200g) chopped smoked salmon
For the Dressing
½ cup (125g) aioli (or just under ½ cup mayo plus a garlic clove)
½ cup (125g) buttermilk
1 tablespoon fresh lemon juice
¼ cup (60g) basil pesto
1 diced small shallot
¼ teaspoon fresh ground black pepper
Instructions
Cook the pearl couscous in boiling water for 11 minutes or until tender.
Drain it then let it cool.
Combine the Asiago, pumpkin seeds and dried blackcurrants (this will be one row).
Put all the dressing ingredients in a blender or food processor and whiz to blend.
Taste it and add salt if necessary (it might not need it).
Arrange the ingredients in rows, pushing each to the side with your hand to make space for the next.
Serve with some dressing drizzled over and the rest on the side.
Some More Hot Content For You
Other Posts You Might Like