This is my current favorite crunchy Asian salad with sesame dressing recipe. It contrasts crispy and soft ingredients and boasts a wonderful Asian flavor in every mouthful. What really finishes it off perfectly is the roasted sesame dressing. I like to use rice noodles for this, although egg noodles would also work, or even thick udon noodles.
For the vegetables in this Asian salad with sesame dressing, I like to use edamame beans, grated carrot and radish. You can either thaw some frozen shelled edamame beans or use fresh shelled ones, as you prefer.
Buy grated carrot to save time when making an Asian salad with sesame dressing, else you can shred or grate your own in, maybe in a food processor or using a julienne peeler. If you want to use other ingredients instead, consider blanched broccoli florets or asparagus spears.
Tips for an Asian Salad with Sesame Dressing Recipe
The shrimp and noodles can cook together. Just toss the shrimp in towards the end of the noodle cooking time because they only take a couple of minutes. When they've turned pink they're done. Alternatively you can use cooked shrimp. Ensure they are peeled first. When the noodles and shrimp are done, I like to pop them in a sieve and then rinse under cold water. This cools them down. If you want them warm in the Asian salad with sesame dressing recipe though, that is no problem. It's up to you.

I like to use Kewpie sesame dressing in this recipe because the roasted sesame flavor is just incredible with the other ingredients. I discovered this sauce in my local supermarket but you can also order it online. A tablespoon or two of this over the shrimp, noodles and crunchy vegetables lends the salad an incredible flavor.
Kewpie Deep-Roasted Sesame Dressing, on Amazon
The following recipe makes enough for one person, but it's very easy to double or triple the ingredients if you are feeding a crowd. You can make it ahead if you like, but if you are doing that, add the dressing just before serving.
Homemade Sesame Dressing Recipe
If you prefer to make your own sesame dressing, either because you can't get the Kewpie dressing or similar, or you simply want to make your own, you should combine 2 tablespoons of Chinese sesame seed paste with 2 tablespoons of light soy sauce.
Add 2 tablespoons of rice wine vinegar, then stir in 2 tablespoons of minced fresh ginger root, 4 minced garlic cloves and a tablespoon or two of superfine white sugar. Now stir in half a cup (120ml) of Asian sesame oil. Let the dressing stand for half an hour so the flavors can mingle.
Keep what you don't use in a covered container in the refrigerator for up to 3 days, shaking well before using. You can halve the amounts though if you don't want to make this much dressing.
Tips for Perfect Asian Salad with Sesame Dressing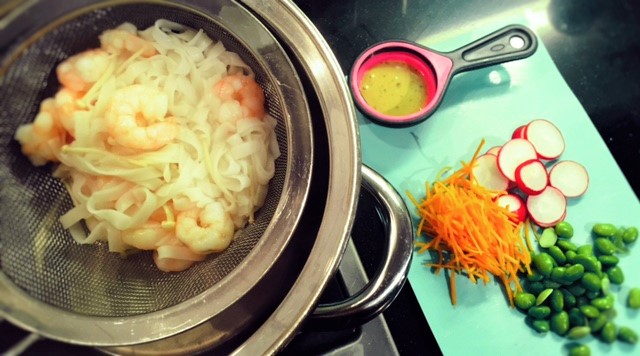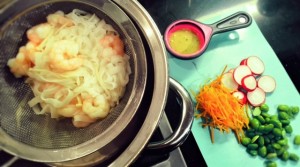 The key here is crunch, while color is also important. The noodles and shrimp make a great basis for the salad, but the crunchy radish, carrot and edamame on top are just wonderful, and then you have the creamy dressing to set all the flavors off.
Make sure you grate the carrot finely and cut the radish and thinly as you can, to maintain that typical Asian flavor and texture.
If you have a food processor, you might want to run the radishes through there in order to get uniform results. Else just use a small, sharp knife and slice them thinly yourself. As suggested above, you can swap any of these toppings for others. Consider adding peanuts or cashews to the salad, or pop some broccoli florets to the noodles and shrimp for the final minute of cooking, just to blanch it, not to make it tender.
Snow peas would also work (prepared the same way) or you might like to add some green onion to the salad, or anything else you have and want to use up. If you prefer to use cooked chicken breast instead of shrimp, that is fine. Just shred it and toss it with the noodles before adding the toppings. Enjoy this Asian salad with sesame dressing any time you crave it!
Print
Crunchy Asian Salad with Sesame Dressing
Shrimp and rice noodles are topped with crunchy carrot, edamame and radish, and then the dish is finished off with some creamy sesame dressing. This makes an exquisite lunch or light evening meal.
Author:
Prep Time:

15 mins

Cook Time:

5 mins

Total Time:

20 mins

Yield:

1

1

x
Category:

Salad

Cuisine:

Asian
1 oz

(

30g

) uncooked rice noodles (more if you're hungry!)

5

peeled medium shrimp

2 tablespoons

grated raw carrot

3

finely sliced radishes

2 tablespoons

shelled edamame beans

2 tablespoons

Kewpie Roasted Sesame Dressing
Cilantro (fresh coriander leaves), for garnish (optional)
Instructions
First cook the rice noodles, following the directions on the package.
Add in the shrimp (if they're raw) for the final couple of minutes.
Drain the rice noodles and shrimp and rinse under cold running water until cold.
Transfer them into a serving bowl.
Top with the radishes, edamame and carrot.
Drizzle the dressing on top and finish off with some cilantro if liked.