duck starter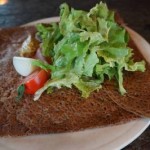 These delicious galettes are easy and fast to make. You need to chill them partway through the recipe so you could make them in advance up until then if you are in a hurry. This duck galettes recipe is a highly unusual appetizer recipe which you might want to consider.
Duck Galettes Recipe: French in Origin
The correct term for one of these galettes is a 'Breton galette' since a galette is any kind of flat French savory cake, while a Breton galette means a flat, buckwheat pancake, so there is a difference.
Including duck and potatoes, this recipe is not your average starter recipe so if you are looking for something extra special perhaps this will fit the bill (no pun intended). The flavor is excellent and this dish is suitable for novices in the kitchen. Continue reading →
Other Posts You Might Like