hoisin celery wontons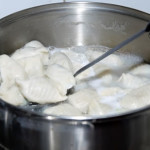 This exciting Hoisin celery wontons recipe features a flavorful broth containing homemade pork, hoisin and Chinese celery wontons. It couldn't be simpler to make and this makes a warming meal for the whole family. You can even make extra wontons and freeze them for next time.
This Hoisin celery wontons soup recipe calls for soy sauce paste. Soy sauce paste is similar to soy sauce but thicker. If you can't get it, just use the regular kind. Be careful not to add too much sesame oil; a little really does go a long way.
You can find Chinese celery in any Asian grocery store and it is sweeter than regular celery. If you can't get it then try adding chopped Napa cabbage or black mushrooms instead. This Hoisin celery wontons soup is going to be so good!
Use a food processor to combine the filling ingredients if you want but use the "pulse" setting because it's best to leave some texture in the shrimp and meat. You don't want them to vanish into a puree. You should be able to see the different ingredients when you bite into the wonton. Use egg wonton wrappers or the ones without egg; either works fine here. Continue reading →
Other Posts You Might Like