juicing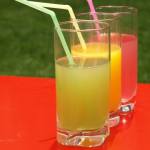 It is a fact that we are becoming more and more concerned about what we put into our bodies, the more we get to know about health issues. We are what we eat (and drink!) and we know that cooking often damages nutrients and kills healthy enzymes. This is why healthy juicing recipes are all the rage these days.
However, eating raw fruit and vegetables is not always an appetizing prospect, which is one reason healthy juicing recipes are becoming so popular.
Do you really want to sit down and eat a handful of raw kale, 2 apples, a raw beet and 2 carrots, or would you prefer to whiz these ingredients up and make a nutrient-rich drink which tastes good? Yes, healthy juicing recipes are way more appealing.
Everyone has a different palate so if you prefer your juice sweet, semisweet or savory, or you have specific fruits or veggies you dislike, or whatever requirements you have, you can find the perfect healthy juicing recipes for you – those you love to make and drink. Continue reading →
Other Posts You Might Like