Like many people, I'm fascinated by space and sometimes I like to find new websites about space and wonder at it all. If you think about it, the Earth is just one tiny dot in the middle of a seemingly unlimited universe and, although we have some idea of what is out there, at least closest to us, there is so much we don't know! I find the enormity of it all to be a thing of wonder, and now that technology is being developed at such a speedy rate, the space photos and new information available is incredible.
When I see a headline in the newspaper about space or a link to look at photos, I often click through out of curiosity, but something that can be frustrating if you're into all things space-related but not a rocket scientist is, well, a lot of it is hard to get your head around, or to make head or tail of! Not all websites about space explain it with amateurs in mind either.
I can explain what a planet, sun, star, and universe is. I know the difference between a meteor and a meteoroid, and I very much enjoy sci-fi (which is entertaining but can still be educational), but give me a technical article about space or show me complex websites about space and I won't have a clue.
This is why I personally like more lighthearted websites about space. I'm not researching for a PhD but I am still fascinated by all things space-related. So without further ado, I'm going to share my top 5 space websites with you!
NASA – The Serious Space Website
Whether you're looking for facts, photos, the newest technology, or simply accurate information to impress your friends with, the NASA website is perhaps the site you will go to first when browsing websites about space. Learn about the space stations or new missions, download ebooks and podcasts, or browse the photo galleries. If you're keen to learn more about space, this website is well worth a visit. Think of space and NASA probably comes to mind first. That doesn't mean it's the best website for everyone who wants to learn about space but it's very comprehensive and you can spend a long time here.
Heavens Above – Track What's above Us
Are you curious about satellites and space stations, and keen to find out whereabouts they are and when they will be above your location? Do you want to track one in real time or get a 3D view of what the satellite 'sees' on its way past? In that case, take a look at Heavens Above and check out their interactive 3D visualization of the ISS, take a peek at the sky chart, or find out when you might be able to spot one of many satellites visible on a clear night or even the ISS which can be brighter than a star depending on conditions. It's easy to get hooked on tracking these satellites and seeing which ones you can spot from your own backyard! This is one of the websites about space I've visited several times.
Cloudy Nights – Astronomy Forum
Another good find in this list of the best websites about space is this one. If you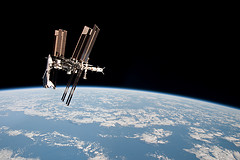 want to get involved in chatting about your passion rather than simply browse facts, photos and figures, Cloudy Nights is worth a visit. There is a beginners' forum where 'no question is a silly question' as well as discussion boards about everything from binoculars and mounts to solar system imaging and astronomy software. This website is more for astronomy fans than people who simply want to look at space photos or find out fascinating space facts, but if that's your thing, it's well worth a visit because it's chock-full of astronomy fans keen to share their astronomy photos, tips, projects and astronomy knowledge.
Photo by NASA's Marshall Space Flight Center, on Flickr
Space.com – Up to the Minute Space News
I can't write a list of websites about space without mentioning this one because it's huge. This website has been around for a long time (15+ years to be precise) and it offers plenty of news about missions, trends, space exploration, commercial spaceflight, and more. Check out the shop at Space.com to get ideas for astronomical birthday or Christmas gifts, see what the Image of the Day is or read the latest stories. This is a huge website you could spend hours on, and the space videos are especially cool. There is something fresh every day here. If you like the NASA website, this one is similar in some ways.
Galaxy Threads – Bite-Size Facts for Everyone
The reason why I like Galaxy Threads so much is you have everything in bite-size chunks, so if you're interested in space and learning new facts, or you simply want to browse, this is the best site to choose in your websites about space search. Find out some mind-boggling space facts, take a peek at the photo archives or find out what you need to know before buying your first telescope. There is plenty of info on Galaxy Threads to entertain the kids too. This is the kind of space website that you stumble upon one day and don't just stop at the first page. There is always something that jumps out and grabs your attention. For example, you might end up at Galaxy Threads looking at a photo or reading about interstellar travel, and end up reading one of the lists of amazing space facts!
5 Mind-Blowing Facts about Space