First things first… what on Earth is a weather house and why would you use German weather houses? Well, a weather house is a little house in the shape of a Swiss or German chalet, and it is used to indicate the weather. Usually there are 2 side-by-side doors, with a girl in the left one and a boy in the right one.
If the weather is supposed to be dry and sunny the girl comes out. If it's going to be rainy the boy comes out. The boy/girl might be young or they might be man/woman figures depending on the design of the weather house itself. Alpine and German weather houses are all different so you can choose exactly what you prefer.
How Does a Weather House Barometer Work?
This folk art device is a hygrometer, which means there is a balance bar suspended on a piece of hair and the boy and girl figures sit on that. Depending how humid the surrounding air is, the hair will shrink or relax.
It shrinks when the air is dry and relaxes when it's wet. This will swing out the appropriate figure, boy or girl. Sometimes catgut is used instead of hair. Catgut is made from horse or sheep intestine (don't worry, not cats!) This is often the case in traditional German weather houses.
Weather House Styles
Because weather houses are associated with Switzerland or Germany, they are frequently decorated like cuckoo clocks. A lot of them will also have a little thermometer on the part between the 2 doors which conceals the hair suspension.
There might be a small piggy bank in there too. Some of the more basic ones will just have the man and woman, so you can tell if it is likely to be dry or wet, while others will have a thermometer, either in Celsius (like they use in Europe) or both Celsius and Fahrenheit (which is more convenient for many of us).
River City Clocks Traditional German Weather Houses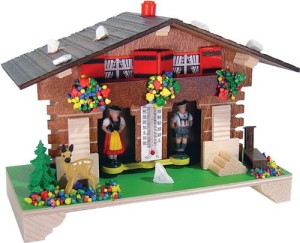 This beautiful weather house features a thermometer and the design is based on a rustic German mountain home.
The woman comes out when it's sunny and the man comes out when it's not such good weather. The thermometer is in C and F.
You can also see deer, flowers and a water pump, and it is these details that make this one so extra special.
This is a handmade piece so the exact carving and colors might vary a little bit from clock to clock, but this is what makes it so beautiful. You get a 2 year warranty with this charming German weather house.
Wherever in your house you choose to put this beautiful piece, you can be sure of one thing, and that is every single visitor is going to remark on it, either to say how cute it looks or to ask where you got it.
These are surprisingly cheap actually and you can pick up a lovely weather house for under $30 so even if you already have one of your own consider it as an attractive (and very special) gift for someone else, for absolutely any occasion!
Charming Handmade German Weather House, on Amazon
Black Forest Weather House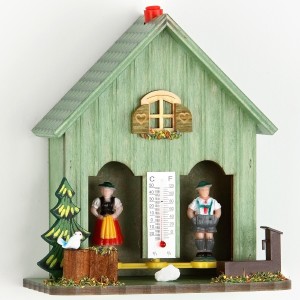 Made in Germany, these beautiful German weather houses will let you know what weather is coming your way. The weather house is traditional in style and made in wood, stained an attractive green.
There is a gut string inside which reacts with the humidity in the air. It twists less or more depending on the coming weather, so you can tell what's coming whether the boy comes out of his door or the girl comes out of hers.
Who wants to use a boring barometer on the wall when you could have a charming little house like this with a boy or girl coming out of their doors to show you what weather you can expect? This is certainly far more fun!
Black Forest Style German Weather House, on Amazon
Weather House Meaning in the US
This is the European term 'weather house' but in the US the term refers to buildings built by the US Signal Service and then by the US Weather Bureau.
These buildings house the instruments and Chief Weather Observers so they can do their job. Perhaps you were looking for these kinds of weather houses and you ended up on the US Signal Service page. If so, you have finally found the right place!
If you want to see all the weather houses for sale on Amazon, which is incidentally the best place to shop because it groups them all together, take a look HERE and see the whole lot in one place!
Three Best Weather Websites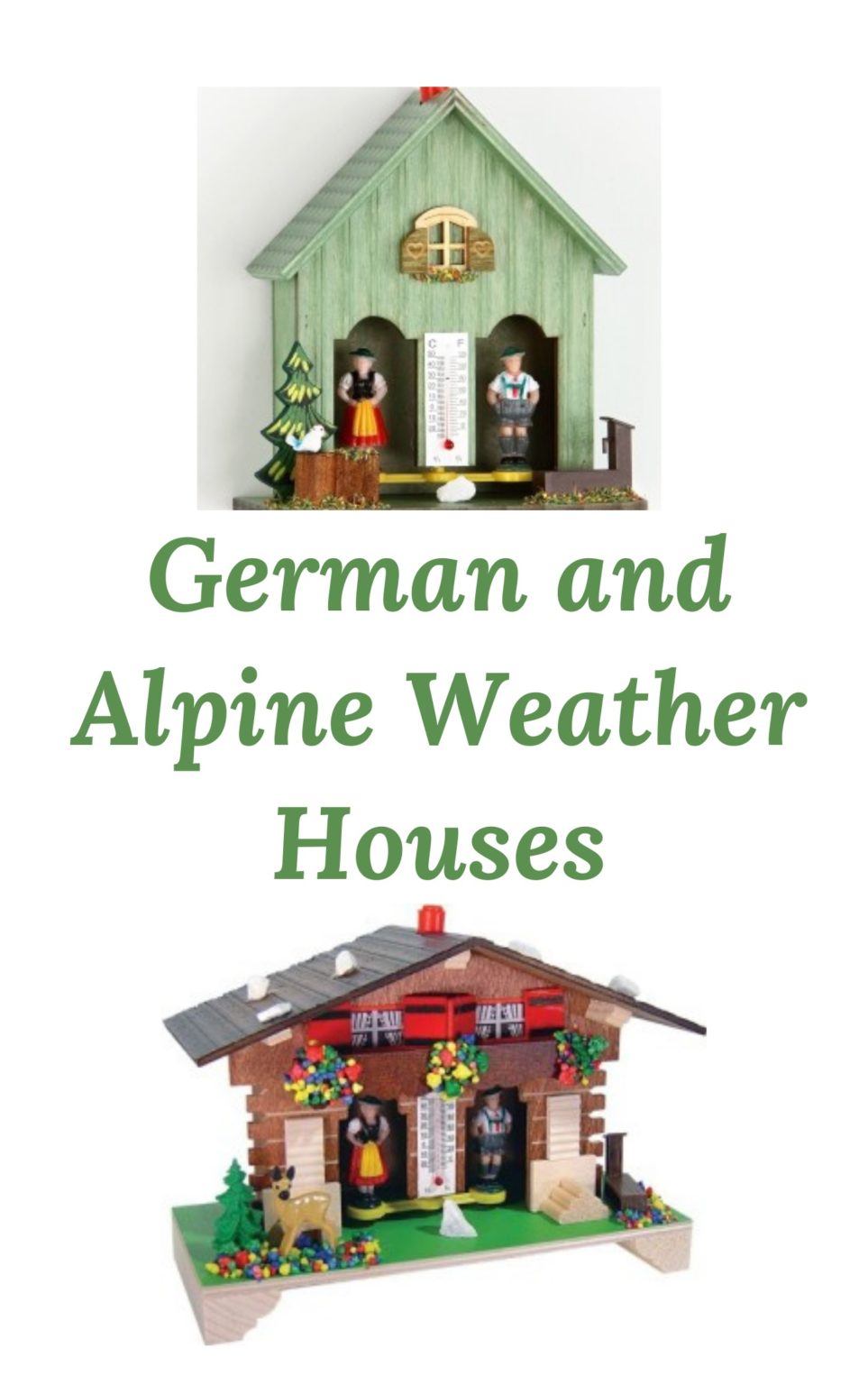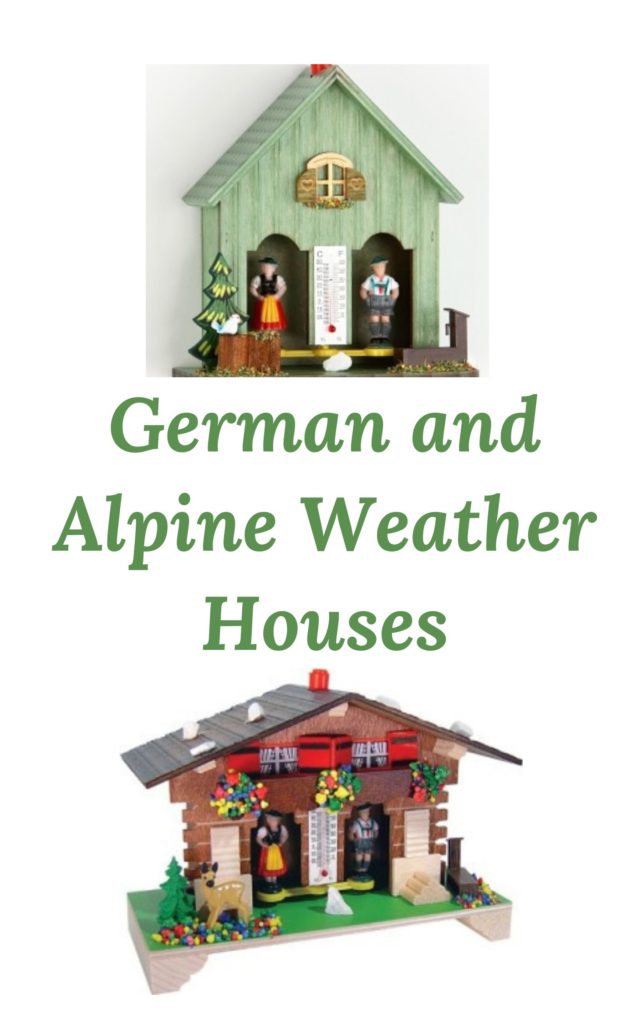 The Weather Channel has a reputation for simplicity, accuracy and ease of use.
This website is straightforward, remembers your location, and will also offer an accurate hourly prediction for the day ahead, 48 hour forecast, or give you a 5-day or 10-day forecast to help you plan for future events.
You can also use the maps and radar if you want them. However, the main focus of the site is on current conditions, any severe weather alerts such as storms, air quality alerts, and pollen alerts.
You can also discover other information you might wish to know before you leave the office for lunch or head out of the house in the morning.
Accuweather has mobile apps and widgets. These are some of the most accessible for day-to-day use when you need to know how much to wrap up before you leave for work Or whether you should carry an umbrella if you are going out shopping.
Accuweather is perhaps not the best for long-range forecasts but it has plenty of international locations so if you want to know the weather in another country then this is the one to use.
At Weather Underground you will find accurate forecasts, detailed information, the current conditions and forecasts at the top and very detailed data further on down the page. Check the accurate information in rural areas or the specific weather station that's closes to your house. The website design is a bit busy, but the relevant information is at the top right where you can see it immediately.
You also get big interactive maps, terrain maps, storm tracks, regional, national, and international forecasts, and more, giving an exceptional weather site. Visit the discussions part if you like. This is where meteorologists discuss the day's forecasts, models, and how they arrived at their predictions. A very comprehensive site.