Amethyst is a beautiful stone and a great choice for an engagement ring. I've found 10 stunning amethyst engagement rings which you are free to drool over! Not everyone wants a classic diamond solitaire. Some women prefer something more unique, which resonates with their personality more than a classic diamond.
If you find amethyst magical, mystical or just beautiful consider amethyst engagement ring ideas and see which style resonates with what you personally love. Amethyst is usually a purple color but you can also get a green variety which is even more unusual.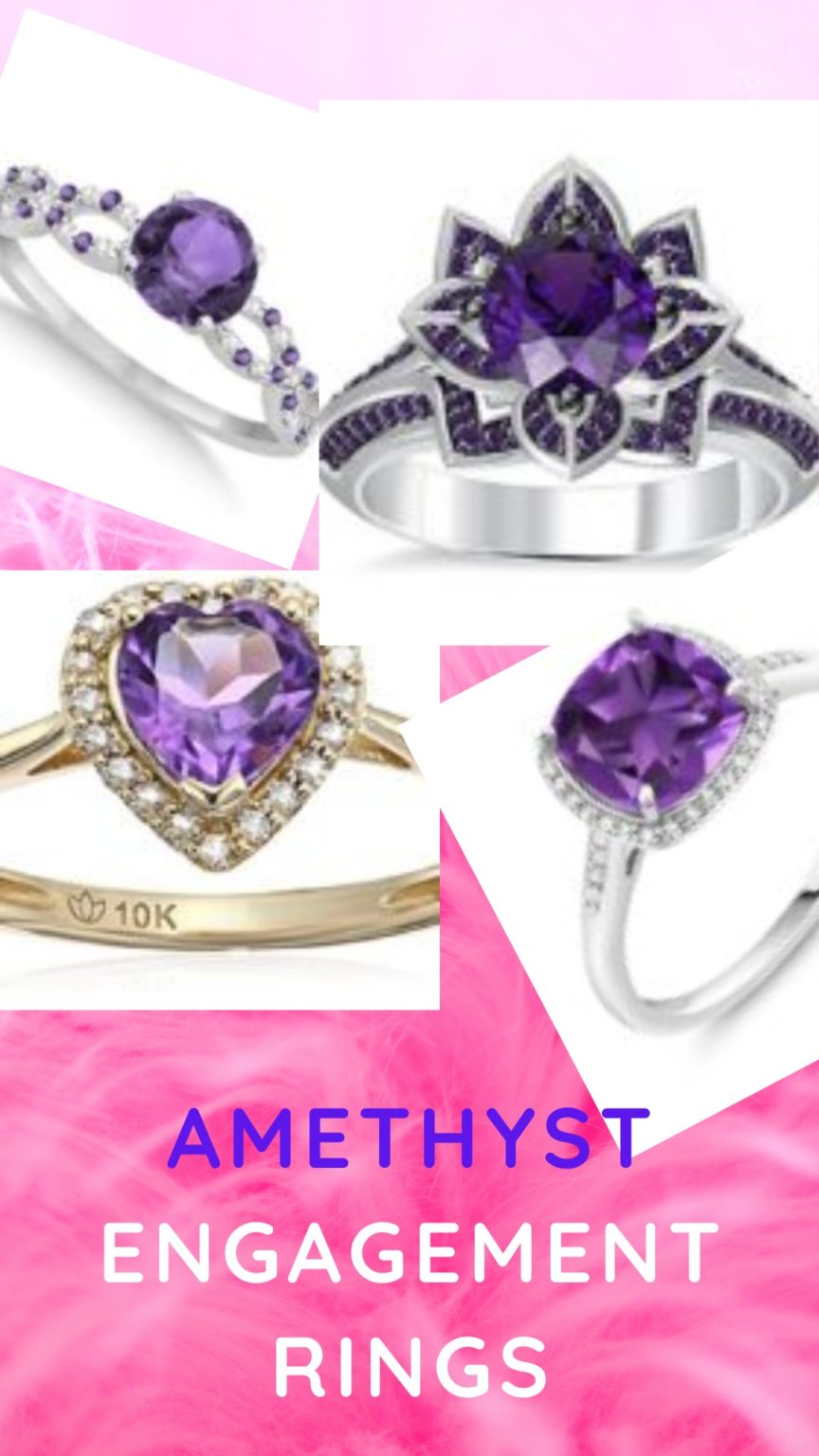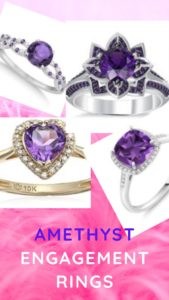 You can pair amethyst with white, yellow or rose gold, or even silver or another metal if you prefer that, choose from an amethyst solitaire or something else.
Many other semi-precious and precious gems pair nicely with amethyst and you can find all kinds of settings. There is literally something for everybody when it comes to amethyst engagement rings.
Why Amethyst is So Popular
Being drawn to amethyst is something a lot of us can appreciate, because this gorgeous purple stone is so beautiful. Choose an amethyst engagement ring and let this wonderful piece take pride of place on your finger.
Are you shopping for your potential fiancée? She can't fail to be flattered and pleased with this exquisite choice.
Amethyst and Diamond Halo Engagement Ring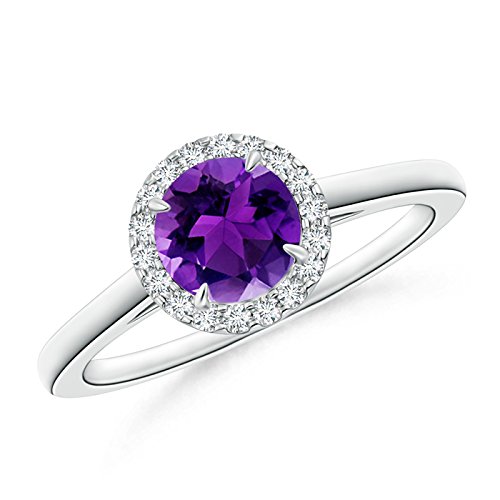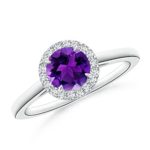 First of all, take a look at this beautiful ring. I like so many of them but this is the one I keep coming back to. This amethyst engagement ring is surrounded by a genuine diamond halo. This amethyst and diamond halo engagement ring would look beautiful on any finger and it suits all skin tones.
Made of platinum and boasting a 0.9 carat amethyst, this ring also has 18 sparkling diamonds around the main stone. This one would suit a woman with classic tastes. The diamonds showcase the beauty of the amethyst without detracting from the perfect beauty of the main stone.
Rose Gold Amethyst and Diamond Engagement Ring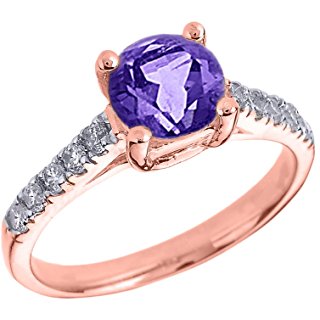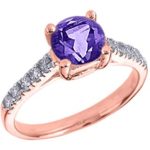 Whether you like rose gold, yellow gold or white gold amethyst engagement rings, this amethyst looks beautiful in any of them. You can choose any of those metals, but the rose gold is popular because it has a nice warmth to it. Along the 10 karat rose gold and 6.7mm amethyst, this ring has 5 natural round-cut diamonds on each shoulder.
Propose to the woman you love with this gorgeous rose gold amethyst and diamond engagement ring and she will be delighted to let this beauty grace her fourth finger. The diamonds along each shoulder number five per side and add a classic touch to this exquisite amethyst engagement ring. These are real diamonds too so you can expect a gorgeous sparkle with every movement of the finger.
Heart-Shaped Amethyst Engagement Ring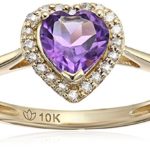 Express your love with a heart-shaped amethyst engagement ring. This is such a special choice. The heart-shaped amethyst is set in 10 karat gold and the stone is surrounded by 20 diamonds for ultimate bling and sparkle. How can you go wrong with a beautiful heart-shaped stone?
This particular model of ring is not only available in amethyst but you can get London topaz, aquamarine or chrome-diopside if you prefer something a little different. Each of those would be a beautiful choice, but there is just something extra special about the gorgeous purple color of amethyst. No wonder amethyst engagement rings are so sought after.
Simple White Gold Amethyst Ring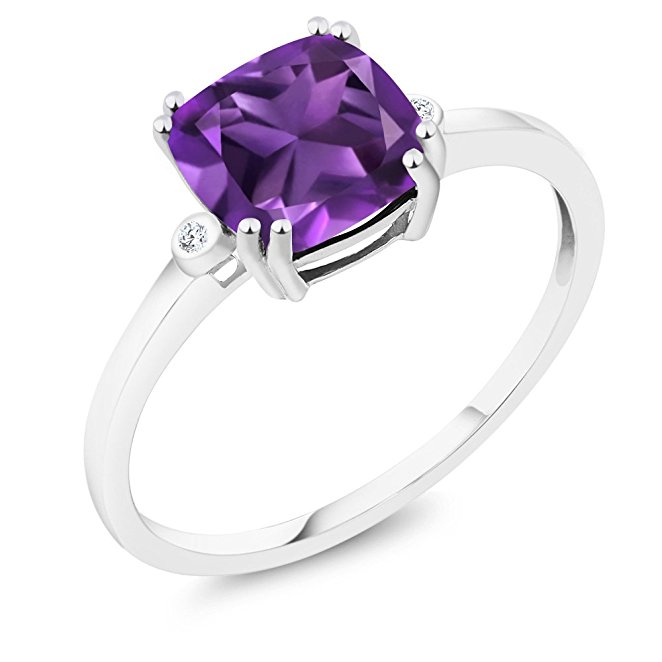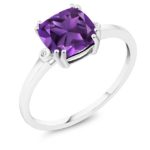 With a simple white gold amethyst ring, the eye is immediately drawn to the stunning stone. This sophisticated and elegant ring boasts a natural amethyst a little over 2 carats and a natural, untreated diamond on each side of the main stone. The stones are set in 10 karat white gold.
This ring would look beautiful worn on its own or on top of a simple white gold wedding band. The amethyst measures 8x8mm (just over 0.3-inch). You can choose from various styles of packaging depending on your taste, so you have everything you need to propose to your sweetheart with this beautiful white gold amethyst engagement ring.
Unusual Lotus Flower Engagement Ring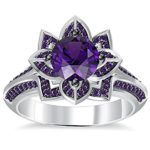 If you have a taste for the eye-catchingly unusual and you are looking for something a bit different, consider this beautiful lotus flower engagement ring. It's one of the best amethyst engagement rings of all. White gold is only one option. With this ring, you can choose from rose gold, yellow gold or black gold, depending on preference.
The 8 petals of this lotus surround the amethyst in the center. For such a reasonable price, this ring really is a steal. It looks far more expensive. Amethyst might be a semi-precious stone rather than a precious one. However, beauty is in the eye of the beholder. So, if you want something purple and gorgeous, look no further than this stunning example.
Pear Shaped Green Amethyst Ring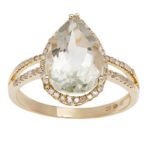 Did you know amethysts come in green as well as purple? Even though green ones are rarer, they are equally beautiful. The green is so light and delicate it makes a really stunning piece. Yes you can get amethyst engagement rings in green too! This pear shaped green engagement ring is really unusual. The teardrop can be worn point-up or point-down but point-up is perhaps the most classic option.
The total gem weight is 2.5 carats, made up of the green amethyst centerpiece and 62 tiny pave diamonds. The 12x8mm (almost 0.5 x 1/3-inch) amethyst sparkles in the light and really draws the eye. This February birthstone makes a really stunning jewelry piece and this ring is something that will make you smile every time you look at it.
Infinity Diamond Amethyst Engagement Ring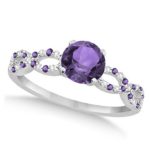 Pairing the classic and contemporary with the romantic and timelessly stylish, it's fair to say that this infinity diamond amethyst engagement ring is a real eye-catcher. The gorgeous center stone is framed with conflict-free diamonds and smaller amethysts, drawing the eye to the center jewel.
There are 21 diamonds and 21 amethysts on each side, set pave-style into the white gold band. This piece of jewelry is twisted in style and deliciously unique. White gold looks stunning on any skin tone and anyone who loves amethyst is sure to adore this wonderful piece of jewelry.
Amethyst Ruby Engagement Ring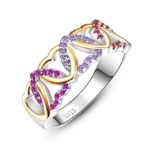 The beauty of amethyst pairs with stunning ruby and garnet to make this gorgeous ring which is also made with sterling silver and rhodium. The intertwining hearts in this amethyst ruby engagement ring are sweet and romantic and the design is beautiful. Using several different colors of stones on one ring is unusual too so if you're a fan of choosing something different over a classic ring, this one could be a real winner for you.
The heart-shape has long been a symbol of love and romance and this ring will fit beautifully over a traditional plain white gold or yellow gold wedding band. In fact you could also give this one as a promise ring or eternity ring. It's an unusual choice which is sure to flatter any finger. One of the prettiest amethyst engagement rings of all.
Classic Amethyst Halo Ring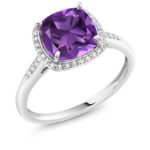 With engagement rings, many people opt for a classic choice. Now that doesn't always mean a diamond solitaire. These days there is more choice than ever when it comes to not only stones but settings and styles. This classic amethyst halo ring is truly stylish. Classic and timeless too.
The elegant ring, which is sophisticated and beautiful for any finger, is made in 10 karat white gold. The amethyst is a a cushion shape, and there is a total of 36 beautiful diamonds to showcase and frame the stunning amethyst. The diamonds are natural and untreated. The amethyst is also natural – not true of all amethyst engagement rings. This ring is so pretty and full of sparkle. Wave it under the sunlight or artificial lights and you will be dazzled by the sparkle it offers.
Amethyst Blue Diamond Ring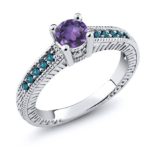 Unusual it is, beautiful it is, boring it is not! This amethyst ring pairs the gorgeous amethyst stone with blue diamonds. It is a stylish ring everyone is going to remark on. Sterling silver supports a natural amethyst as well as 10 natural round-cut blue diamonds. This amethyst blue diamond ring emphasizes individuality and a strong sense of style. A splash of bright color looks beautiful on any finger, as does sparkling bright sterling silver which is as durable as it is attractive.
This ring will sit flush against a white gold wedding band and/or a white gold eternity band, without any spaces between the rings. The fact it pairs romantic amethyst with unusual blue diamonds means it is really eye-catching and will look amazing on any finger.
Top 10 Amazing Facts about Amethyst