Bathroom furniture can ensure that your bathroom looks and feels amazing, regardless of the size or style of the room. Many people overlook how vital the furniture is for this room, and it is often left to the last minute to choose. However, if you take the time and effort to select the correct items for your bathroom, you can make it feel incredible and inviting.
There are several different pieces of bathroom furniture to choose from so you need to consider your needs and what you want the pieces to do for your room. You need to decide if you want fitted furniture, or pieces that can be moved easily. Both have advantages and will often depend on the size of your bathroom.
Mounting the furniture directly to the wall will ensure that it is safe and secure although it will provide no room for adjustment in the future. Therefore, cabinets which move are often preferred, allowing you to move them as and when you need to in the bathroom.
The most commonly piece of bathroom furniture is the vanity unit, which are available in several different styles, colors and sizes.
Materials for your Bathroom Furniture
You will need to remember that no matter how careful you are in the bathroom, everything is likely to get wet.
That means you must ensure you choose furniture that is waterproof, and can withstand wet conditions. The most popular choices for bathrooms are cast metal and wood. Both of these are hard-wearing and look beautiful.
Cherry Cinnamon Finish Floor Cabinet, on Amazon
Choosing the Style and Design
Stylish pieces of bathroom furniture are available in both materials, and you will never struggle to find practical, affordable pieces to use in your bathroom. Bathroom cabinets are ideal to keep all of the practical items tucked away out of sight. These can be wall-mounted or free standing, ensuring that nothing has to be left out.
If you live alone and have very few items in your bathroom, the pieces of furniture that you choose can be stylish and basic. The need for storage will be less so you can show your flair for design and choose items which are contemporary.
Practicality Often Wins
Storage is often an issue in the bathroom as there are so many items to use whilst in this room. Towels, toiletries, cleaning materials, and medicines will all need to be stored.
Keeping your bathroom clutter free is possible with the right bathroom furniture.
Space Saver in Dark Wood, on Amazon
Many people will choose practicality over style, which is why vanity units work so well in bathrooms. They are considered by some people to be old-fashioned but are ideal to store all of your bathroom essentials within the unit. Families benefit the most from this style of furniture, as everything can be stored safely and away from small children.
Other Features to Consider
Many pieces of bathroom furniture will have illuminated mirrors and built in lights, which will need a power supply to operate. So you need to consider this when choosing the different furniture for your bathroom.
Before purchasing the furniture, you will need to see if this is possible, or the added features may be pointless. Pre-built items are also better than units that need to be assembled, especially if you are not very practical or do not like DIY much.
Retro Bathroom Accessories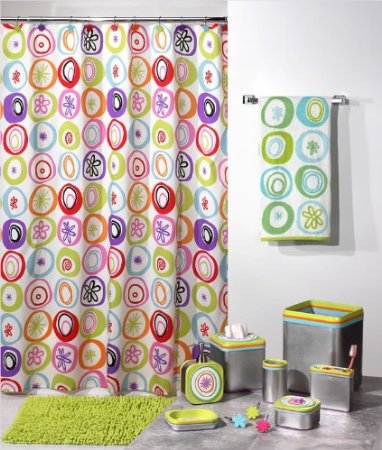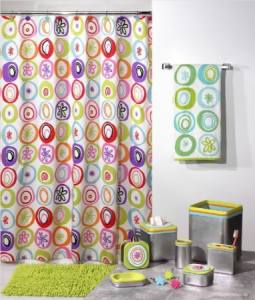 It is nice to make the bathroom a cosy as well as functional room and you can do that by adding your own style to it. A retro style bathroom, or vintage style bathroom, is a very popular decorating choice at the moment.
Adding vintage items to your existing bathroom decor is a great way of doing this if you are on a budget. Retro bathroom accessories come in many different styles and time periods.
Then you can change the wall color, curtains or blinds, bathroom accessories, furniture and flooring as you go.
Whether you want red & cream vintage style bathroom accessories, retro shower accessories or something else, there are some great retro kitchen and vintage bathroom bargains around these days.
Retro 1960s Style Shower Curtain, on Amazon
Pink Bathroom Accessories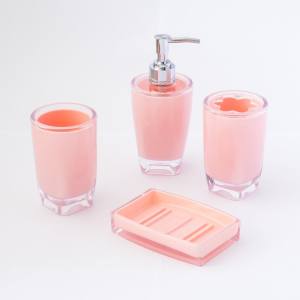 Pink is a pretty color to use in the bathroom and pink bathroom accessories in all different shades are very popular at the moment.
You can choose from bright pink, pale pink and lots of other shades, either staying with one or combining different tones of pink in your cute and romantic bathroom decor.
Pink bathroom accessories can add a pretty accent to a white, cream or another neutral-color bathroom. Pink bathroom items include pink toilet seats, pink toilet roll holders, pink bathmats, pink retro bathroom goods and lots more.
Pretty Pink Bathroom Set, on Amazon
Red Bathroom Accessories
Red is a warm, vibrant and fun color and red bathroom accessories are very popular at the moment. Red bathroom items can liven up a white or cream bathroom and add a colorful accent to another neutral-color room. Red bathroom accessories include red bathmats, red toilet seats, red shower heads and much more.