Bathrooms are an essential part of every home, and they can be as modern or traditional as you desire. Every element of the bathroom can suit your taste and needs, ensuring that this room in your home is perfect. There are different types of bath tubs to choose from you can get the result you really want.
There are essential items which all bathrooms need, including a sink, toilet, and shower or bath. If you are fortunate enough to have a large bathroom you can have both.
Many people cannot live without their bath tub, and some will spend hours relaxing and soaking away their stresses after deciding which of the types of bath tubs is best for your needs.
Choosing the perfect bath is essential – something which will be practical, stylish, large enough, and affordable.
You will need to decide on your budget for the bath tub, as there is a huge array of different styles and materials to choose from and lots of types of bath tubs, some of which might work better than others in your bathroom. You should look at the other fixtures in your bathroom, and decide whether you want the bath tub to match or be unique.
You can choose between modern and stylish, or traditional and antique for your bath tub, and all of them have different advantages and benefits. Some people prefer one while others prefer another style, or even prefer to mix and match for a quirky look.
Modern and Contemporary Types of Bath Tubs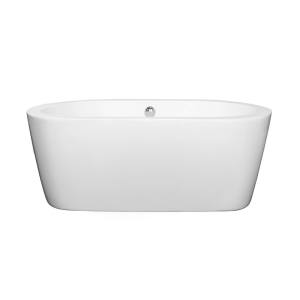 Modern bath tubs can create the ultimate wow factor in any bathroom but you do need to consider the impact that you want to make.
Many of the modern styles are made from acrylic or plastic which are very affordable. This style of bath is lightweight and easy to put in place, making it ideal for the DIY enthusiast.
Mermaid Freestanding Bathtub, on Amazon
Circular bath tubs are very fashionable but you will need to ensure that you have enough room for this style to fit comfortably. This is one of the most special types of bath tubs.
You may also want to be different with the material for the bath, and marble is an excellent choice if you want luxury. This fantastic material is expensive but it will make your bathroom look really elegant.
Types of Bath Tubs: Traditional Older Styles
Victorian bath tubs are coming back into fashion, and more people than ever before want a traditional roll top bath. However, this style of bath would have been made from steel or cast iron which are incredibly heavy. Therefore, you need to consider how you will move the bath tub, and if the floor can support the weight.
Antique cast iron bath tubs can be found and restored; however, they are rather on the expensive side. You need to consider having a replica antique bath tub, which will save you money. If you want a traditional, older style bath tub, you will need to ensure that the decoration in your bathroom matches this style. There are not many types of bath tubs which would look quite as beautiful in an older house.
Saving Space and Money
If both your budget and bathroom are small, but you want a bath tub, there are options for you to choose. Space saving bath tubs are an excellent idea, and are becoming popular with people who have small bathrooms. The design of the bath tub will ensure that very little floor space is used, and you still have the benefits of a bath.
Regular bath tubs might seem boring but they are now available in several different designs, shapes, and colours to match your taste. There are several different lengths available, ensuring that regardless of how tall you are, you will find the ideal bath.
Types of Bath Tubs: Beautiful Bath Taps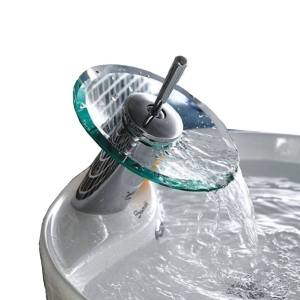 Bathrooms are the perfect place to unwind at the end of a long day, and having the perfect bath and accessories can make a huge difference.
The space that you have available will determine the overall size and style of the bath; however, there is a huge array of different options. Regardless of your budget, you will be able to create the ultimate area of tranquility.
Gorgeous Modern Waterfall Tap, on Amazon
You may not have considered the importance of the taps in your bathroom but they can make a huge difference. Taking the time to choose the perfect taps for the bathroom will ensure that every element looks amazing. The bath and taps will be a focal point of the room, and is often the first thing that people see.
There are several different factors which you need to consider when selecting the ideal taps, which include style, durability, price and ease of use. Modern, stylish taps are fantastic although they can be complicated to operate, and are not ideal for small children. Therefore, traditional designs are better suited to families.
Setting Your Budget and Buying Quality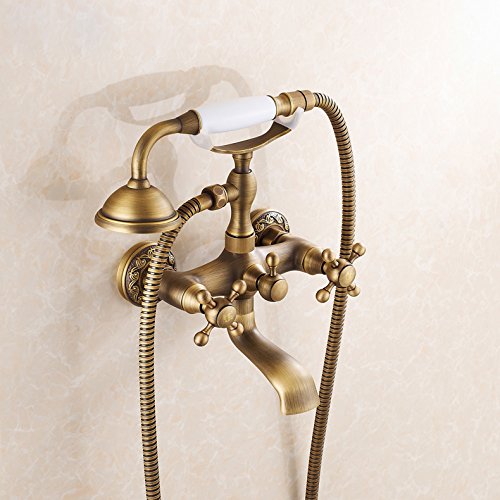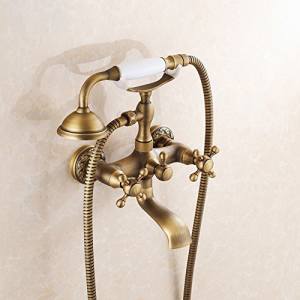 So now you know what types of bath tubs you like, consider taps. Top quality taps will last far longer than cheap varieties, and you need to consider this when setting your budget.
Cheap taps may seem like a good idea, but in a short space of time you will notice that they are tarnished and will need replacing. Be realistic regarding your budget though, and ensure that you spend as much as you can afford on the taps.
Choosing the right bath and taps can be a daunting prospect but if you consider the style and decoration throughout your bathroom, you will find inspiration.
If the other fixtures within the room are traditional, you may not want modern taps. The style of the bath will often determine the style of the taps, which are used.
Vintage Style Brass Mixer Tap, on Amazon
Both single and double taps have advantages, and you need to decide, which variety you prefer to have in your bathroom. Single handed taps provide a more sleek design and are often seen in modern bathrooms. There are several different styles, and designs for these taps, however, they do not offer as much water control.
Traditional or Contemporary
Young children will often struggle with a single tap so having a separate hot and cold option is often considered to be better. When searching for a traditional feel to your bathroom, you may want to consider lever and cross head taps. Both of these designs are excellent and will provide you with a Victorian inspiration.
These designs are perfect for classic bathroom styles and will look fantastic with your bath. If you want a more contemporary feel to your taps, pillar and mono-basin and bath tubs are stylish. These taps will provide a minimalist appearance to your bathroom, and ensure that you create a sleek room.