Ideas for Witty Halloween Costumes
Funny Halloween costumes may seem a strange choice but they can often make the biggest impact at the party. Not everyone wants to be a regular zombie or ghost, so maybe you are looking out for the best Halloween costumes to wow everyone on this special night.
Therefore, choosing a costume which is amusing will ensure that you represent your personality, and dress up as something different this year. Not only will you get a laugh for your clever costume, but also for turning up as something totally unexpected at the Halloween event you are going to.
Thinking out of the Box and Appealing to Everyone
You have to remember that not everyone will share your sense of humor, although there are some costumes which create a smile every time they are worn.
If you are a person who everyone knows will do something creative with their outfit, you might not have to do much. With some imagination and creativity, you can create the ultimate costume to make people smile and laugh with you.
More Hilarious Ideas for the Best Halloween Costumes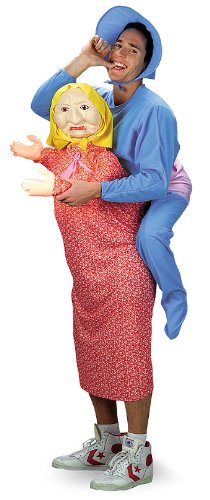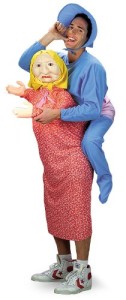 Double occupancy costumes, or humorous outfits for couples, are becoming incredibly popular, and are guaranteed to make everyone smile. You will need to ensure that you are ready for some strange looks when you enter the party, dresses in this.
The prop limbs wig and blankets will ensure that everyone thinks you have decided to carry out your bedroom gymnastics in public.
This 'I Don't Want to Grow Up' costume is really funny. At first it might look like a double occupancy costume but it isn't, it's a costume for one, and on closer inspection you can see how it works.
This is sure to get not only a second glance but also a lot of laughs. A woman could wear this costume but it's even funnier on a man. Consider this if you want something funny this Halloween rather than something scary, because it really is a funny choice!
I Don't Want to Grow Up Costume, on Amazon
Traditional Funny Costumes
Clowns are always featured at every party, regardless of the event, and there are several funny costumes to choose from. If you want to adapt your clown disguise, you can turn it into a scary clown, but that might not be as funny. You could easily have the whole family dressed as clowns with over sized feet, and huge colorful wigs.
Hot dog and hamburger costumes are another popular idea which is guaranteed to make you smile.
There are both adult and children's versions available, and for the added comical value, you could have your children dress as the ketchup or mustard bottle. These costumes are never taken seriously but for sure they will ensure that everyone has a giggle.
Holier Than Thou Nun

Want to dress as a nun at Halloween? I've looked through all the nun costumes on Amazon and this one gets the highest ratings and the best reviews!
This nun costume always gets fantastic ratings. People love it! This is not a super-cheaply made outfit which will fall apart on its first wearing. Oh no, this is going to keep for years, which is great because you'll want to wear it for every costume party, not just at Halloween! Not only is it fun but it's very authentic looking.
Whether you want to act as a comedy nun and make everyone laugh or pretend to be serious, which can be even funnier, the choice is yours. This is a versatile costume because although it's great for Halloween it could also be worn at a fancy dress party, and any member of the family can wear it and look great.
Holier Than Thou Nun Costume, on Amazon
Men's Adult-Massive Mobster Costume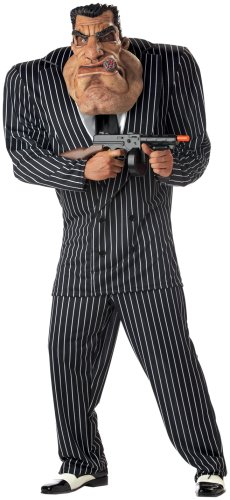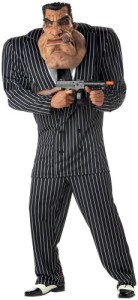 This mobster costume is hilarious. Look at the big, scary face, the typical mobster suit, it's brilliant for any fancy dress party.
Everyone is going to want their picture taken with you when you wear this fantastic mobster costume to your Halloween party! You get the mask, jacket, tie and inflatable shoulder pads, to make you look like a real gangster. All you need to do is practice your "you talkin' to me" type accent and you're good to go!
This will bring to mind your favorite mafia movie and remind everyone else of theirs, and every part of this costume is oversized and hilarious. You might have to turn sideways to get those huge shoulders through the doorframe but what does that matter, because once you are in the room you are going to have all eyes on you and create a real stir and plenty of mirth of course!
Mobster Costume, on Amazon
Disguise Bushman Boys' Costume
This one is really perfect for the youngest member of the family. After all, Halloween is extra fun for the little ones, right?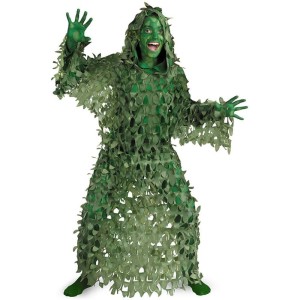 Not only is this a fantastic and funny costume for Halloween but it also allows your child to blend into the bushes by your house. One of the best Halloween costumes if you want something totally different.
When someone comes up the driveway, be it trick-or-treaters or a guests for your Halloween party, they won't notice your child until he/she leaps out of the bushes. Expect screams. Lots of screams! And this makes an unusual party or Christmas outfit as well.
Bushman Boys' Costume, on Amazon
Womens Lost Puppy Humorous Costume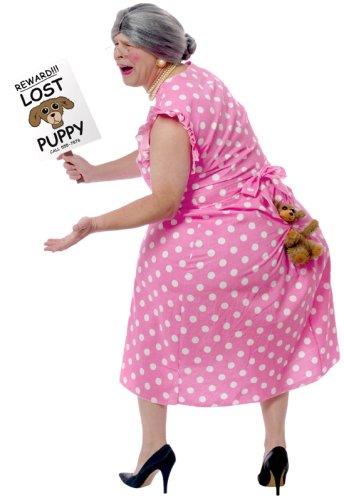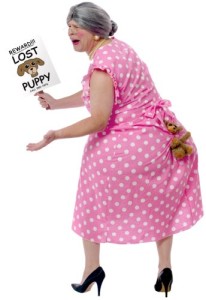 This never fails to cause mirth, and if you are looking for the best funny costume for Halloween, do seriously consider this one. The lost puppy joke picture is known by almost everyone, thanks to the world wide web and how much we love to share these things, but few people have ever seen this costume before.
This is hilarious! The overweight woman has lost her dog but in fact she's sat on the poor thing.
This is a great pregnancy costume, so if you are expecting, you can wear this costume over the top comfortable rather than trying to fit into a smaller one. Buy a gray wig with curlers to go with the costume and apply 'old lady makeup' (maybe fake wrinkles too). This is definitely going to get a huge laugh!
Lost Puppy Costume, on Amazon
Nerd Costume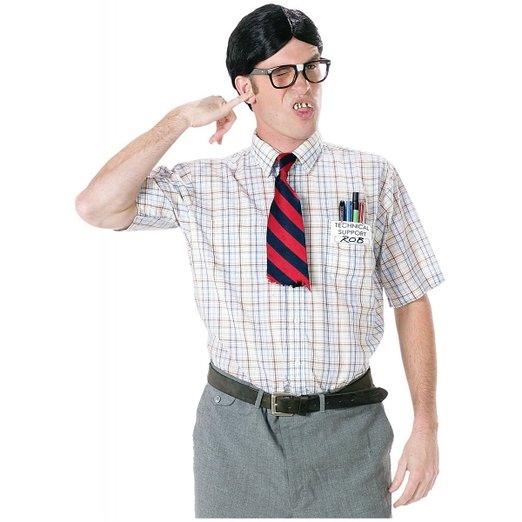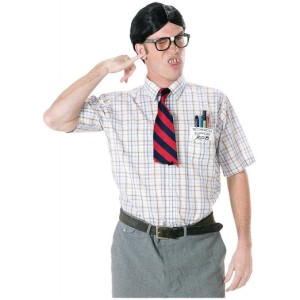 Not sure what to dress up as this Halloween for your Halloween party? What about going as a nerd! This is a funny costume and you aren't going to beat the price! Bring out your inner nerd at Halloween this year.
This makes a funny costume and you will get a wig, buck teeth and taped glasses, as well as a tie which has been through the paper shredder and a pocket protractor.
This could be reused outside of Halloween, perhaps as office fancy dress. Nobody else is going to be dressed as a geeky nerd, so why not grab this costume!
Funny Nerd Costume, on Amazon
Choosing the Best Scary Halloween Costumes for Boys
Scary Halloween costumes for boys are easy to find, with a huge array of different options regardless of your needs or budget. Halloween continues to be one of the most popular holidays for all ages, and children love dressing up and being part of the fun.
The costumes available are becoming scarier, and will ensure that your child makes a statement on the night.
Easy Costumes for Boys for Halloween
Get some fake blood and a basic costume (or all-black clothes) and you can make a great costume for your little one in less than 10 minutes. If you are really on a budget, just pick up some fake blood or a scary mask. There is no need to spend a fortune on something your son is only going to wear once and then grow out of.
However, shopping for a costume for Halloween for your son is going to be a lot of fun, so consider having a look online to see if anything jumps out at you!
Consider the Child's Age when Costume Shopping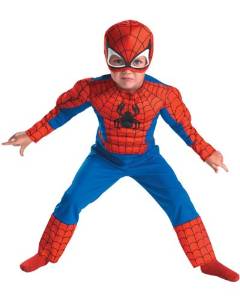 Age appropriate costumes are essential for Halloween, as there are some incredible gruesome options for you to choose. You have to understand that what a child may think is scary; a teenager may consider it to be far too boring. Younger children will also fidget more than older boys; therefore, the costume needs to be comfortable, and not too much effort.
Spiderman Costume, on Amazon
Appealing Horror Costumes for All Boys
There is something incredibly appealing to boys about scary costumes, and Halloween provides the perfect occasion for imaginations to run wild. Whether the scary Halloween costumes for boys represent zombies, vampires, spooky pirates or ghosts, there will be a costume for everyone. Some boys like to dress up as their favorite scary character, which is a perfect costume idea. So if you have no idea what kind of costume to get ask your boys and they will probably have all kinds of ideas!
Villains and Bad Guys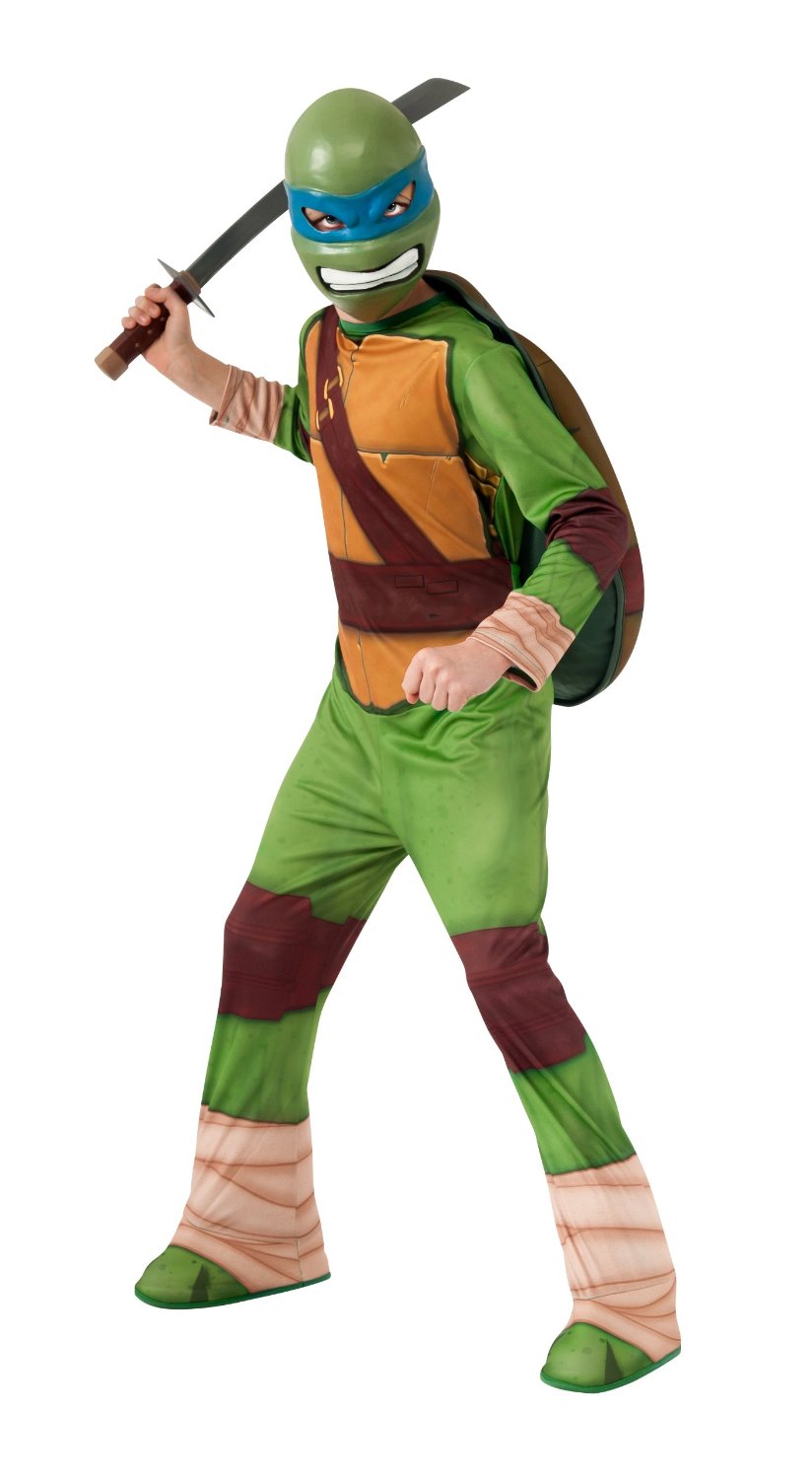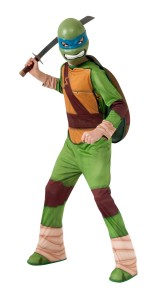 The latest TV shows and movies are often the inspiration behind the costumes, and there are several options for you to choose.
Some costumes will take very little effort or money, and often boys are happy with these ideas. However, some boys want to recreate their favorite characters, including the Ghost Rider, Freddy Kruger, and Zombie football players.
Super heroes and pirates can be transformed into scary alternatives, and your child will love the makeup and accessories. Every part of the scary Halloween costumes for boys can be created with a low budget and some imagination.
You do not need to spend a huge amount on the costume for your child to look incredible, and feel scary for the night.
Mutant Ninja Turtle Costume, on Amazon