Look at these amazing pink diamond rings. Every lady loves diamonds. They are a girl's best friend after all. But pink ones can be truly stunning, and they are really popular at the moment, especially in celebrity circles.
Have you seen a real pink diamond? These stones are incredible. You can get real, lab-created or imitation pink diamonds of varying qualities. So pick something which fits not only your style but your budget.
Different Options for Different Budgets
You can get a pink 'diamond-like' CZ ring for $20 or a high quality genuine one for $10,000. It depends how much you are willing to spend on pink diamond rings.
Of course there is plenty of choice in between these figures too. You don't have to get something which looks cheap, nor do you have to get a second mortgage.
These gems make a pretty alternative to the regular colorless ones and they also have special significance, since pink is the color of love and romance, and wearing it can make a girl feel very special indeed.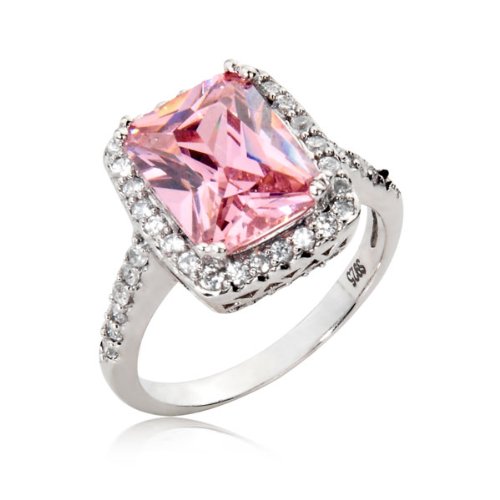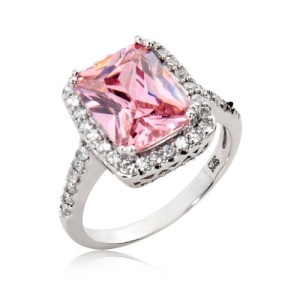 Buying an engagement ring online works out much better value than going to a jewelry store where the prices are always inflated.
Take a look at some of the incredible pink diamond rings available, comparing delicate pale pink with vivid pink, and every shade between, decide between zirconia and real diamond.
Consider silver, white gold and yellow gold, to find the ring which speaks to your heart.
Budget Sterling Silver Pink Diamond Ring – Under $13 on Amazon
Resizing a Ring
It is very easy to resize one to make it larger or smaller, so if you get the size wrong it doesn't matter too much. Believe me, mine was 3 sizes too large (bless my husband who guessed the size) and it was very simple and quick to make it smaller.
Pink Diamond Rings: Such a Romantic Choice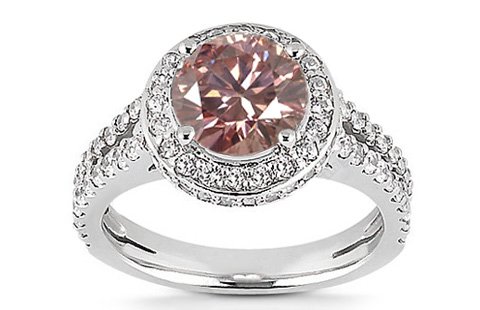 These are all different but all very beautiful. Any girl would love one of these and a colored stone really does make a statement. This is the color of romance and the hardest stone is the stone of eternity.
Nothing says I love you like this type of jewelry. Choose from the palest pink to the most intense deep shade. Anything is possible.
This is the color of romance and diamond is the stone of forever. Combine the two for a magical gift she will love.
1.50 Carat Round Certified 14 Karat White Gold Pink Diamond Engagement Ring, on Amazon
7 Carat Emerald Cut Pink Austria Crystal Ring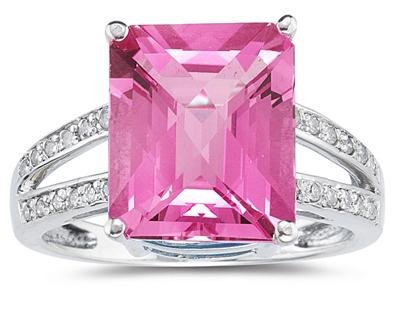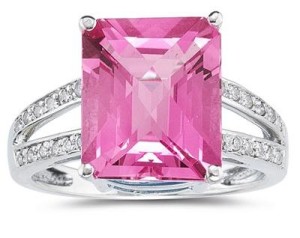 This one boasts a 7 carat pink crystal as well as beautiful stones on a double band. Choose any ring size from 5 to 10.5.
The precious stones are set in a 10 karat silver colored band to show off the brilliance of the center stone plus each of the beautiful little diamonds.
The center stone measures 12 x 10 mm and is so eye-catching.
Pink crystals are hard and beautiful, and offer the wonderful look of a pink diamond but at a much reduced cost. So if you are considering a pink diamond ring, consider an alternative as your center stone surrounded by diamonds, and you will be able to get something with the bling factor but still within your budget.
7 Carat Emerald-Cut Pink Topaz Diamond Ring, on Amazon
1.50 Ct Round 18K White Gold Pink Diamond Engagement Ring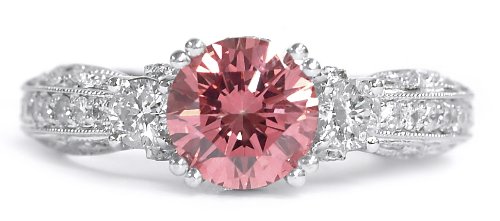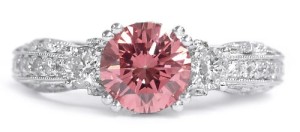 This one is really stunning, and boasts 100% natural stones. It is proudly made in the USA and has a 1.50 carat pink diamond in the center, and numerous other diamonds around the band.
This offers a very classy look, and if having genuine, natural stones is more important than larger, blinging but maybe artificial ones, invest in this elegant piece and win her heart.
No woman is going to say no to pink diamond rings which look like this. If you are still wanting other options though, take a look at these stunning amethyst engagement rings too, so you have more to choose from.
1.50 Carat Round Pink Diamond Ring, on Amazon