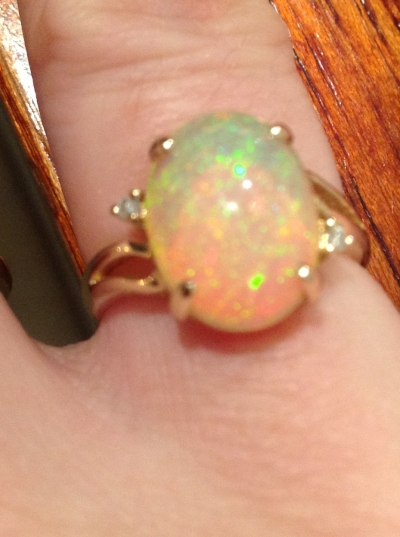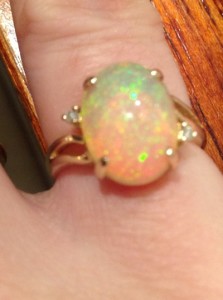 Opals are a magical stone and no other stone looks like them. The fire in an opal is truly amazing and setting an opal on a silver or gold ring showcases the stone's beauty to perfection. I love large opal rings and can't get enough of their gorgeous fire.
Do you already have an opal ring or are you just curious about the different types of opals or the different opal ring settings you can choose from?
Because, really, there are lots of large opal rings to choose from, and you are going to be spoilt for choice. I was, when I was shopping for mine.
I have gathered together lots of different opal rings all in one place so you can take your pick of the rings and do some investigation into prices and styles. There is something for every budget and taste.
Pictured: the Opal Ring I Bought on eBay
An Opal is Timeless and Elegant
A beautiful opal ring will last many years and draw glances of admiration from everyone who sees it sparkling on your finger, catching the light and throwing off green, red, pink, yellow, orange, turquoise and purple lights, as well as other colors and hues. There are large opal rings for everyone.
My First Encounter with Opals
I first fell in love with this stone when I visited Coober Pedy in Australia and went 'noodling' which means digging through the piles of rubble left over from opal miners in case they missed anything.
I found a couple of pieces (which I sold to pay for the next leg of my trip!) although the 120 degree heat makes it very hard work! People in Coober Pedy actually live underground because it's so hot there! The colors you see in a genuine, natural opal are like nothing else on Earth.
18K Yellow Gold Huge Opal Ring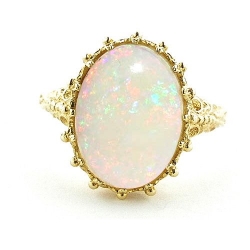 If you are looking for the highest quality gold with the highest quality opal, this ring is jaw-droppingly beautiful and you will appreciate its perfection. This is one of the most stunning large opal rings.
The opal itself is colorful and fiery. Measuring 16 x 12 mm (0.64 x 0.49 inches) it is set in an 18 karat gold band.
Choose your size from 5 – 12 (L to Z) and get a perfect fit. Any lover of opals is going to be bowled over by the beauty of this incredible piece. Because every opal is slightly different in terms of colors and designs, your piece will be absolutely unique.
Large Opal Ring Set in Yellow Gold, on Amazon
14k White Gold Opal Ring with Diamonds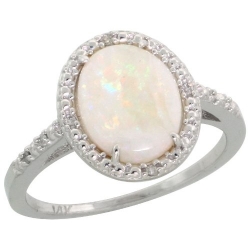 This stunning ring is crafted from solid 14kt gold and it includes a real opal as well as genuine diamonds (not blood diamonds).
This ring is available in a variety of sizes between 5.5 and 8.5 (other sizes can be made for a small additional fee) and the price is very reasonable because the quality is so high.
Treat yourself to this breathtaking opal ring or buy it for a loved one. Opal is a beautiful and magical stone and this really is going to look magnificent on any finger regardless of which large opal rings you especially love.
White Gold Opal Ring with Diamonds, on Amazon
Big Opal Ring Set in Solid Sterling Silver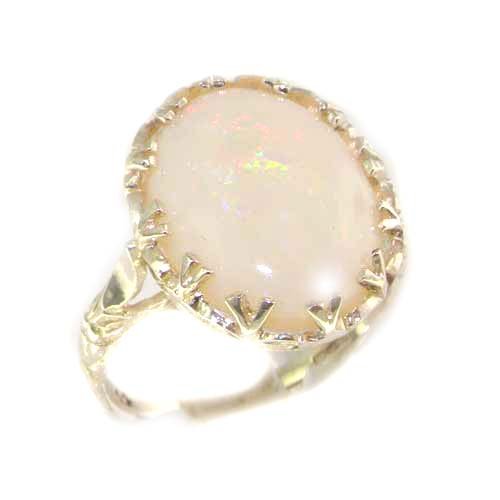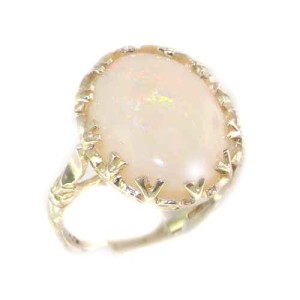 This stunning ring is created in the Victorian style and it has been hallmarked 925 in London, England, for being sterling silver.
The single huge opal measures 16 x 12 mm (0.64 x 0.48 inches) and the opal is 4.5 carats.
The ring has beautifully carved shoulders which complement the stunning opal. The shank is thick and heavy to ensure the opal is held securely.
This ring weighs 5 grams. This opal has made its way from the opal mines in Australia to England and finally to your finger, where it is going to look incredible. This is one of the cutest large opal rings and a real steal.
Big Opal Ring in Sterling Silver, on Amazon
How Opals are Formed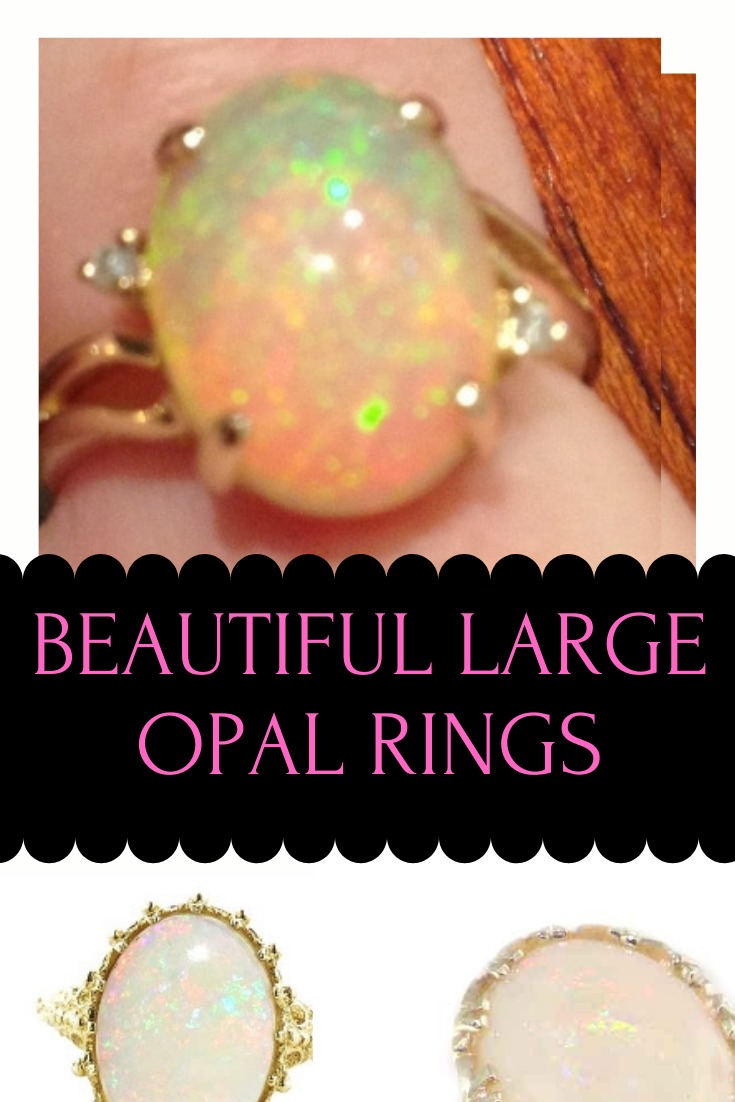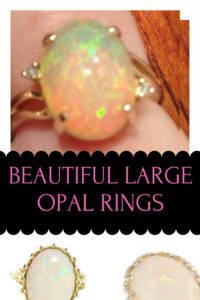 Have you ever wondered just how opals are made, and how come they have all those amazing colors in them? These stones are formed from a solution of water and silicon dioxide.
Water runs through the Earth and on its way down it picks up the silica from sandstone and carries it into voids and cracks, which are there from decomposing fossils or natural faults. The water evaporates over time, leaving a deposit of silica behind.
Over long periods of time this cycle repeats and repeats, and finally a beautiful opal is formed. Every opal is unique; no two are the same.
Take your time when choosing large opal rings. Do you want the stone mounted on silver, white gold or yellow gold? Do you want a large opal ring or a medium one? Are you looking for just opals or some diamonds too?
Choose the style of ring which grabs your imagination and heart.