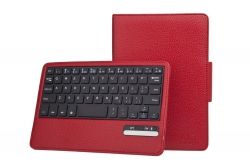 See all the best keyboard cases for iPad Mini and pick out your favorite. There are iPad Mini cases with keyboard for every taste and budget, no matter whether you want a cute pink one, a handy one which doubles as a padded case, something neat for work, or something else.
The iPad Mini is the newest Apple product on the market but there are already plenty of cool accessories for it. If you have one of these tablets already then you will want a cover to keep it safe and a keyboard to make typing speedier.
Touch typing on the screen is time-consuming because it is usually one-fingered unless you have mastered the art of typing quicker on there, but it is never going to be as quick as using a keyboard. That's why I wanted to look at iPad Mini cases with keyboard for myself and compare them, because they are so much quicker to use!
Many keyboards fold up to enclose the iPad Mini so you get the advantage of a protective case, not just the convenience of a keyboard for it.
Choose from Many iPad Mini Cases with Keyboard Designs
Choose from any color, texture, fabric or style. You can get pretty much anything. Perhaps you fancy a cheap iPad Mini case or something bright-colored. You can also get ones for tweens and teens to express their individuality.
Are you lucky enough to have an iPad Mini or are you just investigating what there is available? In either case, you are sure to love the range of the best iPad Mini cases and covers on the market.
Why Get an iPad Mini Keyboard
Although you can type on the screen of an iPad Mini, or even on a regular iPad, using a keyboard makes the process quicker. It is like comparing typing on your phone to your full-size PC keyboard. Of course the keyboard is speedier and easier.
You can get iPad Mini cases with keyboards in them so simply open the case and your tablet is all ready to use, with the keyboard or simply just using the screen. Some have removable keyboards and others have them built in, so weigh up the pros and cons of both kinds and decide which would suit you.
QQ-Tech® Removable Wireless Bluetooth Keyboard Case/Stand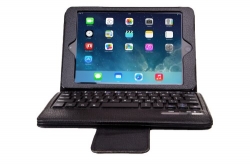 Do you prefer black, white, brown or red? Choose from your favorite color and personalize your iPad Mini with this fantastic iPad Mini keyboard case. The keyboard itself is made from ABS material instead of the cheap silicon you often find on inferior keyboards.
You have hands-free viewing for an easier typing experience and the keyboard can be used 30 feet away from the iPad if you want. This is one of the best selling iPad Mini cases with keyboard.
QQ-Tech Wireless Keyboard for iPad Mini, on Amazon
The leather case offers really safe protection for your valuable iPad Mini and this one offers real laptop-style keys on the keyboard. The manufacturers offer you a 30-day money back guarantee because they are so sure you will love this.
Hot Pink Flip Stand Cover Case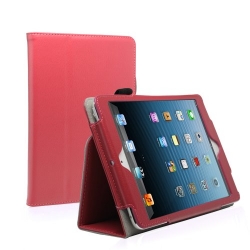 Although it also comes in black, blue or purple, pink has to be the color of choice when it comes to cute, girly iPad Mini cases, and this one is hot pink!
This one currently has 7 high ratings and no low ones at all, which means everyone who has ordered it so far is delighted with the way it looks and functions.
This is made for the iPad Mini and it is made from top quality PU leather with microfiber inside.
The cut-offs are accurate so you can access all the buttons and controls without any issue. One of my favorite iPad Mini cases with keyboard.
Use the case as a protective cover or flip it to make a horizontal viewing stand which is good for watching movies. You get a smart holder with this too, which will hold a stylus.
Hot Pink iPad Mini Case, on Amazon
Baby Pink Folio Leather Case With Free Black Stylus & Wristband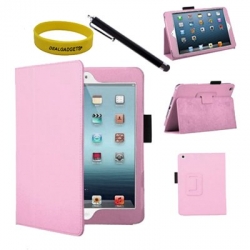 This also comes in deep pink but there is something very cute about this baby pink shade!
This high quality cover is a safe way to carry around your iPad Mini without damaging it and it can be used as a cover or as a stand.
This gets high reviews and is wonderful value for money. As well as the case itself you also get a stylus and a wristband.
Whether you are shopping for a light pink iPad Mini case for yourself or for a gift, this one is highly recommended and it is one of the best iPad Mini cases with keyboard.
Cute Baby Pink iPad Mini Case, on Amazon
Sparkly iPad Mini Case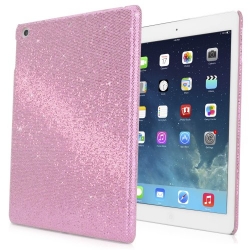 This sparkly iPad Mini case comes in baby pink (my favorite!) or deep pink, or even black or blue. Whichever color you prefer, they are all sparkly and cute.
The case snaps on to the back of your iPad Mini, protecting it from scratches. It is lightweight yet robust, and has cutouts so you can use the buttons and controls without any problems. The design shimmers and glitters.
You might want to team this with a see-through screen protector on the front although I've not used one on my iPad since I got it and it's not scratched. This is a real bargain and the price is pretty much unbeatable. This sparkly iPad Mini cover makes a great stocking stuffer for a girly girl.
Sparkly Princess Pink iPad Mini Case, on Amazon
Kamor iPad Mini Case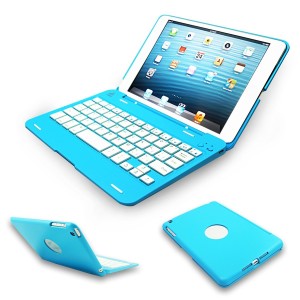 This wireless Bluetooth 3.0 keyboard will fit your 7.9 inch iPad Mini perfectly, and you can choose from a variety of gorgeous colors.
The built-in rechargeable polymer lithium battery lasts for about 55 hours per charge, and this case holds your iPad Mini in the perfect position for comfortable typing.
So if you want to write emails and messages on the go, you will find it quick and easy.
This dust-proof, water-resistant iPad Mini cover is lightweight and stylish, and will keep your iPad Mini safe and looking great. I like the color choices with these iPad Mini cases with keyboard.
If you do not need this for yourself, how about buying it for an iPad Mini user as a gift? This makes a gorgeous gift and your friend will be able to keep their iPad Mini safe and typing on it will be a breeze.
Kamor Keyboard iPad Mini Cover, on Amazon
ZAGG Professional iPad Mini Keyboad Case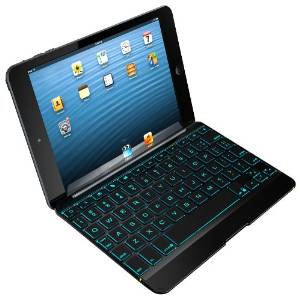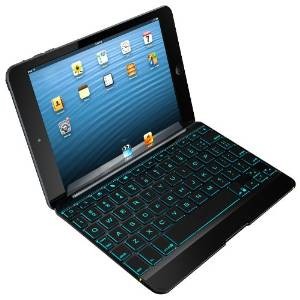 This is a fantastic choice if you want a professional, well-designed case for your iPad Mini.
The special hinge allows you to look at the screen in practically any angle like with a laptop, while the unique design means you can find a comfortable reading mode.
This cover is less than 1/4 inch thin so it does not add much weight or bulk.
You can get up to 3 months of use between battery charges, and the backlit keys make typing easy even with low light conditions.
The island keys are just like conventional laptop keys, offering 30% more typing space than with many competing iPad Mini keyboard cases, so you can expect a higher response and lower error rate.
This model also offers function keys to make the keyboard even more handy to use.
ZAGG Professional Keyboard Case for iPad Mini, on Amazon